Things are moving fast in the markets – and if you don't pay attention, you could lose your shirt.
Or you could gain the opportunity to earn big profits from the unwinding of the biggest debt bubble in history.
So without further ado, it's time to update you on a couple of companies that I've warned you about before: Glencore Plc. (LON: GLEN) and Valeant Pharmaceuticals International Inc. (NYSE: VRX). They are coming apart at the seams, and you are going to want to act quickly to profit from their problems.
Here's how to play Glencore and Valeant stock in 2016…
Glencore
Last year I warned you about the problems at Glencore, a major commodity broker and miner. GLEN stock has collapsed from a 52-week high of £318.46 a share to £73.43 yesterday as the price of copper continued to collapse. This is the lowest price at which the stock has traded since Sept. 29 after the stock collapsed by 29% in a single day.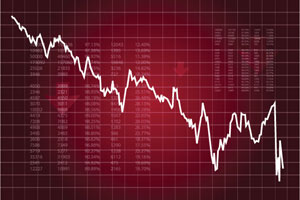 Even worse, the price of insuring GLEN's debt against default rose to a more than six-year high yesterday after one of its U.S. subsidiaries, Sherwin Alumina Co., filed for bankruptcy. The protracted slump in aluminum prices took down the company. Sherwin plans to sell its assets to another Glencore subsidiary called Corpus Christi Alumina in exchange for forgiveness of $95 million debt plus $250,000 in cash. Another Glencore affiliate, Commodity Funding LLC, agreed to provide $40 million to Sherwin to fund its operations in bankruptcy. GLEN is clearly scrambling to shuffle around its failing assets.
In the meantime, the most important commodity for GLEN – copper – keeps falling in price. Copper for delivery in three months fell 1.9% to $4,399 a metric ton on the London Metals Exchange yesterday, its lowest price since April 2009, while the Bloomberg World Mining Index of 80 equities fell to its lowest level since June 2004.
GLEN's five-year credit default swaps are now trading at a spread of nearly 1,000 basis points, which would effectively render it unable to finance itself if it needed to borrow money. This level means that the market predicts a 55% probability of Glencore defaulting over the next five years, but this really doesn't tell the whole story. The way the credit markets work, when a company's credit default swaps are trading at a 1,000 basis point spread, it means that lenders are rapidly losing faith in the company's ability to pay them back.
GLEN desperately needs copper prices to stop their decline. If this doesn't happen soon, the stock is going to move much lower. And frankly there is little reason to believe that copper or any other major commodity is going to stop dropping in price for the foreseeable future.
For that reason, I recommend that investors buy June £50 puts on GLEN stock (ask price £5.00, last transaction £3.25). Note: Because this is a European option, you will not be able to exercise these puts until maturity.
Valeant Pharmaceuticals
Since we last checked the health of Valeant Pharmaceuticals, the company has tried to convince investors that its failure to inform them about its hidden relationship with mail order pharmacy Philidor (with whom it has since cut ties) was a mere peccadillo. It replaced that relationship with a distribution deal with Walgreens Boots Alliance Inc. (Nasdaq: WBA), which caused the stock to rally as high as $118 in mid-December before the bottom fell out all over again after it was learned that CEO J. Michael Pearson had come down with pneumonia around Christmas. Mr. Pearson has now left the company on medical leave and been replaced by board member Howard Schiller, who previously served as the company's CEO.
To Mr. Pearson, I say good riddance. Building a company through acquisitions that result in massive layoffs and higher drug prices is nothing to be proud of. Telling Wall Street that spending money on drug research is a waste of money is a dubious achievement. While nobody wants to see someone get sick, there is poetic justice in the fact that Mr. Pearson fell seriously ill and had to leave the company. He lied to investors and built the company through a noxious business model that appealed to all of Wall Street's worst instincts. The financial world is a better place with him on the sidelines. Hopefully he will recover and do something socially useful in the future.
The company has also disclosed plans to start paying down its huge $30 billion debt burden. The company is still forecasting 2016 earnings per share of over $13.00, which means it is currently trading at a multiple of under 7x. The problem is that management has lost credibility and the business model on which the company was built is now lying in tatters.
With its depressed stock price, the company can no longer make stock-for-stock acquisitions. Nor can it use cheap debt for acquisitions. Current plans for it to pay down a couple of billion dollars of debt heading into what is likely to either a recession or a financial crisis are uninspiring to say the least.
Wall Street sell-side analysts who already have egg all over their faces are writing research reports that are as uncritical as company press releases and claiming that the Valeant stock price will rise, but I would be very careful about believing the recommendations of those who have already led investors down the garden path to hell.
I think Valeant stock is going lower, and I recommend that investors buy June $50 puts on VRX, currently trading at $2.50.
As I said in my 2016 forecast, I'm very bearish this year. I believe we'll see continued opportunities to profit as this volatile market spirals downward – so stay tuned.
Follow us on Twitter @moneymorning or like us on Facebook.
Editor's Note: As we navigate an increasingly volatile market in 2016, a major credit crisis may be just around the corner. This year, your most valuable asset may be Michael Lewitt's free Sure Money service. In Sure Money, Michael helps you see what's going up, what's going down, and how to profit. Sign up now by clicking here, and you'll get instant access to all of Michael's investing tips, recommendations, and specific instructions, including his exclusive "Super Crash Report."
Join the conversation. Click here to jump to comments…
About the Author
Prominent money manager. Has built  top-ranked credit and hedge funds, managed billions for institutional and high-net-worth clients. 29-year career.