The GoPro stock price plunged more than 20% to an all-time low of $11.26 intraday Thursday and is now down more than 80% since mid-August. And the GoPro stock price drop doesn't look like it will end anytime soon.
After hours Wednesday, GoPro Inc. (Nasdaq: GPRO) provided a dismal earnings forecast and announced sharp job cuts.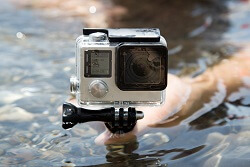 The company said it only expects to post revenue of $435 million in Q4 2015. That's 14% short of analysts' estimates of $508 million. Full-year 2015 revenue is forecast to come in at $1.6 billion. That's also shy of the $1.7 billion analysts were projecting.
GoPro cited "lower than anticipated sales of its capture devices due to slower than expected sell through at retailers" for the shortfall.
The company also said it would slash its workforce of more than 1,500 by 7%. As a result, GoPro will take an expense charge between $5 million and $10 million. That will mostly be due to severance costs.
Analysts and investors had been cautious on the GoPro stock price heading into the crucial holiday season, but the troubles really started surfacing last summer.
The company's July launch of its ice-cube-sized camera disappointed. Dubbed the Hero4 Session, the camera was GoPro's attempt at an entirely new design from its traditional action-camera models.
But the Hero4 hasn't sold well. And GoPro has been forced to cut the price twice.
GroPro trimmed the Hero4 price by 25% in late September. In December, the company slashed the price again. The Hero4 now sells at half of its debut price of $400.
The Hero4 was expected to be a hot seller during the holidays. But projections for the Hero4 cooled ahead of the crucial shopping season and GoPro trimmed its guidance.
In October, GoPro forecast that revenue would decline 17% year over year in Q4. That was a stark turnaround for the company, which had averaged quarterly growth of 47% over the previous eight quarters. Wednesday, GoPro further reduced its Q4 guidance.
And while the GoPro stock price is already down 31% in 2016, GPRO still has farther to fall...
GoPro Stock Price Will Continue to Drop
In a note to clients Wednesday, Goldman Sachs cut three years' worth of GoPro earnings estimates. The investment bank also slashed its price target on the GoPro stock price nearly in half.
The firm noted the charge GoPro was taking for excess inventory was small relative to the inventory the camera maker actually has.
"We remain on the sidelines in the near term as it appears unlikely this will be the last estimate cut, given the relatively small amount of inventory reduction," Goldman said.
A number of other firms also lowered their GoPro stock price targets and ratings:
Wedbush cuts it GoPro stock price target to $18 from $33. The firm noted the Hero4 Session has been a problem since its launch in early July and has hurt gross margins. Current Q4 guidance implies roughly break-even earnings per share (EPS) or a loss. Wedbush lowered full-year 2016 revenue to $1.885 billion and EPS to $1.30. Consensus FY16 forecasts are for $1.88 billion in revenue and EPS $1.16.
Barclays downgraded GPRO stock to "Equal Weight" from "Overweight."
Northland Capital lowered its GoPro price target to $20 from $39.
JMP cut its GPRO stock price target to $21 from $91.
FBN downgraded GoPro stock to "Sector Perform" from "Outperform" and lowered its price target to $11 from $30.
Piper Jaffray is the biggest bear of the bunch. The firm slashed its already lowered $15 price target to $9.
Wall Street has finally turned bearish on the GoPro stock price, but this is a position we've held at Money Morning since the IPO...
Why We've Been Bearish on the GoPro Stock Price
GoPro was one of the most highly anticipated and successful initial public offerings of 2014.
Priced at $24 a share, the GoPro stock price surged 31% when it debuted on June 25, 2014. By July 2014, the GoPro stock price was up 100% from its IPO price.
At its all-time high hit in October 2014, GoPro's stock price traded as high as $93.85, nearly quadrupling its IPO price within five months. At the time, Money Morning Chief Investment Strategist Keith Fitz-Gerald told investors to ignore the hype.
By August 2015, the GoPro stock price had slipped to $60.
"GoPro makes some really cool products and they've got a rabid fan base of people who film themselves and others doing some truly outrageous things," Fitz-Gerald said last month. "But that doesn't mean they've got sustained profit potential. The company has engaged in deep, deep discounting this holiday season, and that's going to eat into margins."
At the all-time low of $11.26 Thursday, the GoPro stock price is down more than 85% from its all-time high. It's now down more than 50% from its IPO price.
"I'm always willing to pay up for a company that's 'best in class' or that has a defensible technology. GoPro has neither," he continued. "I won't hesitate to line up for a stock that's got control over its margins and, by implication, the pricing power to go with it. GoPro doesn't."
Stay informed on what's going on in the markets by following us on Twitter @moneymorning or liking us on Facebook.
The Markets Will Crash Again: The cracks are already showing. But the impending collapse is also an opportunity. By understanding these five "Super Crash" inevitabilities and making key adjustments, investors can protect their portfolios from the downside while positioning for the upside. This is your last chance to act before it's too late...
Related Articles: