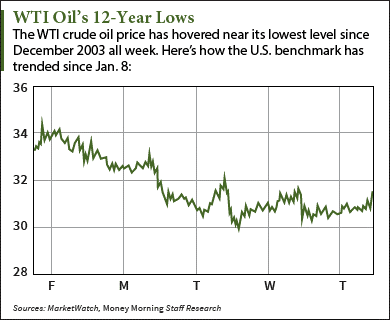 The West Texas Intermediate (WTI) crude oil price today (Thursday) broke above $31 for the first time in two sessions thanks to a rally in Chinese markets.
At 10:30 a.m., the WTI crude oil price was up 2.6% and trading at $31.29 a barrel. On Tuesday, the U.S. benchmark fell below the crucial $30 mark for the first time in over a decade. Futures for February delivery are now down 15.5% for the year.
The Brent crude oil price saw smaller gains this morning. The global benchmark - priced in London - jumped 0.6% to $30.46 a barrel. It also tumbled below $30 this week, marking its lowest intraday level since 2003. Futures for March delivery have fallen 19.1% in 2016.
Here's why China's market is having such a big impact on oil prices today...
Why the WTI Crude Oil Price Is Gaining Traction Today
Oil prices are on track for their second consecutive day of gains thanks to China's stock market rebound this morning. The benchmark Shanghai Composite Index surged 2% above the 3,000 mark for its first positive session of the week. This came just three days after the index settled at its lowest level in nearly four months.
China's strong performance today gave investors hope that demand will keep growing for the largest oil-buying country in the world. The China Economic and Industry Database (CEIC) reported that China's oil imports saw an annual rise of 8.8% in 2015.
But concerns over mounting U.S. inventory continue to linger after the U.S. Energy Information Administration's (EIA) latest supply report. The agency said domestic supply increased 200,000 barrels to a total of 482.6 million last week. That keeps inventory levels at the 80-year high first reached last April.
According to Money Morning Global Energy Strategist Dr. Kent Moors, these boosts in supply will end in 2016. That's because most U.S. wells are currently seeing a drop off in production.
You see, a typical shale oil well produces most of its volume within the first 18 months it's online. This makes sense considering oil prices started plunging in June 2014 and the number of active rigs has fallen by 1,086 since January 2015.
"We are now well into the impending normal extraction rate declines from the latest deep wells... this will translate into a reduction of surpluses in the American market," Moors explained last month.
But Moors says decreasing production is just one way the WTI crude oil price will continue higher in 2016. In fact, he says the WTI crude oil price will more than double its current level by the end of 2016...
Alex McGuire is an associate editor for Money Morning who writes about energy. Follow him on Twitter for all the biggest oil and gas updates.
Like us on Facebook: Money Morning