Crude oil prices around the world plummeted below the critical $30 mark today (Friday) as investors remain concerned over Iranian supply flooding the global oil market.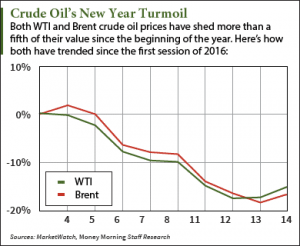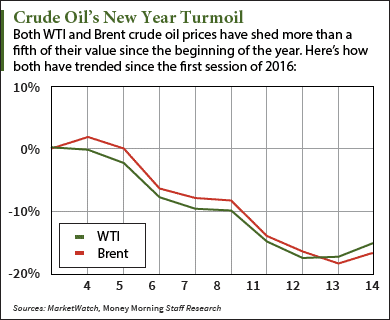 At 8:45 a.m., West Texas Intermediate (WTI) crude oil prices were down 5.3% and trading at a 13-year low of $29.56 a barrel. The U.S. benchmark is on track for its second consecutive weekly loss of 2016. Futures for February delivery are now down 10.9% this week and 20.2% so far this year.
Brent crude oil prices were less volatile than their U.S. counterpart this morning. The global benchmark - priced in London - fell 4.4% to $29.53 a barrel. Futures for March delivery have tumbled 13% this week and 21.6% in 2016.
Here's why Iran is decimating the oil market right now...
Why Is Crude Oil in a Free Fall Today?
Today's sell-off in both Brent and WTI crude oil prices comes ahead of a report from the International Atomic Energy Agency (IAEA) on the state of Iran's nuclear program. If the report shows that Iran has been taking active measures to reduce its nuclear activity, the UN-backed agency could lift various economic sanctions against the country as soon as this weekend.
The most notable sanction is the country's ban on oil exports...
Investors are worried lifting the sanctions will lead to a flood of Iranian exports, which could send crude oil prices into an even deeper hole. With WTI currently below $30, many Wall Street firms believe Iranian supply could be the breaking point that sends the oil market spiraling toward catastrophic levels.
"The lifting of sanctions could not have come at any worse time for the oil market, and could therefore potentially drive prices further down," Commerzbank wrote in a report.
But according to Money Morning Global Energy Strategist Dr. Kent Moors, the oil bears are missing a major point about Iran's influence on oil prices in 2016...
How Will Iranian Oil Exports Affect Crude Oil Prices?
By the time Iranian oil hits the market, crude oil prices will have fully stabilized. That's because it will take at least a year and a half for the country to start ramping up exports.
The Associated Press reported back in August that Iran will be using its own officials to inspect Parchin - the country's most suspicious testing facility. Parchin has been connected to more nuclear tests than any other site in Iran. The news of Iran's self-inspections enraged neighboring Israel, which considered it Iran's clever way of ensuring the nuclear deal isn't carried out effectively.
But even if Iran conducts its own Parchin inspections, there are a dozen other sites that will be inspected by IAEA officials. These UN-sanctioned checkups will make sure Iran is following the terms of the deal and scaling back its nuclear research.
Iran obviously doesn't agree with the IAEA inspections. In fact, Iranian officials have gone as far as saying IAEA inspectors are spies working for Iran's enemies. That stubborn attitude will result in delayed inspections and - in turn - delayed oil exports.
"It's all in the hands of the West," Moors said last year. "There will certainly be benchmark requirements in place that Iran will have to meet and verify before any oil is exported. So the relaxing of sanctions will occur over time."
That means it could be months before the oil export ban is lifted. By that time, crude oil prices will be back at normal levels thanks to declining U.S. production.
You see, production will start to drop off in 2016 because a typical shale oil well churns out most of its volume within its first 18 months. This time frame makes sense considering crude oil prices began their long-term plunge in mid-2014 and the number of active rigs has declined by 1,086 since January 2015.
"We are now well into the impending normal extraction rate declines from the latest deep wells... this will translate into a reduction of surpluses in the American market," Moors said in December.
The Bottom Line: Crude oil prices are crashing today because investors fear the IAEA will soon lift Iran's economic sanctions. They fear that the country will then quickly inject more supply into the market. But Iran is shooting itself in the foot by acting hostile toward the IAEA's nuclear inspections. Until Iran fully cooperates with the terms of the nuclear deal, it will significantly delay its oil exports and give global oil prices plenty of time to recover before more supply hits the market.
Alex McGuire is an associate editor for Money Morning who writes about energy. Follow him on Twitter for all the biggest oil and gas updates.
Like us on Facebook: Money Morning
[mmpazkzone name="in-story" network="9794" site="307044" id="137008" type="4"]
Saudi Arabia Also Just Shot Itself in the Foot... Low oil prices mean less revenue for OPEC's wealthiest nation - and even though Saudi Arabia has hundreds of billions in the bank, two new developments will chip away at those savings faster than ever...