Following Q4 and full-year 2015 results due after today's close, many investors are wondering if they should buy Netflix stock.
And when looking for advice on Netflix stock, almost every investor overlooks the most important part about investing in NFLX. But more on that in a minute...
Netflix Inc. (Nasdaq: NFLX) is expected to post Q4 earnings per share (EPS) of $0.02 on revenue of $1.83 billion. In the same quarter a year ago, Netflix stock earned $0.10 per share on revenue of $1.48 billion.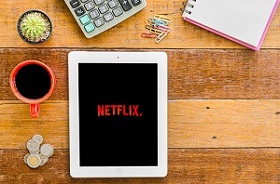 Full-year 2015 EPS is projected to come in at $0.20 - down 53% from FY2014. However, revenue is expected to jump 23% year over year if Netflix hits its target of $6.78 billion for 2015.
Aside from EPS and revenue numbers, investors are really interested in subscriber retention and growth numbers.
In October, Netflix said it expected to close out 2015 with more than 74 million members worldwide after starting the year with 70 million. Wall Street consensus is for 74.6 million subscribers in this report.
But hitting the target may not be good enough for investors. And tepid subscriber growth could push the Netflix stock price down.
In Q3 2015, Netflix missed its target of adding 1.15 million U.S.-streaming customers by 270,000. The company blamed new credit and debit cards with built-in chips, which caused customer billing issues. Netflix stock then tumbled more than 8%.
On the other hand, strong subscriber growth could send the Netflix stock price soaring. After Netflix reported Q2 2015 subscriber numbers were 770,000 higher than expected, the Netflix stock price surged 18%.
Netflix stock ended 2015 with a meteoric 134.4% surge. It was the best-performing stock on the broad-based S&P 500 Index, which ended the year down 0.73%.
But Netflix stock has already dropped 6% in 2016. Now many shareholders are panicked ahead of earnings.
Here's our recommendation on how to invest in Netflix stock, with input from Money Morning Defense & Tech Specialist Michael A. Robinson, a 34-year Silicon Valley veteran...
Should I Buy Netflix Stock Now?
Netflix stock typically experiences wild swings after earnings reports. Trading at more than 400 times estimated 2016 earnings, Netflix stock is the quintessential momentum stock.
Over the past 20 quarters, Netflix has trumped earnings expectations all but once. The stock's reaction, however, hasn't been consistent. In that same time, shares have moved up or down at least 10% on more than half of those occasions.
So investors should expect a sharp swing after today's report regardless of the results.
That's why we don't recommend buying Netflix stock for the short term. The stock is just too volatile for short-term retail investors. And the volatility of the broader markets will only make it more difficult this quarter.
Still, if you can hang in and go through any volatility, you can profit from Netflix stock long term, according to Robinson.
Robinson says Netflix is on its way to becoming the preeminent provider of content throughout the world.
"Right now, they are going through an Amazon.com Inc. (Nasdaq: AMZN) style growth period. It's the Bezos model - build, build, build - then the profits will follow," Robinson stated after Netflix's Q3 2015 earnings report.
Netflix is a dominant player in the media space and continues to increase its presence. New content and original series keep subscribers hooked. The company is making money, profits are rising, and content costs are declining.
Netflix stock was up 2.24% at $106.33 in morning trading Tuesday ahead of the quarterly earnings report.
Stay informed on what's going on in the markets by following us on Twitter @moneymorning or liking us on Facebook.
The Gold Mining Revolution: Technological advancements in gold mining have been stagnant, but one tiny Canadian company is about to change that. Its special extraction method will slash production costs and send gold prices soaring. In fact, this nano cap could disrupt the entire industry...
Related Articles: