New fears of a stock market crash surfaced today (Wednesday) as stocks tanked across the globe. Major indexes around the world were all down thanks to an unrelenting slide in oil prices and escalating fears about its impact on growth.
Because so many investors are panicking about a stock market crash, we turned to Money Morning Capital Wave Strategist Shah Gilani for advice. He is one of the world's foremost experts on the credit crisis and has developed a strategy for investors to protect their money during stock market crashes.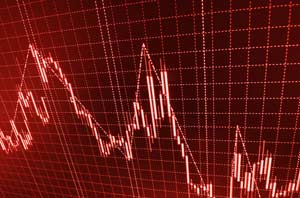 But first, here's what is happening to global markets today...
The Dow Jones Industrial Average, S&P 500, and Nasdaq plummeted 3.36%, 3.48%, and 3.44% in afternoon trading, respectively. All 30 Dow components were lower, and all the 10 major S&P sectors were in the red.
The rout began in Asia, where stocks closed sharply lower.
Stocks in Japan ended Wednesday in bear-market territory. The Nikkei Stock Average closed down 3.7% and is now down 21% from its June peak. In Hong Kong, the Hang Seng closed 3.8% lower. Stocks in Shanghai closed down 1%.
The Stoxx Europe 600 was down 2.3% in afternoon trading.
The first thing moving markets are crude oil prices, which sank to a 12-year low below $27 a barrel Wednesday.
Fears of a slowdown in China are another contributing factor.
Tuesday 's GDP figures from the Asian nation showed 2015 growth came in at 6.9%, the slowest pace in 25 years. However, because of the known lack of transparency, many analysts say China's actual growth rate was most likely 4% to 6%.
After today's drop, U.S. stocks are in correction territory, having fallen more than 10% below their peak reached in May 2015.
And panicked investors continue to focus on the falling market instead of focusing on how to protect their money. Here's how Gilani tells investors to protect their money during a stock market crash...
Protect Your Money Before a Stock Market Crash
Gilani said we could get a couple of short-term rebounds in the market, but the chaos we've been seeing from global markets is far from over.
"As oversold as markets in the United States are, and many globally, and as oversold as oil appears, as well as commodities and lots of currencies, prospects for spot rallies increase everywhere," Gilani said.
And Gilani warns that fragile global markets mean any rallies will be nothing more than dangerous head-fakes. That is, unless oil, Chinese stocks, emerging markets, and industrial commodities can all rally.
"In my trading services, Short-Side Fortunes and Capital Wave Forecast, we've closed some long positions and established a host of short positions to profit from these down-trending markets across so many asset classes," Gilani said. "If you haven't done that, then, at minimum, put down stop-loss orders to get to the sidelines if more mayhem rolls in this week or next week. As far as this maybe being the bottom of this downdraft, if it is we'll cheer markets higher, cover our shorts, and jump back in."
For investors who want to short this chaotic market, Gilani says when he's bearish, he buys into inverse exchange-traded funds (ETFs) based on the major market indexes.
ProShares Short Dow 30 (NYSE Arca: DOG) is a way to play a declining Dow index. ProShares Short S&P 500 (NYSE Arca: SH) allows you to short the S&P 500. ProShares Short QQQ (NYSE Arca: PSQ) is a way to wager on the Nasdaq heading lower.
When Gilani is extremely bearish and believes stocks are going to fall hard today or tomorrow, he will sometimes buy a leveraged short inverse ETF like the ProShares UltraPro Short S&P 500 (NYSE Arca: SPXU). The UltraPro Short S&P fund is a "3x leveraged" inverse ETF. That means if the S&P 500 goes down 1% today, SPXU would go up 3% today.
Gilani stresses that leveraged ETFs are only meant as short-term trading vehicles. That's why he said "if I believe stocks are going to fall hard today or tomorrow. Because of the way leveraged ETFs are priced, they're 're-set' every day - they're not good long-term holds."
Stay informed on what's going on in the markets by following us on Twitter @moneymorning or liking us on Facebook.
The End of the Petrodollar: Since 1973, the global oil market has operated by the "petrodollar" system, wherein exports around the world are priced in U.S. dollars. Now foreign oil deals are threatening to dismantle that system. What they plan to put in its place could destroy the U.S. dollar, ultimately leading to total economic collapse...
[mmpazkzone name="in-story" network="9794" site="307044" id="137008" type="4"]
Related Articles: