Good news for Yahoo! Inc. (Nasdaq: YHOO) shareholders continues to be nonexistent in 2016. The Yahoo stock price is already down 15.56% for the year, with no relief in sight.
Now the company has admitted failure on its recent $100 million investment...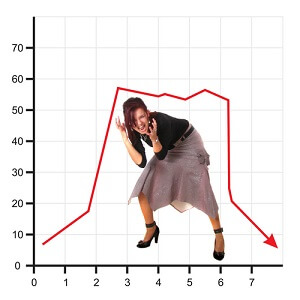 Shareholders first received unwelcome news for the YHOO stock price in the new year on Jan. 4, when Yahoo had to admit that its video service Yahoo Screen was a disappointment.
Yahoo Screen was supposed to be a competitor to Hulu, YouTube, and Netflix Inc. (Nasdaq: NFLX). CEO Marissa Mayer spent $100 million over the last two years to turn Yahoo into a go-to source for video content, according to The Wall Street Journal.
But Yahoo never gained a foothold as a video content provider.
Unique visitors to Yahoo Screen fell 28% between October 2013 and October 2015, and analytic provider comScore stated that the company only received a total of 15 million unique visitors for November 2015.
In comparison, YouTube boasted way back in 2012 that it received 4 billion views a day.
Mayer struggled to attract viewers, but her decisions on deciding what content to produce were so bad that the company had to write off $42 million in losses on original programs in Q3 2015.
Yahoo Screen is the latest reason why Yahoo may be forced to sell its Internet business or spin off its shares of Alibaba Group Holding Ltd. (NYSE: BABA). Shareholders are tired of waiting for a turnaround, and Yahoo is running out of options.
Now investment funds believe there is only one solution to save YHOO shareholders. But even this last-ditch effort to revive the Yahoo stock price may not be enough...
The Yahoo Stock Price Hinges on Marissa Mayer
Institutional investors originally thought the Alibaba spin-off or a sale of Yahoo's Internet business would turn the Yahoo stock price around.
But now they've focused on a new target: Marissa Mayer.
Marissa Mayer became the CEO of Yahoo in July 2012, and activists believe she has had more than enough time to grow revenue and increase the value of Yahoo stock for shareholders.
These investment groups now believe that it's time to move on from Mayer.
In mid-December, SpringOwl fund manager Eric Jackson sent a 99-page presentation to Yahoo's board and stated that he believed Mayer should resign as CEO.
He questioned her decision-making process in the presentation, stating:
Mayer spent $7 million on a company holiday party in December 2015.
Mayer provided employees with over $461 million in free iPhones, fitness trackers, and food.
Investment group Starboard Value LP didn't believe a change in CEO was necessary in 2014. It wanted YHOO to pursue a tax-free Alibaba spin-off, but the group changed its mind in 2015 when the Internal Revenue Service couldn't guarantee it being tax-free.
In a letter publicly released on Jan. 6, Starboard stated that significant changes were needed. The investment group wants those changes to start at the board level and extend to executive leadership.
Yahoo's revenue has decreased 7.3% year over year since 2012, and Mayer has done nothing to revive the falling Yahoo stock price.
The performance of the YHOO stock price is tied to investor's confidence in its CEO, which is at an all-time low. Unless a change is made soon, Yahoo stock will continue to underperform.
The Bottom Line: The Yahoo stock price is down 41% over the last year, and CEO Marissa Mayer has not proven that her acquisitions can increase Yahoo's revenue. Unless Mayer's plans start to work out - and there is no reason to believe they will - Yahoo's board will need to review a change in leadership to improve shareholder value.
Jack Delaney is an associate editor for Money Morning. You can follow him on Twitter and follow Money Morning on Facebook.
 Capital Controls Are Here: If you think you can always get cash out of your bank account when you want it, you're wrong. Banks can restrict access to deposits - or confiscate them - and yet the general public has no idea these "laws" exist. Here's how this nightmare could impact you...