West Texas Intermediate (WTI) crude oil prices sank below $28.20 a barrel this morning - making the oil in the barrel more than three times cheaper than the actual barrel holding it.
According to packing materials distributor Uline, a 55-gallon steel drum barrel commonly used for transporting oil costs $99 before tax. That's three times more expensive than the price of WTI futures for March delivery today (Thursday).
That's just one of the many surprising items more expensive than a barrel of WTI crude oil right now.
Here are five common items selling at a premium to a barrel of oil right now...
5 Things More Expensive Than a Barrel of WTI Crude Oil
Sign up for SMS so you never miss special events, exclusive offers, and weekly bonus trades.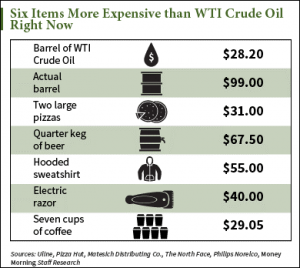 A barrel of WTI crude oil is cheaper than... seven cups of Starbucks coffee. One venti-sized Caffe Latte from Starbucks Corp. (Nasdaq: SBUX) costs $4.15 before tax. You can buy 6.8 cups of these 20-ounce coffees for a total of $29.05 - roughly 3% more than the current WTI crude oil price right now.
A barrel of WTI crude oil is cheaper than... two large Meat Lover's pizzas from Pizza Hut. The largest pizza chain in the world currently offers large Meat Lover's pan pizzas for $15.50 each before tax. Two of these specialty pies cost 10% more than a barrel of oil in the United States today.
A barrel of WTI crude oil is cheaper than... a quarter-keg of beer. The average price to fill up a quarter-barrel (roughly 7.75 gallons) keg with Budweiser beer comes out to $67.50. That's more than twice the cost of 55 gallons of West Texas Intermediate crude. Drink up.
A barrel of WTI crude oil is cheaper than... one hooded sweatshirt from The North Face. The popular outdoor apparel company owned by VF Corp. (NYSE: VFC) sells men's hooded sweatshirts for an average price of $55 - a 95% premium to the cost of WTI crude oil today.
A barrel of WTI crude oil is cheaper than... an electric razor. The listing price of one Philips NV (NYSE ADR: PHG) electric shaver is $39.99. That's 41.8% more expensive than the cost of a barrel of WTI crude oil today.
Alex McGuire is an associate editor for Money Morning who writes about energy. Follow him on Twitter for all of the biggest oil and gas updates.
Like us on Facebook: Money Morning
Did Saudi Arabia Just Shoot Itself in the Foot? Low oil prices mean less revenue for OPEC's wealthiest nation - and even though Saudi Arabia has hundreds of billions in the bank, two new developments will chip away at those savings faster than ever...