Gold prices were slightly lower today (Thursday) as markets calmed, but we still see gold prices soaring in 2016. In fact, investing in gold is one of the smartest decisions investors can make during this extreme market volatility.
But first, here's what caused gold prices to dip today...
European Central Bank President Mario Draghi kept interest rates unchanged Thursday and didn't implement any new monetary measures. But he did signal the bank might offer more stimulus at its meeting in March. That stabilized European markets today.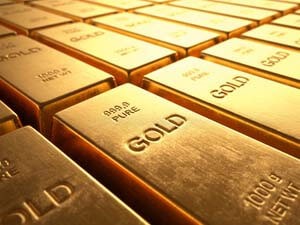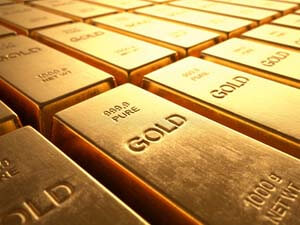 In early morning trading, spot gold prices were down $3.50, or 0.32%, at $1,098.70. There is still plenty of risk aversion in global markets, so traders don't expect precious metal selling to continue.
While the stabilizing markets sent the price of gold down today, any additional easy money measures from the ECB are very bullish for gold prices in 2016.
Wednesday, gold prices surged $17.20, or 1.58%, to settle at $1,107.10 an ounce. It was the gold price's biggest gain in two weeks and highest close since Jan. 7. Escalating fears of a global slowdown and an unrelenting slide in oil prices had investors piling into gold.
Global financial market turmoil this year has rekindled interest in gold, which is a very popular safe-haven investment.
The chaos in global markets is also expected to prompt the U.S. Federal Reserve to pause on its interest rate tightening path. That's bullish for gold.
And a string of recent economic reports showing that U.S. economic growth is sputtering is another catalyst for gold prices.
"Weak or falling productivity is traditionally gold-friendly," HSBC said in a note to investors Wednesday. "Although prices may pull back near term, we look for the gold rally to continue above $1,100/oz."
U.S. markets are having the worst start to a year since 1929, the year that spawned the Great Depression. The Dow, S&P 500, and Nasdaq are down 9.5%, 9%, and 10.7%, respectively. Meanwhile, gold prices are up 4.41% as investors flee riskier assets.
"Millions of investors are looking for the exits and a reliable safe haven," Money Morning Resource Specialist Peter Krauth said. "And with Middle East tensions flaring and perpetual uncertainty over Chinese markets, millions more are sure to follow. But... all that bad news on the markets is terrific news for gold - and everyone holding it."
Here's how high Krauth sees gold prices climbing in 2016...
Gold Prices Will Be Fueled by These 3 Catalysts in 2016
Krauth said the big theme this year will be volatility in just about every market.
Gold prices, too, will likely experience some volatility. Still, Krauth expects gold prices to head higher this year, approaching the $1,200 level.
Here's what Krauth expects to drive yellow metal prices higher in 2016...
Gold Prices Driver No. 1: Mine Supply
The Thomson Reuters' GFMS group says that while global gold output has risen every year since 2008, that won't be the case this year.
William Tankard, head of research for precious metals mining, expects output to fall from 3,150 metric tons in 2015 to 3,050 metric tons this year.
Tankard commented, "This is in large part likely to be driven by the relative lack of development going into the industry over a three-plus-year period." He went on to explain that producers have been "high-grading" their production for several years thanks to weaker prices. But that option has now largely run its course, meaning lower-grade ores will produce less gold.
Gold Prices Driver No. 2: The Cost of Money
The Fed lifted interest rates on Dec. 16, and that was the first hike since June 2006.
But the increase was a slight 0.25%. While policy makers project further increases this year, additional moves will be "data dependent." Krauth thinks persistent weakness will make it too difficult for the central bank to follow through.
Additionally, Krauth says that while inflation could start to finally take hold this year, deflationary forces are still going to work against that to keep any increase relatively weak.
That means real interest rates will stay low, and the opportunity cost of owning gold will continue to support its ownership and attractiveness versus other asset classes like stocks.
Gold Prices Driver No. 3: Soaring Demand
Krauth says the third main driver for higher gold prices in 2016 will be demand. While mining output is likely to decline, low gold prices will continue to attract buyers, especially in Asia.
India eclipsed China as the biggest overall buyer of gold last year, with a total import level likely to reach a whopping 1,000 metric tons, up from 900 metric tons the previous year.
Further, as investors start looking to diversify from challenging stocks, Krauth expects record sales set at various mints around the world to continue into 2016. Low gold prices helped push U.S. Mint sales to a record level in 2015, with gold coin sales rising by an astounding 53% over 2014.
The End of the Petrodollar: Since 1973, the global oil market has operated by the "petrodollar" system, wherein exports around the world are priced in U.S. dollars. Now foreign oil deals are threatening to dismantle that system. What they plan to put in its place could destroy the U.S. dollar, ultimately leading to total economic collapse...
Stay informed on what's going on in the markets by following us on Twitter @moneymorning or liking us on Facebook.
Related Articles: