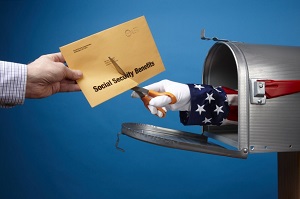 The bipartisan budget bill passed by Congress and signed by President Barack Obama on Nov. 2 goes into effect in just three months. This means that on May 1, a few key Social Security benefits will be officially nixed from the books…
Congress justified this aggressive reform by professing its goal as closing "unintended loopholes."
One better-known unintended loophole on the chopping block is the "file and suspend" strategy for married retirees age 66 to 70. This provision has meant an extra $10,000 to $60,000 in Social Security benefits per year for some folks, reported The New York Times on Oct. 30, 2015.
Many Americans just don't know about it — and now it's about to go away. Only about 100,000 people take advantage of it annually, reported The Washington Post on Nov. 3.
But there's still time to act…
How One of the Most Lucrative Social Security Benefits Works
With "file and suspend," a retiring individual enrolls in Social Security but delays starting his benefits, allowing them to grow by 8% a year until he hits the age of 70. Because he's done this, he'll see an overall 32% uptick in payment when he starts actually collecting.
Additionally, as soon as he files, his spouse can immediately start collecting half the amount of his check (so long as she is 66 years of age) – even while he's still under active suspension.
Unfortunately, after changes take effect on May 1, 2016, no one turning 62 in 2016 or later will be able to take advantage of "file and suspend."
But for those who will be 66 or older by April, the key is to make sure you get your benefits suspended in time.
Which means you need to act now.
If you do, here's how much money the soon-to-be-slashed provision can make you….
Let's say a man applies for Social Security Income (SSI) benefits at age 66 and is eligible at the time to receive $2,200 a month should he choose not to suspend. His wife (who, for the sake of our example, is the same age) is also eligible to collect half of that amount. The man passes away at age 82, leaving his wife, in this case, eligible to collect the other half of her husband's monthly amount: $2,200.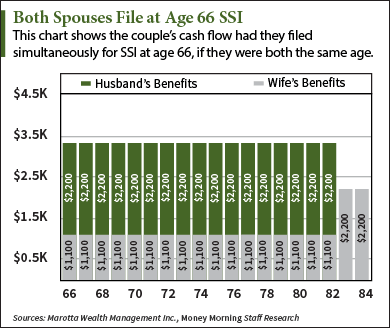 Now, let's say the man instead decides at age 66 to file and suspend his payments until age 70. His wife is still entitled to receive spousal benefits of her own at the age of 66. These payments still amount to $1,100/month.
However, when the man starts collecting at age 70, his monthly allotment is higher thanks to the 8% per year suspended increase. And when he passes away at 82, his wife can then collect half of that, which amounts to $2,904/month – an extra $704 every 30 days thanks to this lucrative but doomed provision.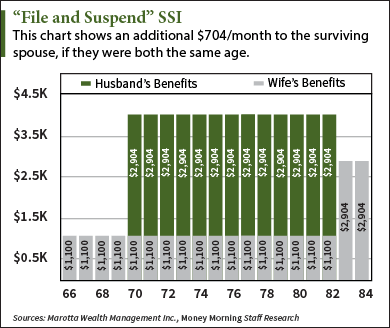 The "file and suspend" provision is just one of many more Social Security benefits soon to be affected by the May 1 bipartisan bill.
How will the Social Security benefits cut affect you? Tell us on Twitter @moneymorning, or like us on Facebook.