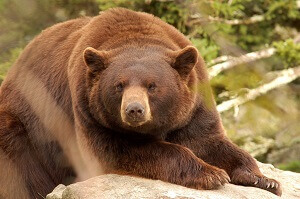 With the broader markets all selling off to start 2016, investors have been asking us, "What is a bear market?"
By definition, a "bear market" is a sharp shift in investor sentiment from optimism to widespread fear, pessimism, and panic.
According to The Vanguard Group, "While there's no agreed-upon definition of a bear market, one generally accepted measure is a price decline of 20% or more over at least a two-month period."
Anything less than 20% is referred to as a "correction." A "sell-off" is the rapid selling and decline of securities or markets and is usually short lived.
The last official bear market started in 2007 and continued until March 2009. During that bear market, the Dow fell 53% and the S&P 500 lost 57%.
Most experts agree we're due for a bear market in 2016, as this has been the longest-running bull market since the end of World War II.
By classic standards, the S&P 500 hasn't yet crossed into a bear market. The index is off about 11% from its May 21 record close of 2,130.82. It would need to fall to 1,706 to be in official bear-market territory.
But here's what's key to know… it's not the most important thing right now to predict exactly how low markets will go, or to worry about the perfect definition of a bear market. Instead, it's time to open up to the opportunity that's happening while making sure your investment protection moves are in place, so you're ready for whatever does occur.
That's why we asked three Money Morning experts to share the truth about whether we're in a bear market and the best way to protect your money now.
Plus, they provided three ways to profit even when the markets are falling…
What Is a Bear Market and Are We in One?
While today's market doesn't meet the official definition, Money Morning Global Credit Strategist Michael Lewitt says we are indeed in a bear market, even if the broader indexes haven't hit the 20% threshold.
"More than 50% of S&P 500 stocks are now down 20% or more from their 52-week highs – and it is now a question of how loud the bear growls," Lewitt said. "I think we have at least another 10% down. The question is whether we just really crash to something like 1,500."
According to Lewitt, it's easy to see how we found our way into this bear market in the first place…
"China is a house of cards whose debt-engorged economy hit a wall in mid-2014 after seeing its total debt grow from $7 trillion in 2007 to $28 trillion (it is now probably over $30 trillion)," he said. "This then caused global commodities markets, which were inflated by the Chinese debt explosion, to collapse."
"The last piece of the puzzle was the end of the Federal Reserve's quantitative easing (QE) program in October 2014 and the beginning of its effort to raise interest rates in 2015, though this didn't occur until last December and is more likely than not to be reversed in 2016 if markets continue to sell off and the U.S. economy continues to weaken."
These stomach-churning drops and the likelihood of more selling pressure have panicked many investors. But Money Morning gurus say fleeing the markets is one of the worst mistakes you can make.
That's why they've developed this strategy for investing in a bear market. It's the best way to protect your money plus profit from the rare opportunity we have now…
How to Invest in Bear Market 2016
According to Lewitt, the markets have even further to fall…
The slowdown in China is far from over, and plunging oil prices have led to job losses, cutbacks in capital spending, and declines in global government revenue. Investor confidence in the willingness or ability of central banks to boost their economies is also fading.
But according to Money Morning Chief Investment Strategist Keith Fitz-Gerald, "There's always opportunity in chaos and current market conditions are no exception."
In fact, there are a few ways to make money in an environment like this – bear market or not…
One is trading. (Don't worry – if you aren't a trader, or don't want to try, we also have tactics for you, too. Keep reading.)
"The bull market's end gives traders the juiciest opportunities ever," said Money Morning Options Trading Specialist Tom Gentile. Gentile just led his subscribers to a 100% return in the first week of the year – as the Dow fell more than 900 points.
"If you're trading, this is a great time to be in the market. There are bargains all over, and even better, the short, sharp market action means options plays can bring in huge returns in short order," Gentile told readers last week.
Tom delivers these market moves every week – get looped in here and find out the method behind Tom's 100% gain.
You can also profit from the downturn now by investing in inverse exchange-traded funds (ETFs). These are designed to gain while markets fall.
Money Morning Capital Wave Strategist Shah Gilani likes three of these ETFs, each designed to track the inverse performance of a specific index, either the Dow, S&P 500, or Nasdaq. These ETFs will rise as a bear market drags down the broader indexes.
Gilani also has a specific short-term move for when he believes markets will fall hard that day or the next. He gives you all four of these picks here.
Finally, for the investor who is looking to hold stocks for five or 10 years, Fitz-Gerald says to focus on investing in quality businesses that sell products and services the world cannot live without right now. These companies won't be going anywhere when the markets are in turmoil.
"In tech, that includes names like Facebook Inc. (Nasdaq: FB), Apple Inc. (Nasdaq: AAPL), and Alphabet Inc. (Nasdaq: GOOGL)," he said. "And select companies like The Coca-Cola Co. (NYSE: KO) that have a long history of increasing dividends through thick and thin. Also, put new money to work in companies like Raytheon Co. (NYSE: RTN)."
These stocks aren't speculation, they're investments.
"They may fall a bit with the broader markets, but the markets have a terrific upward bias over the long term. The Dow, for example, returned more than 22,000% over the last century despite two world wars, all sorts of regional conflicts, depression, recession, and more."
Fitz-Gerald also says investors need to be selective, but they don't need to move their money to the sidelines.
"As long as you're investing money that you won't need to spend in the near term and keep risk management top of mind, you can weather a downturn," Fitz-Gerald said.
Stay informed on what's going on in the markets by following us on Twitter @moneymorning or liking us on Facebook.
The End of the Petrodollar: Since 1973, the global oil market has operated by the "petrodollar" system, wherein exports around the world are priced in U.S. dollars. Now foreign oil deals are threatening to dismantle that system. What they plan to put in its place could destroy the U.S. dollar, ultimately leading to total economic collapse…
Related Articles: