In the 2008 recession, roughly half of Yahoo stock's value was wiped out in less than a year.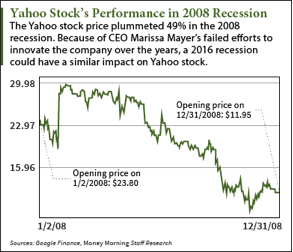 The Yahoo stock price opened on Jan. 2, 2008, at $23.90 per share. By Dec. 31, 2008, YHOO stock opened at $11.95, representing a 49% loss for 2008.
Along with the financial crisis of 2008, Yahoo was suffering an internal crisis.
Yahoo had fallen behind Alphabet in the U.S. Internet search market. Alphabet Inc. (Nasdaq: GOOG, GOOGL) (formerly Google Inc.) accounted for 58.4% of U.S. Internet searches as of February 2008, while Yahoo accounted for just 22.9%, according to CNN Money.
Microsoft Corp. (Nasdaq: MSFT) tried to acquire Yahoo for $44.6 billion in stock and cash in February 2008, but the company refused the offer. The two companies continued talks, but Yahoo announced in June 2008 that it would not sell its search engine business or company as a whole to Microsoft.
Yahoo appeared to have missed a major opportunity...
After Yahoo had rejected Microsoft's offer at the start of the year, which amounted to $33 per share, the Yahoo stock price traded at a 52-week low of $8.94 on Nov. 20.
This led to CEO Jerry Lang stepping down. Then, over 2,000 employees were fired in the process as cost-saving measures.
Now in 2016, Yahoo is still struggling with the same issue of staying relevant in the technology sector. And once again, this could cause its CEO to step down.
Investors fear a similar YHOO stock drop could be coming during this year's bear market.
So far this year, the Nasdaq is down 8.58% and the Dow Jones is down 7.51%. Yahoo stock has fallen 11%.
The real story is that Yahoo's current stock price problems go beyond broader market troubles...
Mayer's Role in the Yahoo Stock Problems
CEO Marissa Mayer's questionable decision-making process has caused Yahoo stock to fall 23.42% in the last six months. Yahoo stock fell 34.6% in 2015, even as the Nasdaq climbed 4.2%.
Under Mayer, Yahoo's revenue has decreased 7.3% year over year since 2012. She has a history of buying companies from her former employer, Alphabet, that are internally considered to be bad ideas, according to investment group manager Eric Jackson.
Mayer's most recent failure was announced in early January. The company decided to shut down its video content service Yahoo Screen, but not before investing $100 million into it over the past two years.
Now activists are placing pressure on Yahoo's board to find a new leader.
Current investor frustration with Yahoo stock, plus the company's falling revenue, means a bear market in 2016 could be even more damaging to Yahoo stock than the 2008 bear market.
It does have options - but neither of them look extremely promising...
The Only Hope for a Yahoo Stock Turnaround
Yahoo is at a crossroads: The company can either spin off its shares of Alibaba Group Holding Ltd. (NYSE: BABA) or sell its Internet business.
But the timing is very unfortunate for the company, as it coincides with a major market sell-off.
Yahoo originally believed that it could spin off its shares of BABA tax-free, but the Internal Revenue Service did not guarantee a tax-free spin-off in September 2015. Despite the uncertainty, Yahoo General Counsel Ron Bell stated that the company would still consider its options in a spin-off.
If Mayer pursued spinning off Yahoo's stake in BABA, Robert Willens, author of "Taxation of Corporate Capital Transactions," believes Yahoo will incur $8 billion to $9 billion in taxes.
The company's only other option is to sell its Internet business, but Mayer would struggle to find a buyer.
Yahoo has fallen far behind the rest of the technology industry in mobile ad revenue. In the first half of 2015, Twitter Inc.'s (NYSE: TWTR) mobile ad revenue accounted for 88% of its total revenue, and Facebook's mobile ad revenue accounted for 74%. Yahoo's mobile ad revenue accounted for just 20% of its total revenue.
And aside from Yahoo's failures in generating mobile revenue and in Yahoo Screen, Mayer struck out with her "Snapchat- and Instagram-killer" app, Livetext.
Livetext allows users to see a live video of someone without audio. It was launched on July 20, 2015. As of Jan. 15, Livetext was the 582nd most downloaded photo and video app in the iOS app store. In comparison, Instagram was the most downloaded photo and video app, and Snapchat was the second.
Lagging behind competitors appears to be in Yahoo's DNA. Yahoo has failed at being a leader in search, video content, and apps. Yahoo could have unlocked shareholder value if it accepted Microsoft's original offer in 2008, but the company passing on the deal left shareholders with a 72% loss by the end of November. Now Yahoo might not even receive any interest for its Internet business.
The Yahoo stock price was already volatile before the 2016 bear market hit. And if Mayer couldn't unlock shareholder value in a bull market, it'll be even harder for her to do it now.
The Bottom Line: Yahoo stock plummeted in the 2008 recession, and things could get much worse in a 2016 bear market. CEO Marissa Mayer's lack of innovation has caused the stock to drop 23.42% in the last six months, and she doesn't have a clear plan to turn the company around.
Jack Delaney is an associate editor for Money Morning. You can follow him on Twitter and follow Money Morning on Facebook.
The Markets Will Crash Again: The cracks are already showing. But the impending collapse is also an opportunity. By understanding these five "Super Crash" inevitabilities and making key adjustments, investors can protect their portfolios from the downside while positioning for the upside. This is your last chance to act before it's too late...