Crude oil prices today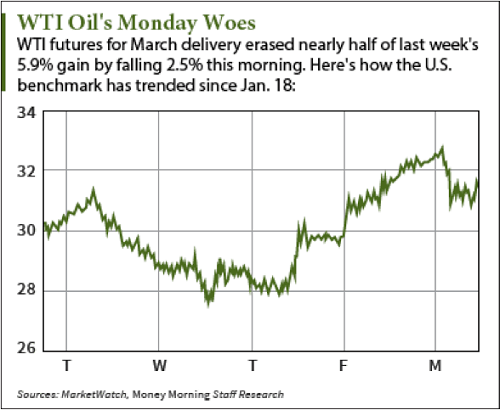 (Monday) tumbled 2.5% following last week's rally. The drop came as investors expect reduced oil and gasoline demand due to the East Coast blizzard over the weekend.
At 10:25 a.m., West Texas Intermediate (WTI) crude oil prices were trading at $31.38 a barrel. Today's decline ends the U.S. benchmark's recent rally, which included a 13.5% jump last Thursday and Friday. That rally gave WTI prices their first weekly gain of the year. Prices are up 3.3% in the last week but down 17.8% in 2016.
Meanwhile, Brent crude oil prices today dropped 1.9% to hit $32.22 a barrel. The global benchmark has gained 8.5% since Jan. 18 but is still down 16.4% since Dec. 31.
And it's all due to one of the deadliest East Coast blizzards of the 2000s…
Why Crude Oil Prices Today Are Declining
The sharp fall in crude oil prices today comes right on the heels of a monster snowstorm.
Over the weekend, a blizzard – Winter Storm Jonas – rocked the Northeastern United States by dumping up to three feet of snow and pushing several states to declare a state of emergency. According to CNN, at least 21 people have died as a result of the storm.
The blizzard's devastation caused most schools and government offices in the Mid-Atlantic area to close down today. Since gasoline is the most consumed oil-refined product in the United States, the limited travel will cause a temporary decline in both gasoline and oil demand until roads become safe again.
However, the weather conditions are just one reason why crude oil prices today are falling. After the biggest two-day gain since 2008 last Thursday and Friday, many analysts believe such an unexpected rebound almost requires an immediate price pullback due to the volatile conditions in the broader market. After all, the Dow Jones Industrial Average is down 7.6% in 2016 so far.
"It invites corrections," said Colin Cieszynski, chief market strategist at CMC Markets, to MarketWatch. "Oil to me looks like it needs to spend some time digesting the big moves of the last few weeks to let traders recalibrate portfolios and regain their bearings."
But don't let today's decline scare you away from the energy sector's profit potential. According to Money Morning Global Energy Strategist Dr. Kent Moors, investors can still make money regardless of where crude oil prices go. That's because they're becoming less influential on the energy market as a whole, which offers us a number of investment opportunities in other growing areas of the energy industry.
"The broader energy space certainly keeps an eye on the movement of the price of oil," Moors said earlier this month. "But increasingly that is no longer where the real action is."
Here are Moors' five energy sector "bright spots" that offer significant potential for investors looking to bank profits from the changing energy landscape…
Alex McGuire is an associate editor for Money Morning who writes about energy. Follow him on Twitter for all of the biggest oil and gas updates.
Like us on Facebook: Money Morning
Related Articles: