Silver prices today are up $0.24 to $14.24. The precious metal has had a markedly more volatile start to the year than its richer cousin gold.
But still, we're seeing some very constructive behavior on the technical side, as well as positive developments on the fundamental side.
And all of this against a backdrop of stock markets looking increasingly fragile with each passing day.
Here's what silver's been up to, and what I expect going forward…
What's Moving Silver Prices Today
Silver prices started last week on a relatively quiet note. Tuesday, however, was a lot more exciting.
The silver price rose very early, around 2:00 a.m., soaring to above $14.50 before retreating to $14 by 6:00 a.m. It then began climbing gradually again to reach about $14.03 by mid-day and closing at $14.02.
Wednesday, Jan. 20, saw more positive action, as silver began climbing again in the early hours, peaking near $14.15 around 3:30 a.m. and dropping back to $14.00 by 6 a.m. It then resumed its rise throughout the day, closing again at $14.02. All of this was likely aided by the extreme sell-off we saw as investors panicked out of stocks that day, with oil dipping below $27 and the S&P 500 giving up an enormous 3.4% at its worst point.
The action returned on Friday with a morning surge. NY trading started at $14.15 then quickly moved up to peak at $14.35 at 10:30 a.m., but reversed and fell back to $14.05 by 11:45 a.m. It then moved mostly sideways to end the day around $14.04.
Comparing silver to the S&P 500 since the year started provides an interesting perspective. Despite its considerable volatility, the silver price not only held up well, it's advanced while stocks have tanked.
Have a look at this chart for comparison: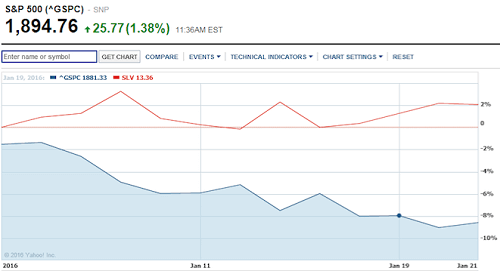 This simple view tells us that year to date, with the S&P 500 down almost 9%, silver prices have gained 2% for an outperformance of nearly 11%. That's impressive.
It would be too much to expect this kind of outperformance to continue, but it has been a tremendous start for 2016.
Meanwhile, let's look at some of the goings on in the silver marketplace that could have a meaningful impact on prices as we move forward.
What to Watch in Silver Prices Moving Forward
Silver producers have recently started reporting Q4 and overall 2015 results. In many cases so far, new production records have been set, while the rest have essentially met guidance.
This could be seen as a negative since higher production means more supply. But supply is also made up of scrap and some recycling. As well, demand has shown itself to be quite robust, proof of which is clear in the continuously high premiums being charged for both physical coins and bars of silver.
To sum up, the companies who've reported and have above guidance or record silver production include Coeur Mining Inc. (NYSE: CDE), Endeavour Silver Corp. (NYSE: EXK), First Majestic Silver Corp. (NYSE: AG), Fortuna Silver Mines Inc. (NYSE: FSM), Great Panther Silver Ltd. (NYSEMKT: GPL), Hecla Mining Co. (NYSE: HL), and Silver Standard Resources Inc. (Nasdaq: SSRI). Achieving production within guidance is Tahoe Resources Inc. (NYSE: TAHO), with 20.4 million silver ounces of output.
On the price side, research firm Capital Economics' Julian Jessop said silver was benefitting from safe-haven demand as stocks fell globally, and that silver could retest $18.
Technically, silver is acting positively too.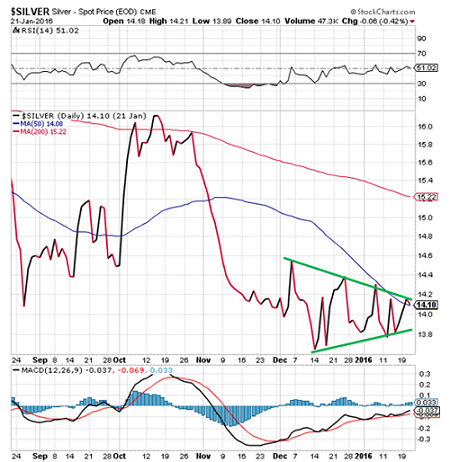 As you can see from the lines I've drawn, the silver price has been making lower highs and higher lows. Moving forward in time, if this continues, the range gets compressed, and then silver's price will typically break out either higher or lower.
It's still too early to tell, but a few more weeks should help determine which way it goes.
Meanwhile, the RSI and MACD indicators continue to support a move higher. This will be an interesting signal to watch as silver potentially returns to bull-market action.
Stay informed on what's going on in the markets by following us on Twitter @moneymorning or liking us on Facebook.
The Essential Guide to Buying Gold and Silver: Precious metal investing is widely regarded as the best "crisis insurance" for your portfolio. This guide gives you everything you need to know about the best stores of value in history, gold and silver. Read More…
Join the conversation. Click here to jump to comments…
About the Author
Peter Krauth is the Resource Specialist for Money Map Press and has contributed some of the most popular and highly regarded investing articles on Money Morning. Peter is headquartered in resource-rich Canada, but he travels around the world to dig up the very best profit opportunity, whether it's in gold, silver, oil, coal, or even potash.