The five best penny stocks this week all logged double-digit gains last week even as the broader markets ended the week flat.
That's why investors are always on the lookout for the best penny stocks to buy. They can return triple-digit profits in a short period of time, even when the markets are underperforming. Last week was the perfect example.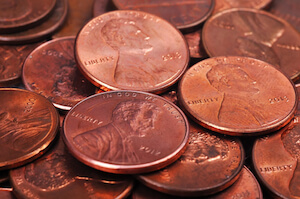 Still, penny stock investing can be extremely risky. That's why Money Morning experts advise that penny stocks should only represent a small percentage of any portfolio. And one stock should never account for more than 2% of your investing capital.
Money Morning Chief Investment Strategist Keith Fitz-Gerald says the key to finding the best penny stocks in 2016 is no different than finding other great investing opportunities. You need to know what to look for and have the right risk tolerance and perspective.
Here are the five best penny stocks this week and why they've brought investors double-digit gains…
Best Penny Stocks No. 5: Yingli Green Energy (NYSE: YGE)
Yingli Green Energy Holding Co. Ltd. (NYSE ADR: YGE) designs, manufactures, sells, and installs photovoltaic (PV) products primarily in China. It sells its PV modules to distributors, wholesalers, power plant developers and operators, and PV system integrators under the brand names Yingli and Yingli Solar. On Jan. 12, YGE announced its holding subsidiary, Hainan Yingli New Energy Resource Co., entered into definitive agreements to form a joint venture to establish a new solar panel factory in Thailand with Demeter Corporation Plc. Solar stocks have been in the spotlight since last month when Congress passed a bill extending solar credits for another five years. YGE finished last week with a 30% gain to $4.55. That puts it at No. 5 on our list of top penny stocks this week.
Continue reading for the rest of this week's top penny stocks…
Best Penny Stocks No. 4: Bill Barrett Corp. (NYSE: BBG)
Bill Barrett Corp. (NYSE: BBG) is an independent energy company focused on acquiring, exploring for, and developing oil and natural gas resources in the United States. It primarily holds interests in the Denver-Julesburg basin, the Uinta Basin, and the Gibson Gulch area in the Rocky Mountain region. Shares got a boost last week thanks to a late-week rally in energy prices and as a historic blizzard barreled toward the eastern region of the United States. Like all stocks in the energy sector, BBG shares have been walloped amid ample supply and weak demand. Shares have traded as high as $13.36 and as low as $2.19 over the last 52 weeks. In December, the company reaffirmed its FY2015 guidance. The company reports Q4 results on Feb. 23. Barclay's has a $7.00 price target on BBG. Shares ended last week with a 30.74% gain to $3.70.
Best Penny Stocks No. 3: NovaBay Pharmaceuticals (NYSEMKT: NBY)
NovaBay Pharmaceuticals Inc. (NYSEMKT: NBY) is a California-based biopharmaceutical company that develops and commercializes topical non-antibiotic antimicrobial products for the eye-care market. It operates through four segments: dermatology, ophthalmology, urology, and wound care. Earlier this month, NBY said it sees Q4 revenue coming in at $1.6 million, above estimates of $1.29 million. U.S. sales of its prescription Avenova Lid and Lash Cleanser for Q4 2015 are expected to exceed $1.5 million. That would be a 41% quarter-over-quarter increase. Driving sales are record highs for pharmacy-filled prescriptions and products sold directly by eye-care specialists. The company said direct sales and prescription growth, supported by a substantial increase in insurance reimbursements, "has the potential to provide NovaBay with substantial revenue upside." NBY shares closed out last week with a 33.33% advance to $3.20.
Best Penny Stocks No. 2: Medley Management (NYSE: MDLY)
Medley Management Inc. (NYSE: MDLY) is a New York City investment holding company that operates and controls all of the business and affairs of Medley LLC and its subsidiaries. On Jan. 16, MDLY reported it closed $350 million of new capital commitments in its private funds and separately managed accounts since the beginning of 2016. Those commitments took the total amount of institutional capital raised since Sept. 30, 2015, to over $1 billion, and the total assets under management at Medley to over $5 billion. The company said it expects "continued growth in our existing footprint" that will "drive new product growth in 2016." MDLY shares rose 35.34% to $5.17 last week.
Best Penny Stocks No. 1: Zafgen Inc. (Nasdaq: ZGFN)
Zafgen Inc. (Nasdaq: ZFGN) is a Boston-based biopharmaceutical company focused on the development of therapeutics for patients suffering from obesity and obesity-related disorders. Its lead product candidate is Beloranib, currently in phase 3 clinical trials for the treatment of obesity and hyperphagia in Prader-Willi Syndrome patients. On Jan. 21, FBR Capital and RBC Capital upgraded ZFGN to "Outperform" from "Market Perform" following positive efficacy results from its phase 2 trial of Beloranib. FBR raised its price target to $20.00 from $9.00. The firm views the efficacy data for Beloranib as compelling at current share prices. ZFGN ended last week with a gain of $3.03, or 52.15%, at $8.84.
Stay informed on what's going on in the markets by following us on Twitter @moneymorning or liking us on Facebook.
The End of the Petrodollar: Since 1973, the global oil market has operated by the "petrodollar" system, wherein exports around the world are priced in U.S. dollars. Now foreign oil deals are threatening to dismantle that system. What they plan to put in its place could destroy the U.S. dollar, ultimately leading to total economic collapse…