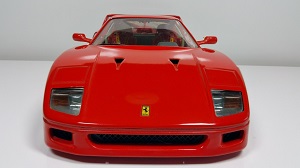 Ferrari NV (NYSE: RACE) will release its Q4 earnings report on Tuesday, Feb. 2, and investors hope it will cause Ferrari stock to rebound from its 16.2% slump so far in 2016.
Despite the company's proven growth after reporting a 22% profit jump during Q3, we see shares of the Italian automaker falling further after tomorrow's Q4 earnings report.
But first, here's why the Ferrari stock price has been dropping in 2016...
Why Ferrari Stock Has Plunged Over the Last Three Months
Most investors thought the Ferrari stock price would see double-digit gains following the company's white-hot debut.
On Oct. 21, the Ferrari IPO brought in $893 million by selling 17.2 million shares for $52 each. In its year-end IPO review, Renaissance Capital, a manager of IPO-focused ETFs, reported Ferrari was the fourth-largest IPO of 2015. It was also the largest IPO from a consumer goods company.
RACE stock climbed as much as 17% during its first trading session. Shares settled their first day of trading 5.8% higher than the $52 IPO price at $55.
But the Ferrari stock price began underperforming just one week after its debut...
Shares closed below the $52 IPO price for the first time on Oct. 28. As of Jan. 25, the Ferrari stock price is down 22.6% since its first day and trades at $40.24. That was instigated by the S&P 500's 7% drop and the Dow Jones Industrial Average's 7.4% decline over the same period.
The new stock's rapid decline has stirred mixed responses among investment banks and research firms.
Last week, Citigroup Inc. (NYSE: C) gave Ferrari stock a "Neutral" rating - a recommendation to neither buy nor sell the stock because analysts believe it will perform with the broader market.
Evercore Partners Inc. (NYSE: EVR) rated RACE a "Sell" and gave it a $40 price target, while crowdsourced rating agency Vetr upgraded it from a "Buy" to a "Strong Buy" earlier this month.
While Wall Street is confused about Ferrari stock, we've found two reasons why it will continue lower in the near term...
Two Reasons Why Ferrari Stock Will Fall in Early 2016
The first reason the Ferrari stock price will see more losses over the next few months is the company's unreasonably high valuation.
Ferrari commanded an $11.3 billion valuation after pricing at $52 a share. That's incredibly high for an automaker like Ferrari. And it's roughly 43 times larger than the company's total profit in 2014.
Plus, the reason behind the massive valuation is the company's brand power, not strong revenue growth.
According to the company's IPO filing, Ferrari views itself as a luxury company rather than a car company. In fact, the word "luxury" shows up in the filing 151 times.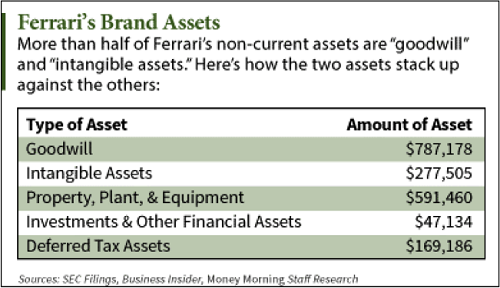 Roughly 57% of the company's non-current assets - or long-term investments and materials - consist of brand value. These appear as "goodwill" and "intangible assets" on the balance sheet. Both items include the value of a company's name, copyrights, patents, and intellectual property.
That means "goodwill" and "intangible assets" have no physical value. Ferrari is confident its luxury brand power will be the primary source of future growth - a risky gamble for a company that has seen declining annual revenue growth in recent years.
From 2012 to 2013, Ferrari's revenue rose only 5% to 2.3 billion euros ($3.2 billion). That compares to an 8% increase from 2011 to 2012. Although the company caps sales at 7,000 units a year to maintain exclusivity, it came in short at 6,922 cars in 2013.
Despite a record 17.5 million cars sold in the United States last year, Ferrari's sales growth will likely continue to stagnate due to the high retail costs of its vehicles.
But a ballooned valuation isn't the only reason to avoid Ferrari stock. The second reason is the exceptionally volatile IPO market.
You see, the Dow Jones' 7.9% plunge over August and September caused newly public companies to decline sharply. Roughly 58% of all 2015 IPOs were trading below their offer price by the end of the year. Ferrari was one of many late-year IPOs like Square Inc. (NYSE: SQ) and First Data Corp. (NYSE: FDC) that struggled to maintain momentum amidst the volatility.
Initial IPO volatility poses the most danger for retail investors. Money Morning Chief Investment Strategist Keith Fitz-Gerald says new issues are always risky because they can cause huge losses for anyone who isn't a big-time investment banker or hedge fund manager.
A good rule to follow when considering buying new stocks like Ferrari is to wait for at least three quarterly earnings reports to come out. Although Ferrari has proven its profitability, you want to make sure it doesn't start becoming less profitable. The only way to determine that is to wait for the Q1 2016 report to come out in a few months.
"IPO hype is based on what 'could be,' not what 'is,'" Fitz-Gerald said in June 2015. "Many times management cannot make the jump, and you do not want to pay the price for finding out which is which."
The Bottom Line: Investors believed Ferrari stock had a lot of profit potential after its highly successful IPO. But after jumping nearly 6% on its first day, Ferrari has fallen far below its $52 offer price as it deals with an overly high valuation and volatile IPO market. We maintain that you shouldn't consider investing in RACE stock until at least the second quarter of 2016.
Alex McGuire is an associate editor for Money Morning who writes about the IPO market. Follow him on Twitter for news on the biggest upcoming IPOs.
Like us on Facebook: Money Morning
The Stock Buyback Con Game: Stock buybacks make sense for some companies, but not for all. These days, they're often used to manipulate stock prices - and they've hit record levels lately. What's driving this growth is dangerous for you and our economy...