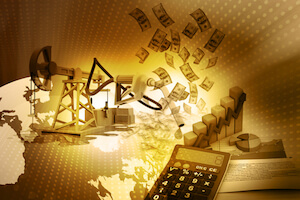 Most investors are afraid to search for a profitable oil stock now that prices are hovering near a 12-year low of $32 a barrel. After all, the 2016 oil market has been marred by doom-and-gloom forecasts, including Wolfe Research's statement earlier this month that a third of U.S. oil companies will go bankrupt by mid-2017.
But there's one oil stock investing strategy that can lead to substantial profits while prices begin their long-term rebound....
According to Money Morning Global Energy Strategist Dr. Kent Moors, a 30-year veteran of the oil industry who has advised several world powers on energy policy, decreasing supply and increasing demand in 2016 will slowly push prices out of their current slump.
"We are not racing back to $100 a barrel oil," Moors explained last month. "But we certainly do not need triple-digit oil to make some nice investment returns, especially in a sector that has been so oversold."
You see, the crash in WTI crude oil prices so far this year has come from fears of weakening Chinese demand and excess global oil supply.
And the 22.3% drop in China's benchmark Shanghai Composite Index has lowered investors' confidence that demand will keep growing for the second-largest oil-consuming nation in the world.
Oil prices have also suffered from a series of bearish supply reports. The U.S. Energy Information Administration (EIA) reported last week that total U.S. inventories increased by 4 million barrels to an 80-year high of 486.5 million barrels during the week ended Jan. 15. That came after a 200,000-barrel increase during the previous week.
But the EIA also predicts a spike in demand this year. The agency said global consumption is expected to jump from 93.8 million barrels a day in 2015 to 95.2 million a day by the end of 2016.
The increasing demand will reduce the global supply glut and slowly raise prices toward $70 a barrel by the end of the fourth quarter. That steady oil price stabilization will open up some solid profit opportunities in the meantime.
But you don't want to rush into just any oil stock. In fact, Moors says there's one trend occurring among oil companies that will help you find the best oil stocks to buy in 2016...
The One Oil Stock Investing Method to Follow This Year
The best way to profit from the current price climate is to invest in acquisition targets.
[mmpazkzone name="in-story" network="9794" site="307044" id="137008" type="4"]
You see, $30 oil prices will lead to mergers and acquisitions (M&A) among oil companies in 2016. That's because smaller companies with fewer resources can't afford costly drilling projects when prices are near their current levels.
Bloomberg reported that drilling companies reduced their spending by 21% in 2015 and will continue to do so until prices rebound. For smaller producers struggling to conserve cash, being bought out by a larger company may be their only way to make money.
"The most likely targets of M&A activity will be energy companies with attractive land leases, pipelines, or other assets, high levels of debt, and declining cash flows," Moors said. "These types of companies could hand their shareholders a quick profit in 2015 if they get targeted."
Investing in these small acquisition targets offers big returns because the stock prices of oil companies typically skyrocket after being acquired. When Royal Dutch Shell Plc. (NYSE ADR: RDS.A) acquired BG Group Plc. (OTCMKTS ADR: BRGYY) in the $81 billion deal of the decade, shares of BRGYY surged 27.5%. Williams Companies Inc. (NYSE: WMB), which was bought by Energy Transfer Equity LP (NYSE: ETE) on Sept. 28, was up 12.2% by the end of that week.
These deals will not only hand you quick profits, but they will also help the entire oil industry return to normal in 2016.
"The specific objective of M&A may vary from deal to deal, but the overall goal remains the same: to streamline participation in advance of sector stabilization and the inevitable rise in raw material prices," Moors explained back in September.
The Bottom Line: Many investors don't know the best method for oil stock investing in 2016 because prices are so volatile. While you won't find any oil companies offering explosive gains during this low price environment, you can still bank solid profits from targeting the sector's M&A trend. We recommend investing in acquisition targets as prices remain volatile in the short term.
Alex McGuire is an associate editor for Money Morning who writes about energy. Follow him on Twitter for the biggest oil and gas updates.
Like us on Facebook: Money Morning
The End of the Petrodollar: Since 1973, the global oil market has operated by the "petrodollar" system, wherein exports around the world are priced in U.S. dollars. Now foreign oil deals are threatening to dismantle that system. What they plan to put in its place could destroy the U.S. dollar, ultimately leading to total economic collapse...