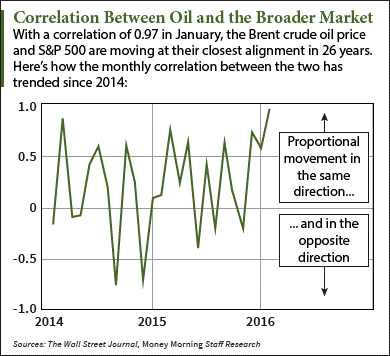 The biggest question on energy investors' minds right now is, "Will oil prices rise in 2016?"
That's because oil prices are having their biggest impact on the broader market in nearly three decades.
You see, the correlation between oil prices and the S&P 500 is at its highest level since 1990. From Jan. 4 to Jan. 25, their correlation was 0.97 – higher than any month in the last 26 years. A correlation of 1 means crude oil and the S&P 500 move perfectly in tandem, while a correlation of -1 means they move in completely opposite directions.
"The unusually strong link between the two markets partly reflects a common theme driving both: fears that a slowing Chinese economy could tip the global economy into recession," The Wall Street Journal reported.
China is just one of many reasons why WTI crude oil prices have cratered 17.6% so far this year. The other primary factor dragging oil prices lower is the domestic supply glut. The U.S. Energy Information Administration (EIA) reported that domestic oil inventories increased by 8.4 million barrels to an 80-year high of 494.9 million last week.
But contrary to recent sky-is-falling forecasts, oil prices will rise in 2016. And Money Morning Global Energy Strategist Dr. Kent Moors says one huge trend among oil producers will create an oil price rebound…
Why Will Oil Prices Rise in 2016?
The most significant – and fundamental – reason why crude oil prices will rise in 2016 is falling supply levels. That's because there's about to be a widespread drop-off in well production over the next year.
A typical shale oil well produces most of its volume within its first 18 months online. The majority of U.S. wells are now starting to see a drop-off in production. That makes sense considering the oil crash has been happening for 18 months. In fact, the Baker Hughes Inc. (NYSE: BHI) rig count is at 637 right now – the lowest level since April 2010.
"The U.S. rig count has declined precipitously… that can't help but lead to a drop in supply, especially when it comes to shale or tight oil," Moors explained in December. "It's called the decline curve and can't be finessed forever."
The supply decline will be perpetuated by a big spike in demand. The EIA projects global oil consumption to reach 95.2 million barrels per day by the end of 2016. That's a 1.5% increase from 93.8 million in 2015.
All of these trends will work together to revive oil prices in 2016. According to Moors, WTI crude oil will more than double its current value in less than six months.
"By July 1, 2016, WTI should be at $66 and Brent at $70," Moors forecasts. "By the beginning of the fourth quarter, WTI at $68, Brent at $72."
But oil isn't the only energy sector he believes offers profit potential this year. In fact, Moors recently unveiled another forecast for a growing energy sector that's expected to become a $75 billion market by the end of 2016…
Alex McGuire is an associate editor for Money Morning who writes about energy. Follow him on Twitter for the biggest oil and gas updates.
Like us on Facebook: Money Morning
Related Articles: