The Facebook stock price is skyrocketing 16% in intraday trading today (Thursday) after Facebook Inc. (Nasdaq: FB) crushed expectations in its Q4 2015 earnings report.
And while Facebook stock is climbing on strong earnings per share (EPS) and revenue numbers, almost every analyst is overlooking one hidden earnings number.
But first, here are the EPS and revenue figures moving the stock...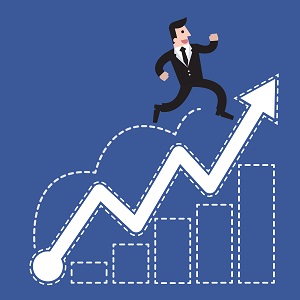 Wall Street expected the social media giant to report EPS of $0.68 on $5.36 billion in revenue. Facebook reported $0.79 on $5.84 billion in revenue. The company has now beaten EPS expectations in 13 out of the last 14 quarters.
Even though Facebook will turn 12 years old next week, it's still attracting new users. The company now has 1.59 billion monthly active users (MAUs), a 14.38% increase from the same time a year ago. That's one of the biggest catalysts for today's FB stock jump.
Another area of growth shareholders were focusing on was mobile advertising revenue. Facebook reported that 80% of its ad revenue from Q4 came from mobile devices.
Facebook's growth was clear. But CEO Mark Zuckerberg was vague on its other holdings...
He didn't elaborate on revenue growth for its mobile picture app Instagram or virtual reality headset Oculus Rift, which was something I was looking closely for.
Zuckerberg was also providing old lines on how his two non-monetized messenger services, Messenger and WhatsApp, needed to create organic interactions between users and businesses before monetization could occur.
That means he wants people to interact with businesses they like. So instead of seeing ads that aren't relevant to you, Zuckerberg wants to create interactions where you could get receipts messaged to you or dinner reservation confirmations from restaurants you like. He would then charge those companies money to interact with Messenger and WhatsApp users.
Company officials didn't even provide any 2016 guidance. However, the lack of details didn't hurt the Facebook stock price.
While investors saw the EPS and revenue figures and sent the stock higher, we dug deeper and found a "hidden" number that will be a major catalyst for FB stock.
In fact, there was one word mentioned 31 times during the earnings call and almost no one noticed it. And it will be the most important factor for Facebook stock in 2016...
Instagram Is Key to Facebook Stock Price's Growth
We already mentioned that Zuckerberg was vague about Instagram's contribution to revenue growth.
But the mobile picture app really did stand out in the conference call, despite the lack of details behind it.
Between company officials sharing results and shareholders asking questions, Instagram was the most talked about service. Here's how many times each service was mentioned:
Instagram Mentions: 31
Messenger Mentions: 17
WhatsApp Mentions: 14
Oculus Mentions: 12
And there's a big reason why Instagram is so important to Facebook's future...
In 2013, 33% of teens in a research study conducted by Piper Jaffray stated that Facebook was the most important social network to them. That was the highest response rate.
But just two years later, only 14% of teens surveyed felt that way about Facebook.
Instagram was able to take Facebook's No. 1 spot, however, in 2015 when 32% of teens surveyed said Instagram was the most important social network to them.
Combined, 46% of the teens surveyed preferred either Facebook or Instagram over rivals like Twitter Inc. (NYSE: TWTR) and Snapchat.
Zuckerberg stated that Instagram has over 400 million MAUs users now, but he didn't give an exact figure. Still, that's currently 80 million more MAUs than Twitter. And that's also 300 million more than Snapchat CEO Evan Spiegel estimated his company had in developed countries in May 2015.
Estimates vary on how much money Instagram actually brought in, but research firm eMarketer projected it earned close to $600 million, and Credit Suisse projected it brought in $730 million.
More importantly, eMarketer believes that Instagram could grow so much that it could account for more than 10% of Facebook's total ad revenue by 2017.
The Bottom Line: The Facebook stock price is up today after very impressive Q4 earnings. Facebook is still growing its user base for its flagship site, but the real growth engine for 2016 is Instagram. With over 400 million users, Facebook now has two social media sites people can't live without.
Jack Delaney is an associate editor for Money Morning. You can follow him on Twitter and follow Money Morning on Facebook.
Protect Your Money in This Bear Market: It's true that you would have to be a fortune teller to know exactly when a bear market would start and end. But fortune telling isn't Chief Investment Strategist Keith Fitz-Gerald's profession. His goal is to protect your wealth, maximize gains, and help you focus on what's really going on in the market. In his Money Map Report, this financial guru has used his years of experience as a trader in one of Wall Street's leading firms to help his readers find 86 double- and triple-digit winners. You can learn more about Keith's Money Map Report here...