Spot gold prices slipped $9, or 0.80%, Thursday morning to $1,116.70 an ounce as many investors took profits following a week of gains for gold prices.
And while spot gold was down today, dovish comments from the U.S. Federal Reserve yesterday were a big indication that gold prices will continue climbing in 2016.
Spot gold prices initially moved higher Wednesday after the U.S. central bank's first policy statement of the year.
Shortly after the Fed announced it left interest rates unchanged at 0.25% to 0.50%, spot gold traded up 0.4% to $1,124.40 an ounce. But gold prices finished the session with a mild $5.60, or 0.50%, decline, to $1,116.10 an ounce as U.S. stocks tumbled.
A large swing in spot gold prices was expected Wednesday after the central bank's statement. So the precious metal's small move surprised some precious metal traders.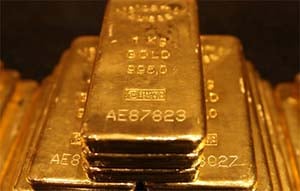 In its announcement, the Fed said it's concerned about recent turmoil in global markets. That fueled hopes that U.S. interest rates will remain lower for longer.
Future markets place just a 25% probability on a rate increase at the Fed's next meeting on March 15-16.
Gold traders follow the Fed's monetary policy decisions closely. When interest rates are low, gold better competes with yield-bearing assets such as Treasury bonds. The precious metal is also traded in dollars and becomes less expensive to foreign buyers when the U.S. currency weakens against other currencies.
Gold prices got off to a stellar start this year, climbing back above $1,100 an ounce. In December, prices had settled near $1,050 per ounce.
Spot gold prices now sit near a three-month high and the rally in 2016 is just getting started…
Why Spot Gold Prices Could Soar in 2016
Spot gold is up $44, or 5.26%, so far this year. In comparison, the Dow, S&P 500, and Nasdaq are down 8%, 7.19%, and 9.76%, respectively.
Among the lengthy list of issues that sent investors piling into gold this year are a fragile junk bond market, commodity-market woes, emerging-market outflows, slowing growth in China, negative interest rates in Europe, and soft corporate earnings.
Companies in the S&P 500 are expected to show an average earnings decline of 6% for Q4 2015, according to FactSet. That would mark the first time the index has logged three consecutive quarters of year-over-year declines in earnings since Q1 2009 through Q3 2009.
"Millions of investors are looking for the exits and a reliable safe haven," Money Morning Resource Specialist Peter Krauth explained. "And with Middle East tensions flaring and perpetual uncertainty over Chinese markets, millions more are sure to follow. But… all that bad news on the markets is terrific news for gold – and everyone holding it."
Krauth expects gold prices to head higher from here, and the $1,200 level in 2016.
The Essential Guide to Buying Gold and Silver: Precious metal investing is widely regarded as the best "crisis insurance" for your portfolio. This guide gives you everything you need to know about the best stores of value in history, gold and silver. Read More…
Stay informed on what's going on in the markets by following us on Twitter @moneymorning or liking us on Facebook.
Related Articles: