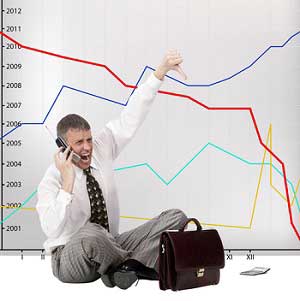 Yes, CEO Marissa Mayer has a plan to save her company, but don't expect the Yahoo stock price to start climbing.
She's finally listening to investors who have wanted her to do this for years, although it's too little too late. Yahoo stock is already down 12.24% in 2016, and it shows no sign of rebounding soon.
But first, here's the bind Yahoo! Inc. (Nasdaq: YHOO) is in....
Because of Mayer's failure to innovate, the YHOO stock price is down 22.59% over the last six months. Investment groups like Starboard Value LP and SpringOwl are demanding Yahoo's CEO be replaced. Each group feels the true value of Yahoo stock will be unlocked once she is replaced.
That leaves Mayer with two options to save her job: Sell Yahoo's Internet business or try to spin off Yahoo's stake in Alibaba Group Holding Ltd. (NYSE: BABA) to increase shareholder value.
The timing isn't doing Yahoo stock any favors. A broader market sell-off, in which the Nasdaq has dropped 9.14% in 2016, has also contributed to the Yahoo stock price drop.
But Yahoo can't just blame its problems on the market. Mayer's company has fallen too far behind in its technology services to be an attractive acquisition...
Companies like Facebook Inc. (Nasdaq: FB) and Twitter Inc. (NYSE: TWTR) were quicker to see the goldmine in mobile ad revenue. Facebook just reported that 80% of its total ad revenue comes from mobile ads, and Twitter reported in the first half of 2015 that mobile ad revenue accounted for 88% of its total revenue.
Yahoo's mobile ad revenue accounted for just 20% of its total ad revenue in the first half of 2015. The company still heavily relies on people using desktops and clicking on ads, an outdated approach.
Of course, Mayer could choose to sell Yahoo's stake in BABA, but the Internal Revenue Service did not guarantee that it would be tax-free. Yahoo General Counsel Ron Bell stated that the company will still consider the spin-off, despite potentially incurring huge taxes.
Robert Willens, author of "Taxation of Corporate Capital Transactions," believes Yahoo could incur $8 billion to $9 billion in taxes from the sale.
That's why Mayer has formulated a completely new plan to save the falling Yahoo stock price. And this plan will have a major impact on the Yahoo stock price in 2016...
The Yahoo Stock Price Will Stagnate Under Marissa Mayer
Marissa Mayer's new plan is to restructure the company, to save money and eliminate waste. But news site Re/code claims that's just Mayer's stealthy way of firing employees.
Business Insider reported at the beginning of January that up to 10% of Yahoo's workforce may be cut. And to help analyze what divisions should be kept, Yahoo hired consulting firm McKinsey & Co. in November 2015 to help with the decision-making process.
For a lot of shareholders, this is long overdue...
Silicon Valley tech investor Marc Andreessen believed all the way back in 2012 that Yahoo should only staff 6,000 to 8,000 employees. As of 2014, stat provider Statista stated that Yahoo had more than 12,000 employees.
"Every analyst has noted pretty much the same thing, and to date no CEO has had the guts to cut that deeply, even as each of them have been vilified for making cuts," stated Andreessen. "Will Mayer be able to do what most outside observers say is necessary?"
And Mayer has lavishly rewarded her huge pool of employees...
In his 99-page presentation to Yahoo's Board, SpringOwl fund manager Eric Jackson stated that Yahoo's CEO:
Spent $9.3 million to give all employees an iPhone 6
Spent $2 million to give employees a fitness band from JawBone (she is a board member for the company)
Spent $450 million on food for employees over a four-year period
Spent $7 million for a holiday party in December 2015
The reduction of its workforce will save costs and slightly appease some investors, but it's not enough to revive the Yahoo stock price in 2016.
Yahoo is lagging too far behind other tech companies in generating mobile ad revenue. Plus, Yahoo's total revenue decreased 7.3% from 2012 to 2014.
The Bottom Line: CEO Marissa Mayer's plan to reduce Yahoo's workforce will save the company money, but it's not enough to boost the Yahoo stock price. Mayer's failure to innovate has left Yahoo with very few opportunities to improve value for shareholders.
Jack Delaney is an associate editor for Money Morning. You can follow him on Twitter and follow Money Morning on Facebook.
 The Markets Will Crash Again: The cracks are already showing. But the impending collapse is also an opportunity. By understanding these five "Super Crash" inevitabilities and making key adjustments, investors can protect their portfolios from the downside while positioning for the upside. This is your last chance to act before it's too late...