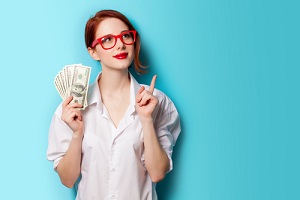 The struggles of Yahoo! Inc. (Nasdaq: YHOO) have been well documented, and CEO Marissa Mayer may be forced to make drastic changes.
Yahoo's revenue declined 7.3% from 2012 to 2014, and Mayer's attempts to increase revenue growth haven't worked. This leaves people wondering, "How does Yahoo make money?"
But before we talk about how Yahoo makes money, let's take a look at exactly why the company is losing money...
Fund manager Eric Jackson highlighted in a 99-page presentation to Yahoo's board that the stagnant growth of the Yahoo stock price is due to Mayer's questionable spending habits.
In the report, Jackson stated that Yahoo's CEO:
Spent $2 million to give Yahoo employees a fitness band from JawBone (she is a board member for JawBone)
Spent $450 million on food for employees over a four-year period
Spent $9.3 million to give all employees an iPhone 6 when the phone came out in September 2014
Spent $7 million on a holiday party in December 2015
And aside from the excessive perks, activists are also peeved at Mayer's acquisitions...
The 40-year old CEO has a history of buying former co-workers' companies, which include Polyvore and Aviate. Mayer paid $230 million for the fashion site Polyvore, although Jackson states that no one in Yahoo wanted to do the deal, according to his sources.
Mayer purchased home screen app Aviate for a reported $80 million. Jackson stated that it was just a "Google Now knock-off," and it's currently just available for Android users even though it was purchased in 2014.
Now that you know why Yahoo is losing money, let's take a look at how Yahoo makes money and what it means for the YHOO stock price...
How Does Yahoo Make Money? Find Out Below
Yahoo made $768 million in revenue for the full year 2014, and the bulk of its revenue comes from advertising. Advertisers pay Yahoo to bring ads to its audience.
Advertisers will either pay for Cost per Click (CPC) or Cost per Mille (CPM) campaigns. With CPC, a company only has to pay for the ad if the customer clicks it. For CPM, advertisers pay for every 1,000 views.
When a person uses Yahoo's search engine, ads that are relevant to the searches will be shown. So, for example, if a person searches for tips on how to make nachos, an ad for a food company may appear.
These ads are then posted on Yahoo's different pages, such as Yahoo! Sports and Yahoo! Style, and sent to Yahoo! Mail user's inboxes.
But the problem for shareholders is that Alphabet Inc. (Nasdaq: GOOGL, GOOG) surpassed Yahoo as a superior search engine. As of May 2015, comScore stated that Google owns 64.5% of the search market share. Yahoo has just 12.8%. That means Google has a large audience and reaches customers more easily, making it much more attractive to advertisers.
Yahoo is also lagging behind in generating mobile revenue. Facebook Inc. (Nasdaq: FB) just reported that 80% of its ad revenue came from mobile advertising, and Twitter Inc. (NYSE: TWTR) reported in the first half of 2015 that 88% of its ad revenue came from mobile.
Yahoo reported in the first half of 2015 that only 20% of its total ad revenue was from mobile ads.
Mayer has attempted to increase revenue through other outlets recently:
Acquiring Tumblr for $1.1 billion in 2013
Creating a competitor to Snapchat and Instagram, Yahoo Livetext
Developing original programming
But none of her plans have worked yet...
Yahoo is secretive about its earnings from Tumblr, but analysts believe that's because it hasn't contributed to overall earnings as much as Mayer was hoping. But Livetext is a clear failure, as it ranked 659th for photo and video app downloads for the iPhone and iPad as of Jan. 25. Instagram was the sixth-most overall downloaded app as of Jan. 24.
Another misstep was Mayer's purchase of Yahoo Screen. Yahoo Screen was supposed to be a video content provider that rivaled Hulu and Netflix Inc. (Nasdaq: NFLX), but it never took off. Still, Mayer sunk more than $100 million over the last two years into Yahoo's attempts at being a video content provider.
A once prominent company, Yahoo has fallen behind the tech market and can't catch up. It generates the majority of its revenue through ads, but its attempts at creating other revenue outlets through video and apps have failed.
The Bottom Line: For those asking, "How does Yahoo make money?" the answer is mostly from advertising. But Yahoo's ability to increase revenue with CEO Marissa Mayer running the company isn't promising. Yahoo has fallen behind Facebook and Twitter in mobile ad revenue, and Yahoo is no longer a relevant search engine. Mayer's plans aren't working, and YHOO shareholders need to brace themselves for a poor earnings report on Feb. 2.
Jack Delaney is an associate editor for Money Morning. You can follow him on Twitter and follow Money Morning on Facebook.
The Markets Will Crash Again: The cracks are already showing. But the impending collapse is also an opportunity. By understanding these five "Super Crash" inevitabilities and making key adjustments, investors can protect their portfolios from the downside while positioning for the upside. This is your last chance to act before it's too late...