The price of gold today was up $12 – or more than 1% — following a productive week for the yellow metal's price.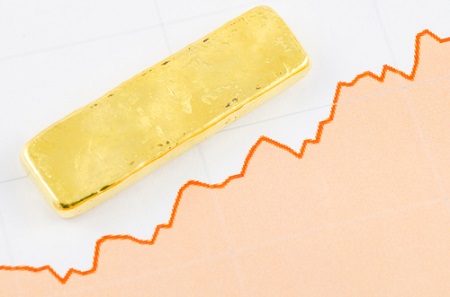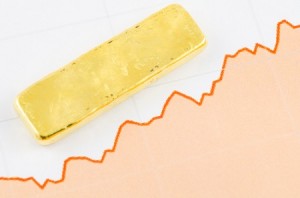 While we've seen a small reprieve in stocks, warnings emanating from the World Economic Forum in Davos, Switzerland, have heightened the concern for investors.
The financial elite are worried that a new recession could be just around the corner, but it goes even beyond that. They fear the next financial crisis – and our ability to deal with it.
In fact, William White, former chief economist of the Bank for International Settlements, summarized the general view like this: "The only question is whether we are able to look reality in the eye and face what is coming in an orderly fashion, or whether it will be disorderly."
Perhaps that's what the price of gold has been telling us… After seven years of easy money, the gig is up, and new rounds of easing will have decreasing effects.
Either way, it pays to pay attention to gold prices. So let's review the past week, and developments likely to affect the price of gold in the medium and longer terms.
What's Moved the Price of Gold Lately
Monday, Jan. 25, saw little gold price action, as gold just climbed ever so gradually to close at $1,107.
Tuesday, Jan. 26, gold started around $1,112 and rose sharply to close at $1,119. This was when the Fed's January meeting started and likely provided a lift for gold. The price of gold rose further on Wednesday, shooting to $1,127 by 3 p.m. in reaction to the Fed statement.
The Fed basically said that it was business as usual, with no rate hike this meeting. But the statement also pointed out that the Fed was "closely monitoring global economic and financial developments." Not typical for a Fed statement, and it raised some eyebrows, as well as the gold price. Gold ended NY trading at $1,124, a three-month high level last seen in early November.
Today gold's trading around $1,129.
Now let's look at a few developments that may affect the price of gold as we move farther into 2016 and beyond.
What Will Move the Price of Gold Going Forward
A theme I've addressed several times before is ETF holdings. Commerzbank just reported that gold has continued to flow into physically backed exchange-traded funds. ETFs, which are tracked by Bloomberg, have posted eight consecutive days of inflows as of Wednesday, Jan. 27, to the tune of 51.4 tonnes since the year started.
Another theme I've often revisited is that of official buying from central banks. In 2010 central banks became net buyers of gold. Last year, China bought about 6% of global supply (officially) and Russia bought roughly 4%. Russia's been selling other assets, reducing its foreign reserves, and buying gold in a bid to support its weaker currency and economy. In December alone, the Russian central bank added 21.8 tonnes to its stash, and a total of 206.51 tonnes in 2015, way up from the 172.99 tonnes it soaked up in 2014.
As well, Kazakhstan revealed it had boosted its gold reserves some 16% to 7.13 million ounces by the end of 2015, with now 39 straight months of net purchases.
Circling back to China, but this time on the retail front, we've seen a surge by 67% in December for imports from Hong Kong. That's the highest level in two years, according to Bloomberg Business, as investors reacted to negative stock markets and in anticipation of more weakness in the yuan.
As well there's been record physical delivery from the Shanghai Gold Exchange in 2015, which, as this chart helps illustrate, has been climbing rapidly in recent years: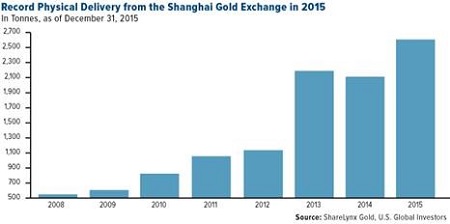 So what's next for the price of gold?
After the recent surge in gold prices this week, it wouldn't surprise me to see a bit of a pullback on profit taking.
But from most angles, gold's been looking strong and appears poised to continue that trend over the next several months.
Stay informed on what's going on in the markets by following us on Twitter 
@moneymorning
 or liking us on 
Facebook
.
The Essential Guide to Buying Gold and Silver: Precious metal investing is widely regarded as the best "crisis insurance" for your portfolio. This guide gives you everything you need to know about the best stores of value in history, gold and silver. Read More…
Join the conversation. Click here to jump to comments…
About the Author
Peter Krauth is the Resource Specialist for Money Map Press and has contributed some of the most popular and highly regarded investing articles on Money Morning. Peter is headquartered in resource-rich Canada, but he travels around the world to dig up the very best profit opportunity, whether it's in gold, silver, oil, coal, or even potash.