The broader markets all climbed last week - the Dow led the way with a 2.3% gain - but the five top penny stocks all outperformed the market and posted double-digit gains. Last week's best penny stock even posted a gain of more than 60%.
With analysts warning about extreme volatility from the broader markets in 2016, many investors are looking for the best penny stocks. That's because penny stocks can reward investors with double-digit profits in a short period of time.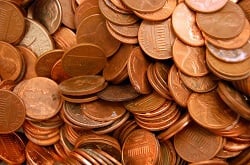 Still, penny stock investing can be extremely risky. That's why Money Morning experts advise that penny stocks should only represent a small percentage of any portfolio. And one stock should never account for more than 2% of your investing capital.
Money Morning Chief Investment Strategist Keith Fitz-Gerald says the key to finding the best penny stocks in 2016 is no different than finding other great investing opportunities. You need to know what to look for and have the right risk tolerance and perspective.
Here are the five top penny stocks this week and the huge profits they've brought investors...
Top Penny Stocks, No. 5: Histogenics Corp. (Nasdaq: HSGX)
Histogenics Corp. (Nasdaq: HSGX) develops and commercializes regenerative medicine products in the musculoskeletal segment. Its product candidates include NeoCart, currently in phase III clinical trials, a first-line therapy for full-thickness knee chondral lesions in adults. Founded in 2000 and headquartered in Waltham, Mass., Histogenics will present at the ROTH 18th Annual BIO Conference in New York on Feb. 9. Canaccord Genuity has an $8 price target on HSGX. Shares rose 30.3% last week to $3.01. That makes it No. 5 on our list of the top penny stocks this week...
Top Penny Stocks, No. 4: Avon Products Inc. (NYSE: AVP)
Avon Products Inc. (NYSE: AVP) was founded in 1886 and is headquartered in New York. The company manufactures and markets beauty products worldwide. Once widely successful, Avon and its stock have suffered over the last several years. CEO Andrea Jung, whose 13-year tenure at the top unraveled in 2012 in a slew of embarrassing scandals, has weighed on the stock. Avon Products shunned a $10 billion bid by rival Coty that same year, instead aiming for a turnaround. Shares have been trending higher since Jan. 21, when Avon Products announced Cerberus Capital Management is investing $435 million in Avon for a nearly 17% stake and will acquire 80% of the company's North American business. Avon will separate the unprofitable division from its international business, which will make up the remaining public company. AVP shares ended last week at $3.39, a 30.9% gain.
Top Penny Stocks, No. 3: Century Aluminum (Nasdaq: CENX)
Century Aluminum Co. (Nasdaq: CENX) produces primary aluminum in the United States and Iceland. The Chicago-based company produces standard-grade and value-added primary aluminum products, as well as carbon products including anodes and cathodes. Aluminum producers have been feeling the pain from falling metal prices for the last couple years. However, big production curtailments from aluminum producers have not yet been announced. But some aluminum producers have been using falling metal prices as a tool to negotiate fresh energy contracts with power suppliers. CENX, meanwhile, is talking with U.S. authorities about options for stemming a flood of cheap metal imports from China, including a trade case that could bring the escalating dispute to a head. CENX closed last week at $4.72, a 32.2% gain.
Top Penny Stocks, No. 2: OncoCyte Corp. (NYSEMKT: OCX)
OncoCyte Corp. (NYSEMKT: OCX) is engaged in developing non-invasive liquid biopsy diagnostic tests in areas of high unmet needs in oncology. The company's initial focus is confirmatory diagnostics that are used in conjunction with imaging to confirm initial diagnoses. Shares debuted on the NYSEMKT on Jan. 4. On Jan. 27, OncoCyte and The Wistar Institute entered into a global licensing agreement for a simple, non-invasive blood test to aid physicians in the early detection of lung cancer. The agreement provides OncoCyte the exclusive rights to commercialize this lung cancer diagnostic test. The company is working on the test's final validation with the goal of completing work in 2016 to enable its commercial launch. OCX shares closed last week at $4.15, a 44.1% gain.
Top Penny Stocks, No. 1: SunCoke Energy (NYSE: SXC)
SunCoke Energy Inc. (NYSE: SXC) operates as an independent producer of coke in the Americas. The Illinois-based company offers metallurgical and thermal coal for use as a raw material in the blast furnace steelmaking process. On Jan. 28, SunCoke reported better than expected Q4 results after reporting a loss in the same quarter a year ago. Net income came in at $19 million. Adjusted earnings per share came in at $0.16. That easily beat estimates of $0.05. For the full year, the company reported its loss narrowed to $22 million, or $0.34 per share, on revenue of $1.36 billion. On Jan. 29, Mangrove Partners bought 262,712 shares at $2.34 to $2.35. Shares ended last week with a 60.9% advance to $3.78. That puts SXC at No. 1 on our list of top penny stocks for the week.
Stay informed on what's going on in the markets by following us on Twitter @moneymorning or liking us on Facebook.
The Gold Mining Revolution: Technological advancements in gold mining have been stagnant, but one tiny Canadian company is about to change that. Its special extraction method will slash production costs and send gold prices soaring. In fact, this nano cap could disrupt the entire industry...