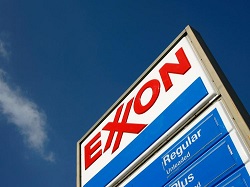 The highly anticipated Exxon Mobil Corp. (NYSE: XOM) earnings report comes out tomorrow (Tuesday, Feb. 2). Analysts expect the Exxon stock price to fall after the oil titan reports what could be its worst earnings report since 2009.
There are two major reasons to hold onto shares of the world's largest energy company despite initial volatility after the report. An earnings miss will create selling pressure on XOM stock, but now is not the time to ditch your shares.
Before we get to that the two bright spots, here's what you can expect from the Exxon Q4 earnings…
Analysts surveyed by FactSet Research Systems Inc. (NYSE: FDS) expect Exxon to post $0.64 per share on revenue of $50.8 billion in the fourth quarter. That would be down from $1.32 per share and $87.2 billion in revenue during the fourth quarter of 2014 – the largest year-over-year decline since 2009.
The main factor behind the bleak earnings forecast is the 2015 oil price crash. West Texas Intermediate (WTI) crude oil's 37.4% decline last year marked the first time since 1998 that the U.S. benchmark posted a second straight annual loss. It caused the Exxon stock price to fall 15.7% and lose more than $21.8 billion in market cap in December alone.
Exxon's earnings follow Chevron Corp.'s (NYSE: CVX) gloomy report last week. The second-largest U.S. oil producer posted a loss of $588 million, or $0.31 per share – a massive decline from a profit of $3.5 billion, or $1.85 per share, in the year-ago quarter. It was the company's first quarterly loss since Q3 2002.
Chevron's poor performance is the latest sign that the huge drop in oil prices hurts even the largest and most stable energy companies.
"If we see $20-type oil moving into 2017, that's when we have to be concerned about most of the companies in the sector," Jefferies Group LLC (NYSE: JEF) analyst Jason Gammel told CNBC's "Fast Money" on Jan. 20.
Despite the trend of losses in the oil sector, there are two reasons to keep XOM stock in your portfolio after tomorrow's earnings. And they could each help you profit, even when other oil stocks are tumbling…
Two Reasons to Hold Exxon Stock After Q4 Earnings
The first reason to keep XOM stock in your portfolio throughout 2016 is its highly profitable downstream sector.
You see, downstream operations are the services that occur after the production phase. These include refining, chemicals production, and marketing. Refining services turn oil into consumable products like gasoline and petroleum, while marketing services sell these refined products to retailers.
When oil prices were near $100 a barrel in June 2014, refining units were the weakest area of companies' earnings. That's because high oil prices make it more expensive for refineries to churn out enough products like gasoline to meet consistently high demand.
Now, refining sectors yield big profits as they enjoy strong gasoline demand and low oil prices.
"For years refining has been the ugly duckling in big oil companies' portfolios," reported The Wall Street Journal ahead of BP Plc.'s (NYSE ADR: BP) Q1 earnings report last year. "But the sharp drop in crude prices has boosted the sector's profitability."
Exxon's downstream profit increased 253% over the first three quarters of 2015. After nearly doubling its Q3 refining profit from a year earlier to $2 billion, analysts expect another huge quarter from the company's downstream services.
But that's not the only reason to hold Exxon stock. The oil titan is also one of the most attractive dividend stocks on the market…
Exxon's strong dividend comes from the company's rare S&P AAA credit rating. This rating shows a company has trustworthy credit and enough financial stability to support a generous dividend policy.
The Great Recession caused many Fortune 500 companies, including General Electric Co. (NYSE: GE), to lose their cherished AAA rating. Now, only three U.S. companies have the rating – Johnson & Johnson (NYSE: JNJ), Microsoft Corp. (Nasdaq: MSFT), and Exxon.
With a yield of 3.9% as of Feb. 1, the XOM dividend beats the other two AAA companies and is therefore one of the best on the market. The Exxon stock price is also set to increase from the inevitable rebound in oil prices this year, which will come from declining U.S. production and increasing M&A activity.
The Bottom Line: With another poor earnings report expected tomorrow, Exxon stock isn't shooting higher anytime soon. But shareholders can find a silver lining in the downstream operations, the company's primary source of profits during low price periods. XOM stock also offers the most attractive dividend in the energy sector. Its 3.9% yield and current quarterly payout of $0.73 per share make Exxon stock worth holding on to in 2016.
Alex McGuire is an associate editor for Money Morning who writes about energy. Follow him on Twitter for all of the biggest oil and gas updates.
Like us on Facebook: Money Morning
The End of the Petrodollar: Since 1973, the global oil market has operated by the "petrodollar" system, wherein exports around the world are priced in U.S. dollars. Now foreign oil deals are threatening to dismantle that system. What they plan to put in its place could destroy the U.S. dollar, ultimately leading to total economic collapse…
Related Articles: