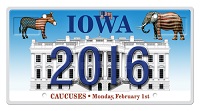 No one knows for sure who will win Iowa - the first state to hold caucuses for the election 2016 race today (Monday).
But the polls have already given us a good idea of who will win Iowa.
For the Republicans, presidential candidates Donald Trump and Ted Cruz have dominated polls in Iowa for the last few weeks, both intermittently switching out of the No.1 slot. Recently, Trump overtook Cruz in a Des Moines Register / Bloomberg poll in Iowa and now has a five-point lead. At 28% though, Trump's lead isn't commanding. Cruz is currently polling at 23%. The margin of error for most polls is plus or minus 4%.
Another poll from Quinnipiac University released Monday has Trump leading Cruz 31% to 24%, fueled by first time caucus-goers.
New voters could give Trump a big advantage in Iowa. In his last few Iowa rallies, which boasted thousands of attendees, Trump encouraged his supporters to register for Iowa's caucus. A bulk of Trump's support, however, comes from people who have never voted in presidential primaries. If Trump's strategy works, he could easily beat out Cruz, who is more organized among traditional caucus-goers.
"If the doctor says you cannot leave, I don't care, get out of bed," Trump told Iowans at a rally in Waterloo, Iowa, on Monday.
Republican presidential candidate Marco Rubio has the best chance of winning among the so-called "establishment Republicans." Rubio comes in third at 15% in the
Des Moines Register
/
Bloomberg
poll in Iowa.
Who Will Win the Iowa Caucus for the Democrats?
For Democrats, the situation in Iowa between the top two contenders is similar to the Republicans.
Democratic presidential candidates Hillary Clinton and Bernie Sanders are neck-and-neck at 45% to 42%, respectively. Like Trump with Cruz, Sanders is expecting high voter turnout to upend the odds against Clinton.
Sanders has also had thousands show up at his rallies, and he hopes the enthusiasm he's generated on the campaign trail will translate into votes, according to The Guardian. If Sanders is able to expand the electorate and win the Iowa caucus, he'll be able to power through to New Hampshire, where he holds a wide lead against Clinton.
In recent weeks, Clinton has used her husband, former president Bill Clinton, and her daughter Chelsea to counter Sander's giant rallies around Iowa, according to CBS News.
All of the election 2016 candidates are still roaming around Iowa in a last-ditch effort for support. There were talks of a blizzard hitting during the caucus, but forecasts now show it will strike on Tuesday.
The Iowa caucus will go on until 10:00 p.m. Monday CST.
The final decision will give a burst of momentum to the chosen candidates as New Hampshire's primary on Feb. 9 draws closer.
Tweet the author @cgsaucier, or leave a comment on Money Morning's Facebook page.