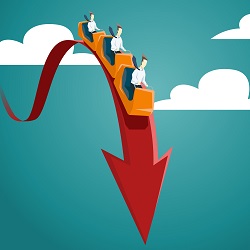 5 P.M. UPDATE: Q4 Yahoo earnings beat expectations today (Tuesday), but the Yahoo stock price is down 1.72% in after-hours trading.
Yahoo reported earnings per share (EPS) of $0.13 on $1.27 billion in revenue. Analysts expected Yahoo to report $0.13 on $1.21 billion in revenue.
Yahoo is expected to announce its strategic plans to either spin off its Internet business as well as discuss plans to lay off up to 15% of its workforce.
Previous story follows…
Yahoo earnings for Q4 2015 will be announced after the bell today (Tuesday), and analysts from Thompson Reuters expect Yahoo! Inc. (Nasdaq: YHOO) to post earnings per share (EPS) of $0.13 on revenue of $1.2 billion.
But EPS and revenue aren't the only figures investors need to look for. There are three other factors that will have a major impact on YHOO stock moving forward. But first, here's why the Yahoo stock price has been falling...
After opening this morning at $29.32 per share, the Yahoo stock price has now fallen 11.09% in 2016. But even more concerning, YHOO stock is down 32.78% in the last year.
And many analysts on Wall Street are still very bearish. For Yahoo's Q4 earnings, analysts at financial data company FactSet expect Yahoo to report $948 million in revenue. If those projections are correct, it will be the first time Yahoo hasn't reported at least $1 billion in revenue since 2004.
In its last quarterly earnings call, Yahoo reported $1.23 billion in revenue, falling short of expectations of $1.26 billion. The day of Q3 earnings, YHOO stock closed at $32.83. It lost 5.20% by the closing bell the next day.
So another earnings miss today would likely send the Yahoo stock price even lower. And that would be another huge loss for beleaguered CEO Marissa Mayer...
Shareholders were enthusiastic about Marissa Mayer as CEO of Yahoo in 2012, mainly because of her pedigree as the Vice President of Search Products and User Experience at Alphabet Inc. (Nasdaq: GOOGL, GOOG).
In her first month on the job, YHOO opened at $16 on July 31, 2012. Yahoo stock opened at $29.32 this morning, so it is up 83.25% during her tenure. But investors are focusing mainly on the 38.33% drop from Yahoo's high price of $46.17.
And under Mayer, Yahoo's revenue declined 7.3% from 2012 to 2014. The company has also been slow to adopt to monetizing mobile ads, and Mayer's questionable decisions have lost the company hundreds of millions of dollars.
Mayer will once again be in the hot seat today during the earnings call, but the EPS and revenue figures aren't the only things investors should look for. Here are three major areas to watch in today's Yahoo earnings report...
What to Look for in Yahoo Earnings for Q4 2015 Today
Shareholders would love to know if Yahoo plans to sell off its stake in Alibaba Group Holding Ltd. (NYSE: BABA) or sell its Internet business. But analysts don't expect those questions to be answered in this earnings report.
Instead, there are three things YHOO shareholders should be focusing on...
The first thing to focus on is whether or not Yahoo will report less or more than $1 billion in revenue.
In our report "How Does Yahoo Make Money?" we explained that the majority of Yahoo's revenue comes from advertising fees. Advertisers pay Yahoo to bring ads to its audience, and Yahoo displays the ads on different pages, such as Yahoo! Style or Yahoo! Sports, and sends messages to the inboxes of Yahoo! Mail users.
The problem is that Yahoo is no longer an attractive platform for advertising. As of May 2015, comScore stated that Yahoo had just a 12.8% share of the search market. Google had 64.5%, which means it has a much bigger audience for advertisers' ads to be seen.
A shrinking revenue total would be the fourth year in a row that revenue shrunk under Mayer.
The second thing shareholders need to pay attention to in Yahoo's earnings report is mobile ad growth.
Yahoo reported that only 20% of its total ad revenue was from mobile ads in the first half of 2015. In comparison, Facebook Inc. (Nasdaq: FB) just reported that 80% of its ad revenue came from mobile advertising, and Twitter Inc. NYSE: TWTR) reported in the first half of 2015 that 88% of its ad revenue came from mobile.
Finally, shareholders will want to pay attention to any specific plans from Mayer on how to cut costs.
According to The Wall Street Journal, Mayer plans on cutting up to 15% of Yahoo's workforce to save the company money. That may work as a temporary measure, but the CEO needs to provide plans for innovation to win back trust.
Mayer made a big push in turning Yahoo into a video content provider that could rival Hulu and Netflix Inc. (Nasdaq: NFLX). But her attempt, known as Yahoo Screen, ended up being a money pit.
The CEO spent over $100 million over the last two years to gain a share of the video marketplace, but she had to fold Screen at the beginning of 2016. But that's not before she wrote off $42 million in losses from original programming in Q3 2015.
Mayer has also been secretive about her $1.1 billion purchase of social media site Tumblr in 2013. She hasn't stated specific revenue generated from Tumblr, and analysts take that as a sign that it hasn't significantly contributed to Yahoo's revenue like Mayer had hoped.
Yahoo's CEO did her part to turn the stock price around when she first took over, but it's remained stagnant for over three years. Mayer's efforts haven't worked, shaking investor's confidence and making YHOO stock too volatile to own.
The Bottom Line: Yahoo earnings are expected to disappoint shareholders, even though analysts already have low expectations. CEO Marissa Mayer is trying to reduce costs by cutting down on staff, but that's just a temporary solution. Yahoo has failed to innovate under Mayer, and she isn't likely to announce a specific plan to turn the company around during her Q4 earnings announcement today.
Jack Delaney is an associate editor for Money Morning. You can follow him on Twitter and follow Money Morning on Facebook.
 While you're here, check out these recent Yahoo stories: