Many investors are hesitant to search for a profitable oil stock as prices remain near a 12-year low of $30.50 a barrel. After all, most investment banks already issued sky-is-falling forecasts for 2016, including Goldman Sachs Group Inc.'s (NYSE: GS) prediction that oil prices will hit $20 in 2016.
But these Wall Street titans are ignoring the bigger picture. You see, oil prices will begin a long-term recovery starting in 2016. And there's one oil stock investing method that will yield big profits while they rebound…
First, here's why prices will move higher in 2016…
Why 2016 Oil Prices Will Open Up Oil Stock Investing Opportunities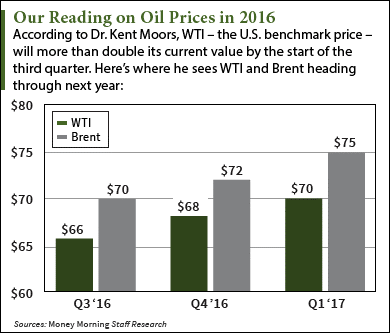 To get an idea of where oil prices are headed in 2016, we turned to Money Morning Global Energy Strategist Dr. Kent Moors. He's an oil industry veteran who has advised world powers like Russia and the United States on energy policy. He says increasing demand and decreasing output will slowly lift prices in 2016. By the end of the year, WTI crude oil prices will be in the $70 range.
"We are not racing back to $100 a barrel oil," Moors said on Dec. 9. "But we certainly do not need triple-digit oil to make some nice investment returns, especially in a sector that has been so oversold."
You see, the 20.1% crash in WTI crude oil prices so far this year has come from fears of weakening Chinese demand and global oversupply.
China's bellwether Shanghai Composite Index is down 22.6% in 2016. The significant drop has investors worried that demand growth in the world's second-largest oil-consuming country is slowing.
Prices are also suffering from consistent increases in domestic supply. The U.S. Energy Information Administration (EIA) reported today (Wednesday) that total U.S. supply rose by 7.8 million barrels last week. That marks the fourth straight weekly increase in oil inventories and the first time total supply has been higher than 500 million barrels in at least 80 years.
But the agency also forecast a jump in demand this year. It said annual global consumption is expected to increase 1.5% to 95.2 million barrels a day by the end of 2016.
The increasing demand will reduce the global supply glut and gradually stabilize prices by 2017. This will offer us some strong profit opportunities in the meantime.
So while oil prices will slowly climb in 2016, not every oil stock will present investors with a profit opportunity.
But there's a $196 billion trend occurring among oil firms that will lead you to the best oil stocks to buy in 2016. And it's at the core of our oil stock investing strategy this year…
The Best Oil Stock Investing Strategy to Follow in 2016
The best way to make money from the low price environment is to purchase shares of acquisition targets.
You see, the $30 oil climate is ushering in a huge wave of mergers and acquisitions (M&A) among oil companies right now. That's because smaller firms with fewer resources can't afford to drill expensive wells when prices are this low.
For these small producers, being bought out by a larger company is their only way to make money.
"The most likely acquisition targets will be energy companies with attractive land leases, pipelines, or other assets, high levels of debt, and declining cash flows," Moors said. "These types of companies could hand their shareholders a quick profit if they get targeted."
Investing in acquisition targets offers quick profits because oil stock prices often shoot higher after a company is bought out. When Royal Dutch Shell Plc. (NYSE ADR: RDS.A) bought BG Group Plc. (OTCMKTS ADR: BRGYY) in the $81 billion deal of the decade last year, BRGYY stock skyrocketed 27.5%. Shares of Williams Companies Inc. (NYSE: WMB), which was snatched up by Energy Transfer Equity LP (NYSE: ETE) for $33 billion, gained 12.2% over the next five days.
This wave of consolidation will not only make you money, but it will also help the entire energy industry return to normal.
"The specific objective of M&A may vary from deal to deal, but the overall goal remains the same," Moors said last September. "It's to streamline participation in advance of sector stabilization and the inevitable rise in raw material prices."
The Bottom Line: Volatile prices are driving away investor interest in oil stocks this year. While it's difficult to find an oil stock offering market-beating gains during this low price climate, you can still turn quick profits from mergers and acquisitions. We recommend targeting companies likely to be acquired as short-term oil prices remain unpredictable.
Alex McGuire is an associate editor for Money Morning who writes about energy. Follow him on Twitter for the biggest oil and gas updates.
Like us on Facebook: Money Morning
There's Something Weird Happening Between Oil and the Stock Market… Right now, the correlation between Brent and the S&P 500 is 0.97. That means oil and stock prices are moving almost perfectly in tandem. And there's one international factor that's making this phenomenon happen…