It was expected - the Chipotle stock price is down over 5% in intraday trading today (Wednesday) after the company announced its Q4 2015 earnings.
The earnings were so bad that Chipotle Mexican Grill Inc. (NYSE: CMG) co-CEO Steve Ells called this past quarter "the most challenging period in Chipotle's history."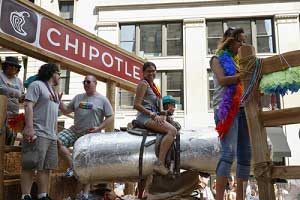 When I reviewed the data, there was one big number that jumped out. And it's a number that is going to have a major impact on the Chipotle stock price throughout 2016.
But before we get to that figure, here's the Chipotle earnings information that sent the stock lower today...
Chipotle reported earnings per share (EPS) of $2.17 on $999.7 million in revenue. The fast-casual dining company beat EPS expectations of $1.85, but it fell short of the $1.01 billion in revenue that was expected.
In comparison to Q4 2014, Chipotle reported $3.84 on $1.07 billion in revenue.
Money Morning has extensively covered the Chipotle E. coli outbreaks and the effects the situation has had on CMG stock. At the end of December, 53 cases throughout nine states had been reported connected to an original outbreak. As of Dec. 20, health officials were investigating five new claims that were connected to a different strain of E. coli linked to Chipotle.
Before news of the outbreak, CMG stock closed at $747 on Oct. 13. The Chipotle stock price opened at $459.70 this morning. That's a 38.46% decrease in under four months.
Wall Street believes the most important news about Chipotle was that the Centers for Disease Control and Prevention stated on Feb. 1 that the E. coli outbreaks from Chipotle appear to be over. That's important, but it's not the most important news for CMG shareholders.
Here's the one number that will control the direction of the Chipotle stock price in 2016...
The Chipotle Stock Price Will Plummet Until Same-Store Sales Improve
Part of the reason the Chipotle stock price is down today is because of disappointing earnings. But the bigger picture to focus on is same-store sales.
Chipotle reported that same-store sales for locations that have been open for at least one year were down 14.6% in Q4.
You see, the Chipotle stock price will only rise when the company regains customer trust...
E. coli outbreaks were reported by Jack in the Box in 1993 and Taco Bell in 2006. In 1993, 623 people contracted E. coli from Jack in the Box and four children died. There were 71 Taco Bell customers who contracted E. coli in 2006.
Money Morning Technical Trading Specialist D.R. Barton warned investors on FOX Business in November that Jack in the Box and Taco Bell saw same-store sales drop for over half a year after the outbreaks first occurred. If Chipotle follows a similar pattern, we'll see same-store sales fall for several more months.
The McDonald's Corp. (NYSE: MCD) stock price suffered as well in July 2013 when concerns over the quality of the meat it was purchasing in Japan emerged.
From the end of July to the end of August, the MCD stock price dropped 4.49%. MCD stock traded down 1.7% over the next two years.
Chipotle announced in its conference call that it will embark on a new marketing campaign in February to bring back customers. But previous E. coli outbreaks prove that it takes time to bring back customers, making the Chipotle stock price very volatile for the rest of 2016.
The Bottom Line: The Chipotle stock price is down because the company didn't meet quarterly earnings expectations, but the bigger picture is CMG's dismal same-store sales. CMG is not a stock to own in 2016, as it could fall even further until the company restores trust with customers.
Jack Delaney is an associate editor for Money Morning. You can follow him on Twitter and follow Money Morning on Facebook.
Protect Your Money in This Bear Market: It's true that you would have to be a fortune teller to know exactly when a bear market would start and end. But fortune telling isn't Chief Investment Strategist Keith Fitz-Gerald's profession. His goal is to protect your wealth, maximize gains, and help you focus on what's really going on in the market. In his Money Map Report, this financial guru has used his years of experience as a trader in one of Wall Street's leading firms to help his readers find 86 double- and triple-digit winners. You can learn more about Keith's Money Map Report here...