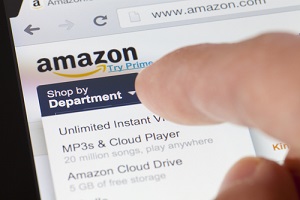 Yes, Amazon stock has fallen nearly 11% in the last five trading sessions, and more than 21% in 2016 already.
But we remain bullish on the Amazon stock price for one major reason. This one major catalyst is part of the reason Amazon has become a $250 billion company, and why the stock has climbed more than 1,200% in the last 10 years.
First, here's why the AMZN stock price was dropping earlier this morning...
Amazon.com Inc. (Nasdaq: AMZN) stock opened down today after a large mall owner backpedaled on his statement that the e-commerce goliath was preparing to build hundreds of brick-and-mortar bookstores.
Sandeep Mathrani, CEO of mall operator General Growth Properties Inc. (NYSE: GGP), said on an earnings call Tuesday that the online giant is getting ready to open physical book stores.
"You've got Amazon opening brick-and-mortar bookstores and their goal is to open, as I understand, 300 to 400," Mathrani said in response to a question about mall traffic.
The idea of Amazon opening brick-and-mortar bookstores makes perfect sense. Amazon's storied roots trace back to its first days as an online bookseller. Since then, it has debuted the Kindle e-reader and shaken up the book publishing world.
"Books are in our DNA at Amazon," Amazon Vice President Jennifer Cast said after the Seattle-based retailer opened its first physical bookstore in November. "It was the first product that we started selling. We were earth's biggest bookstore and so now we're one of the small bookstores too."
Still, late Wednesday General Growth Properties issued an online statement saying the remarks from Mathrani were "not intended to represent Amazon's plans."
However, Re/code reports Amazon is indeed working on a project to create retail stores of the future. And bookstores are just the start.
According to Re/code, the Amazon retail store initiative is being spearheaded by Steve Kessel.  A longtime Amazon executive, Kessel's team launched the first Kindle. Details of Kessel's project have been kept quiet for a long time. But the November opening of Amazon's first physical bookstore stirred much speculation.
Called Amazon Books, the store sells Kindle tablets and thousands of books in large part based on customer reviews from Amazon.com.
The Re/code said Amazon will not only open up more bookstores, but it will eventually debut other types of retail stores. It's not clear what the stores will be like. But the report also said Amazon's mission is to create a physical store that transforms the traditional shopping experience.
Physical stores located close to Amazon distribution centers would allow for quick and easy restocking, as well as speedy returns and exchanges.
So the fact that Amazon officials backed off the brick-and-mortar store rumors gave investors pause.
But despite today's early volatility, we remain bullish on the Amazon stock price at Money Morning. And this one major catalyst should continue to drive the stock in 2016...
Why We're Bullish on Amazon Stock in 2016
 Amazon shares have been caught up in this year's global stock market rout. Yet at a recent price of $531.88, shares remain nearly 60% higher year over year.
Amazon stock was the top performer in the broad-based S&P 500 Index during 2015. Shares more than doubled in 2015, climbing a blistering 122%. Driving the Amazon stock price was Prime membership, which offers two-day shipping for a $99 annual fee.
Amazon has become the one-stop, go-to retailer for customers wanting convenience, competitive prices, and quick delivery. It's come a long way from its original roots as an online bookstore.
And Money Morning Defense & Tech Specialist Michael A. Robinson credits the vision of CEO Jeff Bezos for turning Amazon into the retail titan it is today. And it's that vision by Bezos that will continue pushing the Amazon stock price higher...
"Analysts thought Amazon.com should stick to its knitting as an online store," Robinson said last month. "But what Bezos knew, and the Wall Street crowd missed, was something called the 'power of scale.'"
Since that time, Bezos has turned Amazon into a retail powerhouse. In July 2015, Amazon surpassed Wal-Mart as the world's largest retailer by market value.
Imagine what Amazon could do with physical stores.
And Amazon is much more than a retailer...
Amazon is a leader in web services and cloud computing. It's a formidable competitor in the entertainment space thanks to its streaming business. And it's at the forefront of technology with ventures including delivery by drone and the Internet of Things (IoT).
"Bezos has once again broken ground for another multibillion-dollar web business," Robinson said.
Amazon stock may remain volatile in the short term because of the broader market's volatility, but for long-term investors, Bezos' vision for the company is encouraging.
The Gold Mining Revolution: Technological advancements in gold mining have been stagnant, but one tiny Canadian company is about to change that. Its special extraction method will slash production costs and send gold prices soaring. In fact, this nano cap could disrupt the entire industry...
Stay informed on what's going on in the markets by following us on Twitter @moneymorning or liking us on Facebook.
Related Article: