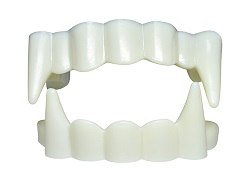 Television personality Jim Cramer is known for being very bullish on FANG stocks.
But be careful...
Michael Lewitt, Money Morning Global Credit Strategist and successful hedge fund manager with more than 25 years of money management experience, believes one of the FANG stocks will disappoint investors in 2016.
But before I get to that, I want to make sure all Money Morning readers are familiar with the acronym and recent performance of each company.
The acronym, FANG, is made up of four tech giants:
Lewitt believes we are in the midst of a bear market right now, and that means it's more important than ever to focus on quality stocks that sell products and services people can't live without.
And these companies have ingrained their products and services into our daily rituals...
FANG Stocks No. 1: Facebook Inc.
Facebook is the leader in social media platforms. In its Q4 2015 earnings report, CEO Mark Zuckerberg reported his dorm-room creation now has 1.58 billion monthly active users (MAUs).
The massive user base for Facebook and Instagram (400 million MAUs) allowed the company to record revenue of $5.84 billion in Q4 2015, which was a 51.68% increase from Q4 2014.
FANG Stocks No. 2: Amazon.com Inc.
Amazon started off just selling books, but now it does everything from building its own tablets to creating original television programming.
The company did not meet expectations in Q4 2015, as the online retailer posted EPS of $1.00 on $35.75 billion in sales. Wall Street expected $1.56 on $35.93 billion in revenue.
FANG Stocks No. 3: Netflix Inc.
Because of its success through original programming like "House of Cards" and "Narcos," Netflix was able to add 5.59 million total net subscribers in Q4 2015.
The streaming service reported EPS of $0.07 on $1.83 billion in revenue for Q4 2015.
FANG Stocks No. 4: Alphabet Inc.
Formerly known as Google Inc. (hence the "G" in FANG), Alphabet crushed Q4 2015 earnings expectations of $8.10 per share on revenue of $16.9 billion by reporting $8.67 on $17.3 billion.
And that revenue total should only keep growing. RBC Capital Markets analysts estimate that YouTube alone will generate $7 billion in 2016 for Alphabet.
And over the last year, FANG stocks have returned an average of 64.06%, while the Nasdaq is down 2.81%.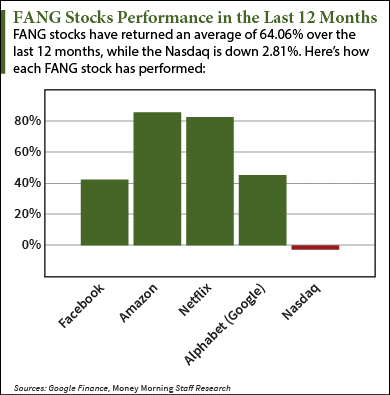 It's safe to say you can't go a day without these products. But Lewitt wants you to steer clear of this one member of FANG stocks.
FANG Stocks to Avoid Now - Amazon.com Inc.
Legendary investor Peter Lynch said that you should buy what you know. But right now, Lewitt calls Amazon "a study in market lunacy."
When Amazon reported earnings on Jan. 28, the AMZN stock price closed at $635.35, up 4.43% on the day. From there, it dropped 9.97% and opened the next morning at $571.8 per share.
AMZN climbing before earnings means investors expected a lot out of the company. For how large Amazon is, the simple fact is that it will be incredibly hard for the company to continue its growth from previous years while keeping costs down.
Amazon's cloud-computing service AWS grew 69% year over year, but that wasn't as fast as investors were hoping. It had grown 80% year over year in the last two quarters. The company's costs for fulfillment centers also increased by 33% from the same time a year ago.
So while Amazon is making billions in revenue, that doesn't mean it should be in your portfolio for the short term...
"For now, Amazon remains a great company with a ridiculously overvalued stock," Lewitt said. "It has created a new model for capitalism - the only problem is that in doing so, it has destroyed not only its own profit margins, but the profit margins of every company with whom it competes."
Michael also believes that AMZN could drop much further as revenue is affected by rising expenses. FANG stocks may be grouped together, but not every stock in that group is worth owning.
Profit Opportunity: If you would like to learn more on Michael's favorite ways to make money and stay safe in this deepening bear market, subscribe to Sure Money. You'll get specific stock and strategy recommendations twice each week. There's no charge for Members, and you'll receive his Super Crash Report, too. Just click here.
Jack Delaney is an associate editor for Money Morning. You can follow him on Twitter and follow Money Morning on Facebook.