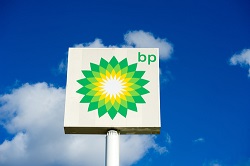 BP Plc. (NYSE ADR: BP) released its Q4 and full-year earnings report on Tuesday, Feb. 2. According to the Financial Times, the British oil giant reported its worst loss ever.
Although the BP stock price crashed 8.5% on the day of the earnings release, now isn't the time to sell your position. In fact, there's one big reason to hold onto your shares of BP stock this year.
Before we get to why it's a hold, here's everything you need to know about the company's catastrophic earnings report…
For the fourth quarter, BP posted $196 million in profit and $49.2 billion in revenue. That's a staggering decline of 91% and 34.5%, respectively, from Q4 2014. Full-year profit came in at $5.9 billion, down 51.2% from $12.1 billion a year ago.
This week's ugly earnings compare to the firm's 65% annual loss in the wake of the 2010 Deepwater Horizon oil spill. The incident occurred when a BP-owned oil rig exploded in the Gulf of Mexico and leaked 4.9 million barrels of oil over the course of five months. The spill killed 11 people and devastated the marine ecosystem in the area. It's now widely considered the worst oil spill in the history of the energy industry.
The majority of BP's losses last year came from its settlement for the disaster. On Oct. 5, the U.S. Department of Justice issued the company a record $20.8 billion fine for the damages. It will resolve all charges against BP by the federal government and five states bordering the Gulf.
Investors are selling their shares because of the weak earnings and expensive fine. After all, the BP stock price is down 6.1% this week.
But there's one reason to hold BP stock this year. And it could help you profit even when oil prices are falling…
One Reason to Keep BP Stock in Your Portfolio in 2016
The biggest boon to BP stock in 2016 will be its immensely profitable downstream sector.
Downstream operations are the services occurring after the production phase. These include refining, chemical production, and marketing. Refining services turn oil into consumable products like gasoline and petroleum, while marketing services sell these refined products to retailers.
When oil prices hovered near $100 a barrel in June 2014, refining was the weakest area of earnings reports. That's because triple-digit oil makes it more expensive for refineries to churn out enough products to meet consistently high demand.
As oil sits just above $30 a barrel, refining sectors yield big profits as they enjoy strong gasoline demand and low oil prices.
"For years refining has been the ugly duckling in big oil companies' portfolios," The Wall Street Journal reported ahead of BP's Q1 2015 earnings report. "But the sharp drop in crude prices has boosted the sector's profitability."
BP's annual downstream profit increased 91.9% in 2015 to $7.1 billion. For the fourth quarter, it jumped 7.4% to $838 million. That compares to the upstream sector's full-year decline of 89% and fourth-quarter decline of 26.2%.
The Bottom Line: After its worst earnings report ever on Feb. 2, BP stock isn't rocketing higher anytime soon. But shareholders can find a silver lining in the company's downstream sector, the biggest source of profits during low oil price periods. We recommend holding BP stock in 2016 as the company's downstream profits continue to grow and oil prices stabilize the broader energy sector.
Alex McGuire is an associate editor for Money Morning who writes about energy. Follow him on Twitter for all of the biggest oil and gas updates.
Like us on Facebook: Money Morning
You Can Still Make Money from Oil Volatility Right Now… Most investors are afraid to search for a profitable oil stock now that prices are hovering near a 12-year low of $32 a barrel. After all, the 2016 oil market has been marred by doom-and-gloom forecasts lately. But there's one oil stock investing strategy that can lead to substantial profits while prices begin their long-term rebound…