Tech IPOs in 2016: Tech IPOs were scarce in 2015, with only 23 tech companies bringing their shares public.
And according to Renaissance Capital, a manager of IPO-focused ETFs, 2016 is set to be another sluggish year for tech IPOs as the once-burgeoning sector endures a massive sell-off.
While the S&P 500 is down 11% over the last six months, the index's tech sector has fallen 13.8%. The volatility is due to sharp declines in tech giants like Apple Inc. (Nasdaq: AAPL) and Twitter Inc. (NYSE: TWTR). Both are down 17.2% and 45.9% since August, respectively.
And as the following chart shows, the majority of tech IPOs last year have not been shielded from the volatility…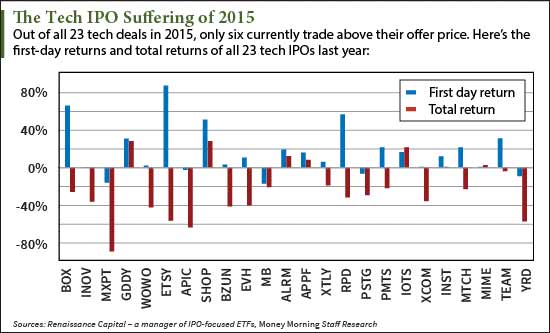 Most of these losses occurred in January alone. Shares of online file-sharing company Box Inc. (NYSE: BOX) cratered 22.9% last month. Yirendai Ltd. (NYSE ADR: YRD), an online consumer finance firm based in China, fell 27.8% over the same period.
But despite this volatility, the 2016 tech IPO market will still offer some market-beating gains…
Where to Find the Best Tech IPOs in 2016
There's no doubt the tech IPO sector has started off slow. No tech companies have filed for an IPO yet this year. Companies like Nutanix and SecureWorks that filed in December are postponing their debuts until the volatility subsides.
But even though 74% of all tech IPOs in 2015 trade below their offer price, a number of them profited through the market turbulence. After all, popular companies like Shopify Inc. (NYSE: SHOP) and GoDaddy Inc. (NYSE: GDDY) are up 19.9% and 29.7% from their IPO prices.
And just like last year, not all tech IPOs in 2016 will crash and burn. That's why three of the top five IPOs we're tracking in 2016 are highly anticipated tech stocks.
Even if the overall market remains volatile this year, these three tech IPOs should all outperform the markets in 2016…
Alex McGuire is an associate editor for Money Morning who writes about upcoming IPOs. Follow him on Twitter for all of the biggest updates on tech IPOs in 2016.
Like us on Facebook: Money Morning