Yes, the Tesla stock price has dropped over 25% this month and is now down over 34% in 2016. Today (Tuesday) the Tesla stock price opened at $142.32.
Tesla Motors Inc. (Nasdaq: TSLA) stock has been hit especially hard the past few days, as analysts at various firms have downgraded their Tesla stock price targets. Even bullish analysts have been cutting their targets. A Morgan Stanley (NYSE: MS) analyst downgraded his price target from $450 to $333. Barclays also cut its target from $180 to $165.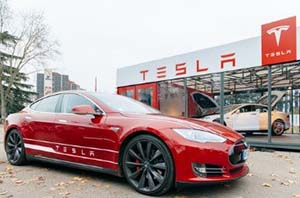 Production concerns, projected weak demand, and the low cost of oil are all reasons the Tesla stock price is dropping before Q4 earnings are announced after the bell on Feb. 10, 2016.
Despite the negative Tesla sentiments and bearish 2016 stock market, we found one huge catalyst that makes TSLA stock a great investment for long-term investors.
But before I get to that, I want to make sure Money Morning readers know what to expect from Tesla's Q4 2015 earnings report.
Tesla already announced in January that it delivered 17,400 vehicles in Q4, which was on the low end of its guidance of 17,000 to 19,000 vehicles. Tesla also announced in November that its Q1 guidance for 2016 was for deliveries of 1,600 to 1,800 vehicles per week.
Because TSLA is a momentum stock, any miss in earnings could create a wild price swing. That's why we don't recommend Tesla stock for short-term investors.
Wall Street will also judge the auto maker on its production of the Tesla Model X. Tesla isn't afraid to brag about the Model X, stating that it's the "safest, fastest, and most capable sport utility vehicle in history."
But Credit Suisse believes that the production of the Model X has been slower than expected.
In the short term, forward guidance on vehicle deliveries and Model X news will have the biggest impact on the Tesla stock price.
But for long-term investors, this one catalyst is what will drive the TSLA stock price in 2016 and beyond. And many on Wall Street are overlooking it...
Bullish Tesla Stock Catalyst: The Model 3
As of August 2015, analysts at Kelley Blue Book stated that the average transaction price for a light vehicle in the United States was $33,543. Tesla's Model S is more than twice that price, with an MSRP value of $69,900.
But Tesla is about to start producing its most affordable vehicle ever, the Model 3.
The Model 3 will have a price tag of $35,000, falling more in line with what Americans are spending on vehicles now. Production won't begin until 2017, but CEO Elon Musk will reveal pictures of the Model 3 in March.
An affordable electric vehicle will place Tesla right at the forefront of an industry expected to bring in revenue of $488.54 billion by 2030.
And Money Morning Chief Investment Strategist Keith Fitz-Gerald has high praise for Musk and his vision.
"I think Musk is the most innovative CEO on the planet and that he sees value others don't yet recognize," Fitz-Gerald said in 2015. "Cars, batteries, innovative business models - nobody knows where it will go but ultimately if you're along for the ride, I think it'd be very hard to go wrong over time."
Musk plans to grow the company quickly and wants to hire over 4,000 employees in California alone over the next four years. He tweeted out in November that he was looking for "hardcore software engineers" for his Autopilot software team who he would personally interview.
Wall Street is painting a picture of Tesla being down and out, but keep this in mind:
Tesla produced the most vehicles (50,580) in its history in 2015.
Tesla increased production by over 30% from 2014 to 2015.
Musk plans to build 500,000 vehicles by 2020.
The recent volatility in the stock markets show that Tesla stock is not a short-term buy. But if you can hold on and focus on the bigger picture, the Tesla stock price can climb and reward patient investors.
The Bottom Line: The Tesla stock price has been very volatile over the last month, and analysts have downgraded their price targets. But Tesla dominates the electric car market, which is expected to grow to $488 billion by 2030. That makes TSLA stock a great investment for patient, long-term investors.
Jack Delaney is an associate editor for Money Morning. You can follow him on Twitter and follow Money Morning on Facebook.
The Gold Mining Revolution: Technological advancements in gold mining have been stagnant, but one tiny Canadian company is about to change that. Its special extraction method will slash production costs and send gold prices soaring. In fact, this nano cap could disrupt the entire industry...