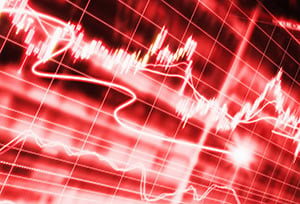 Many investors fear a stock market crash in 2016 as the broader markets continue to drop. So far in 2016, the Dow Jones, S&P 500, and Nasdaq are down 8.6%, 9.9%, and 15.4%, respectively.
A stock market crash is a sudden decline in stock prices across multiple sectors. It's often triggered by fear and panic, which differs from a profit-taking market sell-off.
The most recent example of a stock market crash was in 2008.
The Dow Jones Industrial Average collapsed from its high of 14,164 on Oct. 9, 2007, to 11,000 in early July 2008 - a 22% drop. This was the result of over a dozen big banks failing from high-risk loaning practices. Major financial markets lost more than 30% of their value in 2008, according to Investopedia.
During the tech crash of 2000, the Nasdaq Composite dropped 78% from 5,046.86 to 1,114.11. The stock market crash of 1929 caused the Dow to lose 25% in just two days.
We likely won't see a major stock market crash like those in 2016, but there is no denying we have reached bear market territory...
Since hitting a high in May, the Dow Jones Industrial Average is down nearly 13%. What's worse are the stock markets' major volatility this year. Major swings have left investors questioning their investments every day.
The VIX index (INDEXCBOE: VIX), which measures the volatility of the S&P 500, is up 51%. The VIX is a strong indicator of the amount of fear in a market. Its sharp rise shows that investors are capitulating -or panic selling - so they can get out of the market into less risky investments.
Investors' concerns are warranted though...
The collapsing price of oil has sent energy stocks to new 52-week lows. On Monday, natural gas producer Chesapeake Energy Corp. (NYSE:
CHK
) sank 51% intraday over bankruptcy fears.
China and Europe are also facing slower growth prospects for 2016. China's huge stock market dips this year have caused significant sell-offs in U.S. and European markets.
"China is a house of cards whose debt-engorged economy hit a wall in mid-2014 after seeing its total debt grow from $7 trillion in 2007 to $28 trillion (it is now probably over $30 trillion)," said Money Morning Global Credit Strategist Michael Lewitt.
While we're not yet experiencing a full-fledged stock market crash, we are in a bear market. And it's always smart to prepare for the worst.
That's why our experts have developed a plan for investors to protect their money in 2016 and even profit from the falling market...
How Protect Yourself from a Stock Market Crash in 2016
Even when the markets are posting huge losses, other profit-making opportunities abound, according to Money Morning Options Trading Specialist Tom Gentile.
"The bull market's end gives traders the juiciest opportunities ever," he said.
In early January, the Dow declined by more than 900 points. While most investors were reeling in fear, Gentile's subscribers were posting 100% returns.
Every week, Gentile discusses his favorite market moves. Check out a brief introduction to his trading strategy here.
Money Morning Capital Wave Strategist Shah Gilani likes short-term trades during market downturns.
Right now, he's watching three exchange-traded funds (ETFs) that track the inverse performance of major indexes. These inverted ETFs gain as stock prices decline. Gilani also likes four short-term investments when markets are having a bad day. Get all of his picks, right here.
Money Morning Chief Investment Strategist Keith Fitz-Gerald favors a more long-term approach for bear markets.
He invests in high-quality stocks that sell products with incredible consumer demand. These are positions that you plan on holding for the next five to 10 years.
"In tech, that includes names like Facebook Inc. (Nasdaq: FB), Apple Inc. (Nasdaq: AAPL), and Alphabet Inc. (Nasdaq: GOOGL)," Fitz-Gerald said. "And select companies like The Coca-Cola Co. (NYSE: KO) that have a long history of increasing dividends through thick and thin. Also, put new money to work in companies like Raytheon Co. (NYSE: RTN)."
Fitz-Gerald explains that stocks like these aren't speculation; they're dependable investments based on stellar earnings reports and balance sheets.
"As long as you're investing money that you won't need to spend in the near term and keep risk management top of mind, you can weather a downturn," Fitz-Gerald said.
The Bottom Line: We likely won't see another stock market crash in 2016, but we are in a bear market. Even so, there are ways investors can protect and grow their money, especially if they follow the tried and tested guidance of our Money Morning experts.
Stay informed on what's going on in the markets by following us on Twitter @moneymorning or liking us on Facebook.