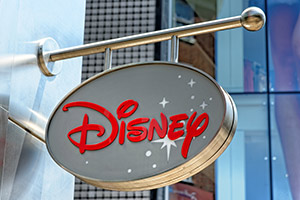 Disney stock is down almost 13% this year and 21% in the last three months. And it's down nearly 5% this morning (Wednesday), even after a strong earnings report.
We're still bullish about Disney for one big reason. But first, here are Disney's earnings results...
In its best quarterly earnings ever, Walt Disney Co. (NYSE: DIS) earnings per share (EPS) jumped to $1.73 a share from $1.27 a share in the same quarter last year.
Disney reported its revenue also grew 14% to $15.24 billion.
But not every number in the Disney earnings report was bullish... Although its studio entertainment segment led its revenue surge, Disney's network operating income dropped 6% year over year.
Investors are also concerned about the loss of Disney's cable network subscribers, most notably at ESPN. The sports network accounts for a 52% of Disney's network operating income.
ESPN lost 3 million subscribers in Q4 2015, down to 92 million. It lost another 4 million subscribers in its most recent fiscal quarter. Although these are sizeable losses, their effect on Disney's stock is overstated.
Disney is losing most of its network subscribers due to cord-cutters, a term for former cable subscribers that switched to steaming services like Netflix or Apple TV.
Cord-cutting, however, will actually benefit Disney in the long term. That's because new streaming platforms have smaller channel offerings than traditional cable companies. And these platforms want to offer the best content available. Because Disney's networks like ESPN and A&E are so popular, it has the leverage necessary to negotiate profitable contract deals.
The latest "Star Wars" installment has also failed to boost the Disney stock price, despite generating over $1.5 billion in domestic box-office revenue.
However, "Star Wars" did help Disney almost double its studio operating income to $1 billion in the quarter.
For investors worried about the falling Disney stock price after a solid earnings report, there is one major catalyst that will drive Disney stock higher in 2016...
The Biggest Catalyst That Will Boost Disney Stock in 2016
Disney's biggest catalyst for long-term growth is its three new revenue streams.
The "Star Wars" franchise is a long-term revenue booster: "Star Wars: The Force Awakens" is estimated to surpass $2 billion in domestic and global revenue, according to the Los Angeles Times. The "Star Wars" franchise has been a huge contributor to Disney's consumer product division. "Star Wars" generated more than $700 million in sales, according to a report from retail research company NPD Group. Analysts estimate Disney will recover its $4 billion purchase of Lucasfilm in just two to three years. And with more "Star Wars" movies on the way, Disney will be milking the "Star Wars" franchise for years to come.
Disney's new Shanghai theme park expands and diversifies its resort segment: In June, Disney will launch its largest theme park in China: the Shanghai Disney Resort. Analysts predict the $5.5 billion theme park will see 12 million visitors in its first fiscal year, according to the Nikkei Asian Review. Once the third phase of the park is finished, that number will jump to 40 million. Disney's expansion in Shanghai enables it to better deal with a slowdown in attendance at its theme parks in the United States. China has the fastest growing economy in the world, and Disney made a smart move by taking advantage of that fact.
Disney's Marvel Cinematic Universe will expand more in 2016: Like its "Star Wars" franchise, Disney has already generated $9 billion in revenue from its acquisition of Marvel in 2009. Since then, it's been churning out one successful Marvel movie after another, with two new movie titles on the way for 2016. It's also the highest-grossing franchise of all time. But by far Disney's most profitable investment is connecting the Marvel franchise with its theme park and consumer products segments. This is helping Disney reach consumers in every possible way, creating a long-lasting revenue stream.
The Bottom Line: Disney's three new revenue streams will continue to make up for any losses in its cable network segment. As cord-cutting becomes more popular, Disney will benefit as it negotiates deals with smaller, more selective streaming services, instead of cable companies. Disney stock is one to hold for 2016.
Tweet the author @cgsaucier, or leave a comment on Money Morning's Facebook page.
The Gold Mining Revolution: Technological advancements in gold mining have been stagnant, but one tiny Canadian company is about to change that. Its special extraction method will slash production costs and send gold prices soaring. In fact, this nano cap could disrupt the entire industry...