Update: The TSLA stock price is up 4.55% in pre-market activity after Tesla Motors announced its 2015 Q4 earnings yesterday.
Tesla reported revenue of $1.75 billion, while expectations were $1.8 billion. Tesla also reported an adjusted loss of $0.87 per share.
Earnings weren't great, but the TSLA stock price is soaring this morning because of its guidance for 2016. Analysts expected the company to deliver roughly 76,000 vehicles in 2016, but Tesla announced it would deliver 80,000 to 90,000 vehicles.
Previous story follows:
The TSLA stock price is down a punishing 40% to $145.50 in 2016, and many investors are wondering whether to buy Tesla stock at such a discounted price.
According to Money Morning experts, there is a clear way to play Tesla stock now...
But first, here's what to expect from the luxury electric car maker when it releases Q4 2015 results after today's close.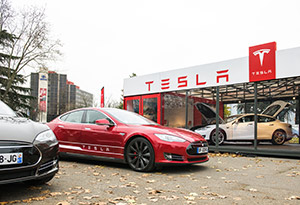 Analysts expect Tesla Motors Inc. (Nasdaq: TSLA) to post earnings per share (EPS) of $0.10. That has come down from $0.12 three months ago. Still, EPS of $0.10 would be comfortably better than the loss of $0.13 reported in the same quarter a year ago.
Revenue is expected to soar 63% year over year to $1.8 billion.
In early January the company announced it delivered 17,400 vehicles in Q4. That was at the low end of guidance for 17,000 to 19,000. The company's November guidance for Q1 2016 was for deliveries of 1,600 to 1,800 vehicles per week. That suggests full-year 2016 deliveries of 83,200 to 93,600.
Here are some other important factors that will move the TSLA stock price today:
An update on its Nevada Gigafactory is likely. Progress on the factory is crucial since the facility will allow TSLA to provide the economies of scale to begin producing the Model 3. The new vehicle will have a 200-mile range and will be priced at $35,000 before federal, state, and local incentives.
Spending for 2015 and 2016 should also be closely watched. In last year's Q4 earnings call, CEO Elon Musk said the company planned to spend a "staggering" amount of money on capital expenditures, including an estimated $1.5 billion in 2015. TSLA likely went over budget since it abruptly switched the supplier for the doors on the Model X in 2015.
Investors will also be looking for progress on Model X production and delivery pace to customers. Tesla is notorious for delayed deliveries. But wait times are expected to be reduced as production ramps up.
Tesla touts the Model X as the "safest, fastest, and most capable sport utility vehicle in history." It boasts all-wheel drive and a 90 kWh battery providing 257 miles of range. The Model X also has ample seating for seven adults and all of their gear. And, it's fast. The Model X accelerates from zero to 60 miles per hour in as quickly as 3.2 seconds.
But the company is still facing some major headwinds...
One is the more than 70% plunge in oil prices since 2014. Cheap gas has contributed to Tesla stock's drop as electric vehicles lose some of their appeal when gas prices fall.
Another is the growing number of electric cars on the market...
Nearly every major automaker now sells at least one fully electric car. Those automakers include premium brands such as Mercedes-Benz, Porsche, and Audi, as well makers of lower-cost electric vehicles, such as the 2017 Chevrolet Bolt and the 2018 Nissan Leaf.
So should investors buy into TSLA stock on its recent dip, or are the headwinds too strong for the stock to continue climbing? Money Morning experts think the answer is a no-brainer...
Why TSLA Stock Is a Long-Term Buy Now
Money Morning Technical Trading Specialist D.R. Barton is bullish on Tesla stock and says it is "head and shoulders ahead in the electric car front."
In late March, Tesla will unveil a new Model 3. Late last month, Tesla CEO Elon Musk hinted at an unveiling for the Model 3 similar to the Model X SUV. But we still don't know a lot about the much-hyped car.
"The first pictures of the Model 3 will be end of March," Musk said. "I am being a little coy here, we are not gonna show everything about the Model 3 until a lot closer to production time."
Model 3 production is due to start in 2017. That means an unrestricted look at the Tesla Model 3 is a way off. But with a price tag of just $35,000, interest is expected to be robust.
Still, with the kind of volatility Tesla and global markets have experienced this year, TSLA stock is not for short-term investors. And any missed earnings numbers could send the Tesla stock price lower following the report.
But for long-term investors looking to buy and hold a stock for five to 10 years, TSLA is an excellent choice.
Musk's unparalleled vision and ability to create revolutionary products have propelled Tesla to the forefront of the electric vehicle market.
And with worldwide revenue from electric vehicles forecast to bring in $488.54 billion by 2030, Tesla stock is providing a huge profit opportunity.
"I think Musk is the most innovative CEO on the planet and that he sees value others don't yet recognize," Money Morning Chief Investment Strategist Keith Fitz-Gerald said in 2015. "Cars, batteries, innovative business models - nobody knows where it will go but ultimately if you're along for the ride, I think it'd be very hard to go wrong over time."
Stay informed on what's going on in the markets by following us on Twitter @moneymorning or liking us on Facebook.
The Gold Mining Revolution: Technological advancements in gold mining have been stagnant, but one tiny Canadian company is about to change that. Its special extraction method will slash production costs and send gold prices soaring. In fact, this nano cap could disrupt the entire industry...
Related Articles: