Yes, many investors are wary of oil stocks during this low price environment. After all, West Texas Intermediate (WTI) crude oil prices are down 27% since the start of the year, and many analysts expect them to move lower.
But Money Morning Global Energy Strategist Dr. Kent Moors - a 30-year veteran of the oil industry who has advised some of the largest oil-producing nations in the world - says you can still profit from the volatile price environment. It all comes down to avoiding one type of popular oil stock in favor of a lesser-known type of investment.
Before we discuss which oil stocks to avoid, here are the main reasons why oil prices are plunging this year...
Why Oil Prices Are Down in 2016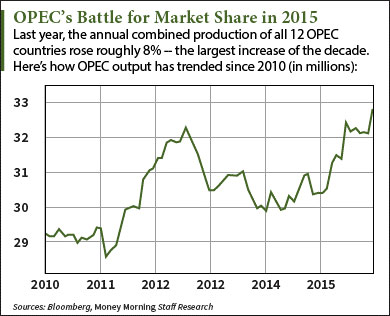 The biggest reason oil prices are at 13-year lows is concern over OPEC adding to the global supply glut.
Yesterday, the International Energy Agency (IEA) released a bearish monthly market report for January. The agency concluded yearly global demand growth for oil will stay under 1.2% due to soaring OPEC production. Cartel-wide output jumped 280,000 barrels to a total of 32.6 million last month.
The report caused WTI futures to drop 5.9% to $27.94 yesterday (Tuesday) as investors' hopes of OPEC and non-OPEC cooperation deteriorated.
"Persistent speculation about a deal between OPEC and leading non-OPEC producers to cut output appears to be just that: speculation," the IEA report stated.
But that stagnated demand growth is set to increase through next year. The U.S. Energy Information Administration (EIA) expects global consumption to rise from 93.8 million barrels a day last year to 95 million this year. And the agency also expects that number to hit 96.5 million through 2017 - marking a 2.9% increase from 2015.
This long-term demand growth will reduce the worldwide glut and raise prices to the $70 range by next year.
And the slow and steady price rebound will offer us some strong profit opportunities in the meantime...
"We are not racing back to $100 a barrel oil," Moors said in December. "But we certainly do not need triple-digit oil to make some nice investment returns, especially in a sector that has been so oversold."
But you have to know which oil stocks to shy away from and which ones to embrace during this volatile price climate.
Here are the oil stocks you should avoid - and the one type of oil stock you should invest in this year...
[mmpazkzone name="in-story" network="9794" site="307044" id="137008" type="4"]
Buy VSF Drillers Over "Big Oil" Stocks
You'll want to avoid Big Oil stocks like Exxon Mobil Corp. (NYSE: XOM) and BP Plc. (NYSE ADR: BP) during this low price environment. That's because these companies need time to recover from their catastrophic fourth-quarter losses.
In its Q4 2015 earnings report, Exxon posted a profit of $0.67 per share. That's 49% lower than $1.32 per share during the year-ago quarter. BP's profit saw a stunning decline of 91% last quarter, making it the company's worst loss ever.
While many pundits view these losses as buying opportunities, Moors says don't be fooled. Because these Big Oil firms are so massive, they will continue to lose money this year as they pay high operations expenses and other overhead costs.
"These oil majors have massive overhead costs, and in times like these, that is a huge problem," Moors told Oil & Energy Investor readers on Feb. 6. "It'll be some time before they hit bottom, even as oil prices start climbing."
The best oil stocks to buy in 2016 are VSF drilling companies. That's because they drill wells that are 88% cheaper than your average fracking job.
"VSF" stands for vertical, shallow, formula drilling. This is when a firm drills wells that are only a few thousand feet deep in order to produce a large amount of volume in a short amount of time. VSF drilling is profitable during low price periods since the wells only cost $600,000 or less to drill and maintain.
Since deep fracking projects can cost upwards of $5 million, they drown companies in debt when oil prices are low. The high oil output doesn't make up for the high operating costs when oil prices are as low as $28 a barrel.
"The extension of vertical, shallow pattern drilling emphasizing known basins and low-cost operations will actually be encouraged in this kind of climate," Moors said in February 2015, when oil prices fell below the $60 mark for the first time since the recession. "This is always the way money is made when oil and gas come under pressure."
One example of a VSF driller is Crescent Point Energy Corp. (NYSE: CPG). Last month, the Canadian oil company announced it will begin a large VSF drilling project in Canada's oil-rich Saskatchewan province. Yahoo! Finance analysts give CPG a one-year price target of $12.22 a share - up 22% from its last closing price of $10.02
The Bottom Line: There's no doubt that oil stocks are beaten down across the board. Thanks to OPEC and an overabundance of supply, low oil prices continue to bring down shares of oil companies. But careful investors can still turn a profit in this volatile environment. We recommend buying shares of companies engaged in VSF projects instead of big-name oil majors. Cost-efficient VSF drillers will profit through the price volatility, while the sheer size of Big Oil companies will drown them in overhead expenses.
Follow Money Morning on Facebook and Twitter.
Why Oil Prices Are About to Rise: Crude oil is set to stage a rebound, thanks to a historic $600 million signal that flashed last week. This is the largest event of its kind in history - and it clearly shows oil prices are gearing up for long-term gains...