For Feb. 11, 2016, here's the top stock market news and stocks to watch based on today's market moves…
How Did the Stock Market Do Today?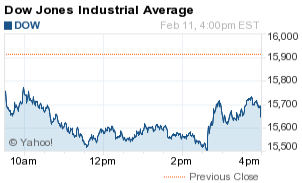 Dow Jones: 15,660.18; -254.56; -1.60%
S&P 500: 1,829.08; -22.78; -1.23%
Nasdaq: 4,266.84; -16.76; -0.39%
The Dow Jones Industrial Average today (Thursday) lost more than 254 points thanks to another broad sell-off and concerns about global economic growth. Shares of Boeing Co. (NYSE: BA) fell 6.8% after regulators announced they are looking into the company's accounting practices. The stock's downturn accounted for roughly 25% of the Dow Jones' decline on the day. Meanwhile, shares of Cisco Systems Inc. (Nasdaq: CSCO) surged 9.6% after the company reported stronger than expected quarterly earnings.
The CBOE Volatility Index (VIX) – Wall Street's fear gauge – was up 6.3%.
On the economic front, U.S. Federal Reserve Chairwoman Janet Yellen testified before the Senate Banking Committee and remained defiant about the central bank's pledge to "normalize" monetary policy. In a surprise statement, Yellen admitted the Federal Reserve was evaluating the possibility of negative interest rates. As we've said before, the Fed's plan isn't going to end well for the markets.
Top Stock Market News Today
Stocks to Watch: TSLA, MYL, PRGO, ZNGA, P, YHOO, AMZN
With today's losses, many investors fear we're headed for a stock market crash, correction, or bear market. Here's what our Money Morning experts predict will happen in 2016…
What Investors Must Know This Week
Follow Money Morning on Facebook and Twitter.