Gold prices surged to a 12-month high above $1,240.00 an ounce Thursday as investors around the globe piled into safe-haven assets.
Spot gold prices were sharply higher in early trading, up as much as $45.50, or 3.8%, at $1,242.26 an ounce.
Gold prices are enjoying their best beginning to a year since 1980. After today's jump, the price of gold is now up 16.3% in 2016. By comparison, the Dow, S&P 500, and Nasdaq are down 10%, 10.6%, and 10.9% in the same time, respectively.
Sending gold prices higher Thursday were steep losses in global markets, falling crude oil prices, escalating concerns about European banks, and overall anemic world economic growth prospects.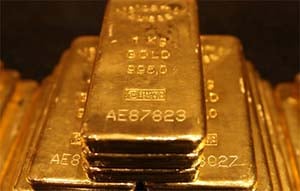 The Stoxx Europe 600 Index was down nearly 4% overnight. Hong Kong's Hang Seng Index tumbled around 4%. Chinese and Japanese markets, meanwhile, were closed Thursday for holidays. Nymex crude oil prices traded lower in today's early session, slightly above $26 a barrel. This week's selling pressure in Nymex crude once again pushed oil prices near a 12-year low.
Also driving gold prices Thursday was the unexpected move from Sweden's central bank to cut its main interest rates even further. Riksbank trimmed its main repurchase rate to -0.5% from -0.35%. The central bank said it still has the capacity to drop the rate further if needed.
The cut is aimed at bringing the country's inflation rate to a desired 2% level. But the move spooked already jittery investors and failed to cushion stocks. It merely added to the mounting loss of confidence in global central banks' ability to prop up markets.
But there is another major catalyst that has been boosting gold prices in 2016. And it will continue to drive the price of gold even higher for the foreseeable future…
The Biggest Catalyst for Gold Prices Now
Another major catalyst for gold prices today is the dovish outlook on U.S. interest rate increases. Most analysts agree an interest rate hike in March is now off the table. Some have gone as far as to say they don't expect another interest rate increase for the rest of 2016, given the turmoil plaguing world markets.
Money Morning Resource Investing Specialist Peter Krauth said earlier this week that the falling U.S. Dollar Index is basically saying it doesn't believe the U.S. Federal Reserve will actually raise rates four times this year.
"My money's on the market and against the Fed," Krauth added.
Gold investors are closely watching Fed Chairwoman Janet Yellen's testimony today on the U.S. economy before a U.S. Senate committee. Yellen spoke to a House committee on the same matter Wednesday. While Yellen didn't say anything specific to rattle markets yesterday, some deemed her remarks to House members as hawkish. In fact, Yellen's remarks Wednesday were partly blamed for the rout in international stock markets and selling pressure in world markets overnight.
All of these factors have helped drive demand for gold higher. According to the World Gold Council, Q4 2015 global gold demand was the highest in more than two years.
Investors are also flocking into funds backed by gold at the fastest pace in seven years. And U.S. Mint sales are strong. Some 124,000 ounces of American Eagle gold coins were sold in January, a 53.1% year-over-year increase.
Because of these numerous bullish factors, Krauth expects gold prices to continue climbing even higher throughout 2016.
Stay informed on what's going on in the markets by following us on Twitter @moneymorning or liking us on Facebook.
Related Articles: