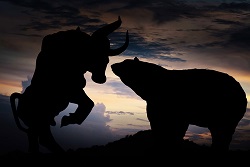 Analysts around the world are finally confirming what we've been saying at Money Morning all year: We are in a bear market in 2016.
The MSCI All-Country World Index, which tracks the performance of large- and mid-cap stocks across 23 developed and 23 emerging countries, declined 1.3% yesterday (Thursday). That pushed the index's decline since its May peak to 20%. The technical definition states that a bear market occurs when an index drops 20% from its high.
Money Morning experts have been recommending our 2016 bear market investing guide since January, after recognizing that stocks would keep falling.
But before we get to the bear market investing guide, here's why global markets keep tanking...
China's stock market has been on shaky ground since last summer, when its key benchmark crashed 40%. Worries of a slowdown in the world's second-largest economy, which last month reported its slowest GDP growth in a quarter century, rattled global stock markets.
The Eurozone is also on fragile ground. Concerns are growing that the recent carnage in the region's banking sector will lead to a systemic banking crisis. And every industry has fallen since last year's record high. Declines in financial stocks are down a punishing 25%, while energy and commodities are lower by a painful 30%.
U.S. stocks are off their worst start to a year ever in 2016.
The Dow Jones Industrial Average, S&P 500, and Nasdaq have dropped 9.1%, 9.5%, and 14.2% in 2016, respectively.
And comments from Janet Yellen on Thursday had another big impact on U.S. markets. The U.S. Federal Reserve chairwoman said that market turbulence could weigh on the outlook for the economy. The S&P 500 Index tumbled as much as 2.3% during Yellen's testimony to Congress.
With the Q4 2015 earnings season more than halfway done, just 52% of companies in the S&P 500 reported profit growth in the quarter. Shares of energy companies and materials have led the decline. All but three sectors reported shrinking profits.
Analysts project earnings at companies in the broad-based benchmark fell 4.5% in Q4. Forecasts for the current quarter are even bleaker. The consensus is for a drop of 6.3% in the current period.
Money Morning experts knew this bear market was coming and have been laying out a bear market investing guide to readers all year. It will help you protect your money, and even profit, when the markets are falling...
Bear Market 2016 Is Here: Protect Your Money Before It's Too Late
According to Money Morning Chief Investment Strategist Keith Fitz-Gerald, "There's always opportunity in chaos and current market conditions are no exception."
In fact, there are a few ways to make money in an environment like this. The first one is trading. (Don't worry - if you aren't a trader, we also have tactics for you, too. Keep reading.)
"The bull market's end gives traders the juiciest opportunities ever," said Money Morning Options Trading Specialist Tom Gentile. Gentile just led his subscribers to a 100% return in the first week of the year - as the Dow fell more than 900 points.
"If you're trading, this is a great time to be in the market. There are bargains all over, and even better, the short, sharp market action means options plays can bring in huge returns in short order," Gentile told readers last month.
Gentile points out these types of moves every single week. Investors can get looped in here and find out the method behind his 100% gain.
Another way to profit during a bear market in 2016 is with an inverse exchange-traded fund (ETF). These are designed to gain while markets fall.
Money Morning Capital Wave Strategist Shah Gilani likes three of these ETFs. Each one is designed to track the inverse performance of a specific index, either the Dow, S&P 500, or Nasdaq. These ETFs will rise as a bear market drags down the broader indexes.
Gilani also has a specific short-term move for when he believes markets will fall hard that day or the next. He gives you all four of these picks here.
Finally, for long-term investors looking to hold stocks for five or 10 years, Fitz-Gerald says to focus on investing in quality businesses that sell products and services the world cannot live without right now.
"In tech, that includes names like Facebook Inc. (Nasdaq: FB), Apple Inc. (Nasdaq:AAPL), and Alphabet Inc. (Nasdaq: GOOGL)," he said. "And select companies like The Coca-Cola Co. (NYSE: KO) that have a long history of increasing dividends through thick and thin. Also, put new money to work in companies like Raytheon Co. (NYSE: RTN)."
Stocks like these are long-term investments, not short-term trades. They may be down now, but you're going to be holding them through several market cycles.
"They may fall a bit with the broader markets, but the markets have a terrific upward bias over the long term. The Dow, for example, returned more than 22,000% over the last century despite two world wars, all sorts of regional conflicts, depression, recession, and more."
Fitz-Gerald reminds investors that are mulling a move to the sidelines to be selective, but be in the game.
The Essential Guide to Buying Gold and Silver: Precious metal investing is widely regarded as the best "crisis insurance" for your portfolio. This guide gives you everything you need to know about the best stores of value in history, gold and silver. Read more...
Stay informed on what's going on in the markets by following us on Twitter @moneymorning or liking us on Facebook.
 Related Articles: