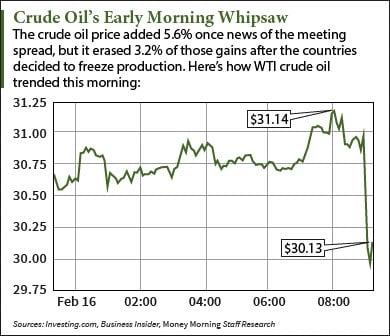 The West Texas Intermediate (WTI) crude oil price today (Tuesday) whipsawed after Saudi Arabia, Russia, Qatar, and Venezuela reached an agreement to keep production at January's levels.
At 9:20 a.m., the WTI crude oil price today was up 0.5% and trading at $29.58 a barrel. Earlier this morning, the U.S. benchmark jumped more than 5% to $31.14 before falling back below the $30 mark. Futures for March delivery are still down 12% this month and 22.5% this year.
The Brent crude oil price today was also slightly higher. The global benchmark – priced in London – ticked up 0.3% to $34.10. Brent crude oil prices have fallen 7.4% in February and 13.5% in 2016.
The fluctuation in the crude oil price today shows investors don't think the freeze will ease the supply glut. But Money Morning Global Energy Strategist Dr. Kent Moors – a 40-year veteran of the oil industry who has advised U.S. and Russian governments – says you can still profit from the ongoing price volatility.
Before we get to all that, here's why the WTI crude oil price today is so volatile…
Why the WTI Crude Oil Price Today Is Edging Higher
The jump in the crude oil price today came after the Financial Times reported the four above-mentioned countries agreed to freeze production at last month's level of more than 21 million barrels a day. The deal marks OPEC's first step toward working with fierce competitor Russia to stabilize oil prices, which have plunged more than 70% since June 2014.
Although the decision is a step in the right direction, investors had hoped for a production cut rather than just a freeze. Crude oil prices surged 5.6% after news of the meeting broke, but pared those gains once the countries agreed on a freeze instead of a cut.
The immediate erasure of gains this morning shows investors don't believe the news will ease the global oil supply problem.
And the overriding bearish sentiment toward the meeting stems from one particular OPEC nation.
That's because analysts and pundits tout this problematic country will add up to 500,000 barrels of oil a day to the already oversupplied market…
Why Iran Won't Push the WTI Crude Oil Price Lower
Analysts and pundits think Iran's new export operations will add to the selling momentum in oil prices. But they're missing the point…
You see, the International Atomic Energy Agency (IAEA) confirmed last month Iran complies with the terms of the nuclear deal struck last year by reducing its nuclear research activity. The terms of the deal included lowering its uranium stockpile to 300 kilos or less and allowing IAEA spot inspections of Iranian nuclear sites.
In exchange, the United Nations will lift sanctions that target Iran's defense, shipping, and most importantly, oil industries. The OPEC country will now be allowed to start ramping up oil exports, which is believed to add 500,000 barrels of oil a day to the global market.
And that's a conservative estimate. In fact, Iran just exported its first shipment of oil to Europe in over three years yesterday (Monday). Reports say three separate tankers delivered a combined 4 million barrels to various European cities.
But Moors says despite the seemingly oversupplied market, investors can still profit from the energy sector. That's because oil prices are no longer the dominant force on the energy market that they were for most of history.
"The broader energy space certainly keeps an eye on the movement of the price of oil," Moors said in January. "But increasingly that is no longer where the real action is."
As you'll see, Moors outlines five energy market "bright spots" that offer significant potential for investors looking to turn a profit from the changing energy landscape…
Alex McGuire is an associate editor for Money Morning who writes about energy. Follow him on Twitter for all the biggest oil and gas updates.
Like us on Facebook: Money Morning
Related Articles: