Silver prices today trade around $15.30 and have brought the metal's 2016 gains to 13.4%. Since last Friday alone, the price of silver is up 4.8%.
While silver prices haven't yet reached the psychologically important $16.00 level, silver got very close and has already met a couple of significant technical milestones.
There are a whole host of fundamental and sentimental drivers at work that have helped push the silver price to its current levels, and odds are good they will remain supportive.
Let's take a look at what's moving silver prices today…
Why Silver Prices Today Are Up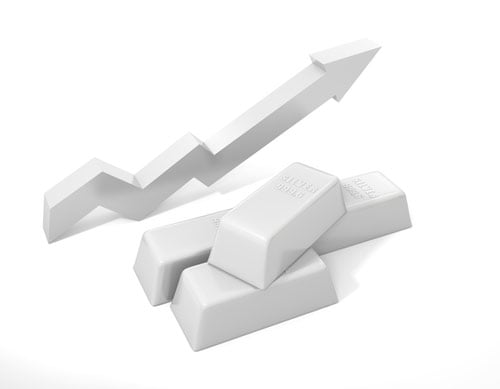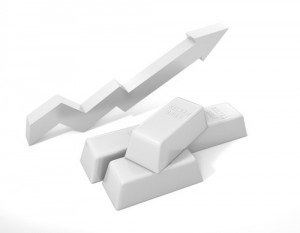 Silver started off last week with a bang.
Silver closed NY trading last Monday with a gain, hitting $15.30. The next day saw the silver price backtrack from $15.38 at the open to close at $15.23. Then on Wednesday, Feb. 10, as U.S. Federal Reserve Chairwoman Janet Yellen began her testimony to Congress, silver reversed from its open at $15.15 to close at $15.28.
On Thursday, Feb. 11, Yellen continued her congressional testimony, and silver soared from $15.40 in early hours to peak at $15.88, then closed at $15.75. Meanwhile, silver futures touched a $15.99 high intraday, coming ever so close to the $16.00 level.
Friday saw a small retreat with silver holding strong around the $15.70 level. We're currently around $15.30 as the price has backed off a little with global stock markets bouncing back a bit.
But overall, the silver price trend is upward. Here are a few reasons why I think this run up in silver prices has legs.
Why the Silver Price Will Climb Higher
Firstly, on a technical basis, the silver price has performed well.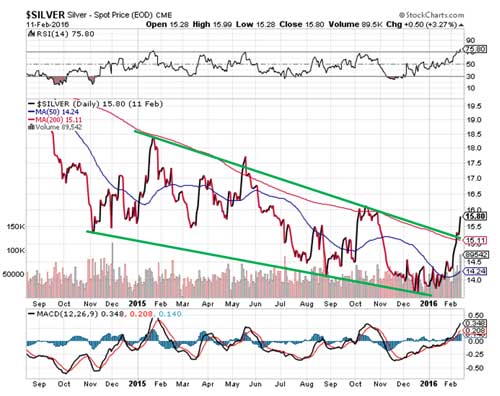 You can see from the lines I've drawn on the above chart that silver broke decidedly through its declining wedge, pushing through both its 50-day and 200-day moving averages.
To be sure, both the MACD and RSI indicators are looking stretched. If the markets get a bit of a reprieve, we could see the silver price back off to at least the 200-day level of $15.11, perhaps $14.25 before finding a new floor.
Another measure to consider is the gold-silver ratio. It tells us how many ounces of silver you can buy with one ounce of gold.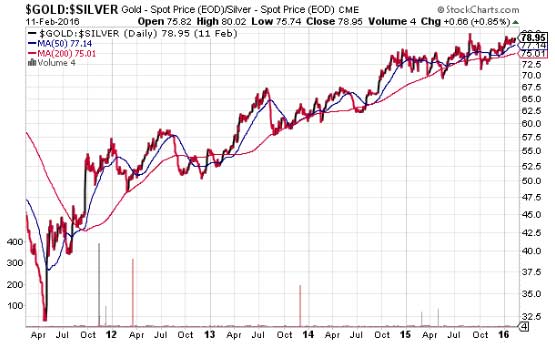 Right now it's near 80, which is historically very high. In the last five years, it has averaged about 55.
If gold were to stay at its current $1,240 price, a gold-silver ratio of 55 would mean $22.50 silver, which is a 42% gain from here. But that's assuming gold stays put.
I think gold is instead headed higher. Not in a straight line, mind you, but higher. If gold reached $1,500, a gold-silver ratio of 55 would instead mean $27 silver, or a 71% gain from the current silver price.
There's no law, of course, that says this has to happen, but markets do tend to revert to the mean. So based on the assumption that the precious metals bull is not only intact but about to ramp up, we could be looking at substantially higher silver prices going forward.
And a recent press release from the Silver Institute says they think the silver price should "find solid ground this year" and that the silver deficit will be exacerbated this year.
More specifically, the Institute forecasts higher industrial demand, a new peak in solar panel consumption, ethylene oxide producers churning out plastics, higher jewelry fabrication, robust coin demand, higher silver exchange-traded fund holdings, and likely record demand out of India.
Overall, conditions are looking strong as silver gets back its mojo.
Get Your 2016 Gold & Silver Buying Guide Here
Stay informed on what's going on with gold prices today – and all investing topics – by following us on Twitter @moneymorning or liking us on Facebook.
Join the conversation. Click here to jump to comments…
About the Author
Peter Krauth is the Resource Specialist for Money Map Press and has contributed some of the most popular and highly regarded investing articles on Money Morning. Peter is headquartered in resource-rich Canada, but he travels around the world to dig up the very best profit opportunity, whether it's in gold, silver, oil, coal, or even potash.