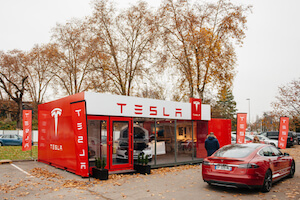 It's true that TSLA stock has fallen 24% over the last month, but Money Morning remains bullish on the long-term opportunities for Tesla Motors Inc. (Nasdaq: TSLA).
And while many investors are focusing on the short-term drop, we at Money Morning have kept the bigger picture in focus.
In fact, we found a market that will grow $488 billion by 2030, and Tesla is perfectly positioned to profit from it. But before I get to that, I want to make sure that Money Morning readers are familiar with why the TSLA stock price has been so volatile lately.
The bearish stock market is causing global sell-offs. The Dow Jones Industrial Average is up 1.14% over the last month, and the Nasdaq is down 1.43%.
But that's only part of the reason why investors are selling TSLA stock.
In the Tesla Q4 2015 earnings report, Tesla missed earnings per share (EPS) expectations of $0.10 by reporting a loss per share of $0.87. It also missed revenue expectations of $1.81 billion by reporting $1.75 billion.
Many analysts expected Tesla to miss expectations, but not by that much. And this marked the 12th-straight quarterly decline in EPS.
Tesla stock had an opening price of $200.06 on Jan. 25, but fell all the way to $143.67 on the day of earnings. That's a 28.18% drop in less than two weeks.
But despite the bad news, the TSLA stock price climbed 5.79% by opening bell the next day. Wall Street forgave Tesla on the missed earnings expectations because it offered strong guidance for Q1 2016. Analysts believed that Tesla would deliver 76,200 vehicles in 2016, but CEO Elon Musk said that his company will deliver between 80,000 to 90,000 Model S and Model X vehicles.
This extreme volatility highlights why TSLA stock is not for the short-term investor. It's a momentum stock that's subject to unpredictable price swings.
But there is a reason why Money Morning is very bullish on TSLA stock in the long term. As promised, here's how Tesla will dominate a growing $488 billion market...
Bullish TSLA Stock Catalyst: The Model 3
Right now, Tesla only appeals to a limited market.
Tesla's Model S currently has an MSRP value of $69,900. But according to Kelley Blue Book, the average transaction price of a light vehicle in the United States was $33,543 as of August 2015. That creates a huge disparity between what people are generally paying for cars and how much Tesla charges.
But now Tesla is planning to make its vehicles much more affordable...
On Feb. 9, Tesla confirmed to Bloomberg that it will release its Model 3 vehicle for $35,000. Musk tweeted that Model 3 reservations will be accepted in Tesla stores on March 31 and online April 1. To stay in-line with the affordability of the electric vehicle, reservations are $1,000.
And Tesla is receiving outside help to make this vehicle even more affordable. The $35,000 is the cost before any type of incentives or tax breaks are calculated. State and federal incentives could drop the price down to as little as $25,000.
Money Morning Technical Trading Specialist D.R. Barton believes that Tesla is head and shoulders above every other company in the electric car front, and it's that status as a leader in electric cars that will make the TSLA stock price rise.
By 2020, Pike Research projects that annual worldwide electric vehicle sales will reach 3.8 million. That's a 2,656% increase from the 116,099 plug-in vehicles that were sold in the United States in 2015, according to research company Inside EVs.
Analysts forecast that the electric vehicle industry will bring in revenue of $488.54 billion by 2030.
But because of the bearish 2016 stock market and short-term volatility that TSLA shareholders experience, this is not an investment to make if you want a quick turnaround. Holding TSLA stock will reward long-term investors who have the patience to see Musk's goals and dreams come to fruition.
Originally, Musk had to prove the concept of electric vehicles with the Model S and Model X. The public is gaining a better understanding of how electric vehicles work and are slowly adapting to the technology. So that challenge of acceptance will be lowered by the time the Model 3 is fully available.
Producing more affordable cars means more profit for Tesla, and that is a huge catalyst for the Tesla stock price for years to come.
The Bottom Line: The TSLA stock price is down 34.96% in 2016 because of a bearish market and concerns that Tesla would miss Q4 2015 earnings estimates. Tesla did miss estimates, but its Q1 2016 guidance provided a favorable outlook for the future. With pre-orders for the Model 3 beginning in March, Tesla is creating a foothold as the most dominant player in the electric car market, which is expected to bring in revenue over $488 billion by 2030.
Jack Delaney is an associate editor for Money Morning. You can follow him on Twitter and follow Money Morning on Facebook.
The Gold Mining Revolution: Technological advancements in gold mining have been stagnant, but one tiny Canadian company is about to change that. Its special extraction method will slash production costs and send gold prices soaring. In fact, this nano cap could disrupt the entire industry...