Yes, Groupon stock has skyrocketed this week, prompting investors to wonder if an extended rebound is coming for GRPN stock.
Groupon Inc. (Nasdaq: GRPN) stock opened at an all-time low of $2.16 on Feb. 11, but opened today (Wednesday) at $3.90. That's an 80.55% increase in less than a week.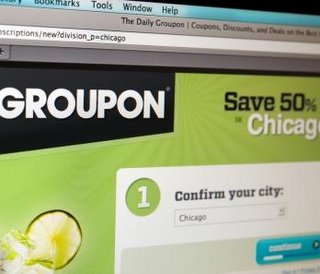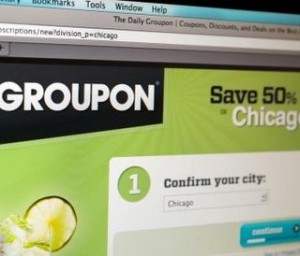 While some investors are wondering if they should buy into Groupon stock now, we've found a better investment opportunity for 2016 based on GRPN's 80% gain.
But first, here's why GRPN stock has plummeted…
Groupon was a powerful concept in 2010, connecting businesses with consumers.
Business owners discounted their goods and services, which attracted new customers and helped create repeat business. Customers in turn received a deal on products they wanted and found a business that they may have not known about without Groupon's help.
But because of the increased power of social media advertising, businesses have turned away from Groupon.
Business owners are finding they can reach billions of customers through Facebook Inc. (Nasdaq: FB) and Twitter Inc. (NYSE: TWTR) ads. Research company eMarketer projected that companies spent $23.68 billion on social media ads in 2015, which The Wall Street Journal reports is 33% higher than 2014.
Data from website traffic analyzer Alexa.com also indicates Facebook and Twitter are more attractive platforms to advertise on. People spend an average of 21.33 minutes on Facebook and an average of 7.46 minutes on Twitter. Those who visit Groupon.com only spend an average of 4.41 minutes on the site.
So not only do Facebook and Twitter have massive user bases, advertisers also have a better chance of capturing the attention of potential customers because of the amount of time social media users are spending on those sites.
The Groupon stock price is down 52.84% since it opened at a 2015 high of $8.27 on Feb. 27. In November 2011, GRPN was trading over $26. It's down more than 85% since then.
Groupon famously turned down a $6 billion buyout offer from Alphabet Inc. (Nasdaq: GOOGL, GOOG), and now has a market cap value of just $2.20 billion. So even though Groupon stock has rebounded this week, we don't recommend buying in.
This week's climb for Groupon stock did reveal another investment opportunity. Here's the stock and profit opportunity we're targeting now…
Don't Buy Groupon Stock, Buy This Stock Instead
Groupon stock climbed this week when it was revealed that Alibaba Group Holding Ltd. (NYSE: BABA) owns a 5.6% stake in the company.
Some investors believe that Groupon could be a takeover target for Alibaba, as Chairman Jack Ma has a history of investing an initial stake in a company and then buying it later. Alibaba purchased roughly 18% of Chinese video site Yoku Tudou in 2014, and then purchased the remaining shares to have full control of the company in November 2015.
But hoping the GRPN stock price climbs further because of a takeover is speculative…
The bigger picture in this deal is how Alibaba is growing into a global powerhouse.
Money Morning Executive Editor Bill Patalon calls BABA a "legacy stock," which means it is a stock that you will want to hold forever.
Over the last three years, Alibaba has purchased companies in industries ranging from entertainment, tech, and retail. Two years ago, Alibaba purchased a 50% stake in China's most soccer popular team just as an example of how diverse Ma is making his company.
But Ma isn't done investing in Alibaba's growth….
In a letter to shareholders on Oct. 8, Ma stated that the key priorities for the next decade will be globalization, development of the rural economy, and Big Data.
AliCloud, Alibaba's cloud-computing business and foothold in Big Data, opened up its second data center in Silicon Valley in October 2015. According to Tech Crunch, Alibaba is currently targeting locations in the Middle East, Singapore, Japan, and Europe for further expansion.
In 2016 alone, statistics provider Statista projects the global Big Data market will bring in revenue of $38 billion. In just four years, Statista projects that the global Big Data market will bring in revenue of $60.91 billion. That's a 60.28% increase.
As far as global expansion, Alibaba is adding more and more stakes in U.S. businesses. Alibaba owns a 9% stake in toy and clothing company Zulily Inc., and owns a 39% stake in e-retailer ShopRunner.
Ma's company also invested an undisclosed amount in Tom Cruise's latest "Mission: Impossible" movie, which had a production budget of $150 million and has grossed $682,330,139 worldwide, according to movie data provider Box Office Mojo.
It's true that the BABA stock price is down 17.45% in 2016, which makes it a volatile investment for short-term investors. But Alibaba's growing platforms in media, entertainment, and cloud computing make this a great investment for long-term investors.
The Bottom Line: The Groupon stock price has skyrocketed over the last several days, but it's not because Groupon's business fundamentals are strong. Instead, GRPN climbed because Alibaba has invested in the company. The best move to make from this news is to own BABA stock. Its increasing global growth and presence as an up-and-coming provider of Big Data make Alibaba stock a long-term buy.
Jack Delaney is an Associate Editor for Money Morning. You can follow him on Twitter and follow Money Morning on Facebook.
Profit Alert: Since Money Morning Executive Editor Bill Patalon launched his Private Briefing program just a few short years ago, he's recommended 192 stocks that have either doubled or tripled in value. The service has completely revolutionized the way people invest. Keep reading to find out more about his extensive research and premium stock picks…