There's no "if" – only a "when"…
According to Donald Trump, ISIS will attack the Vatican.
The GOP front-runner's grim prediction came today in response to a comment made by Pope Francis on Wednesday. A reporter asked Francis, "Can a good Catholic vote for [Donald Trump]?"
"A person who thinks only about building walls, wherever they may be, and not building bridges, is not Christian," Pope Francis responded.
The real estate magnate issued a fiery retort to the pope at rally in South Carolina this morning. "For a religious leader to question a person's faith is disgraceful," Trump told the crowd, according to ABC News. "I don't think he understands the danger of the open border we have with Mexico."
He continued, "And I can promise you that the pope would have only wished and prayed that Donald Trump would have been president because this would not have happened."
The billionaire businessman also believes the Mexican government is "using the pope as a pawn" and feeding him bad information. "That's the Mexican government," Trump said to the audience. "They should be ashamed of themselves for doing so, especially when so many lives are involved and when illegal immigration is so rampant and so dangerous and so bad for the United States."
Trump's chief social media strategist Dan Scavino also took umbrage with the pope's remarks. On Twitter he pointed out the irony of the pope's statement…
"Amazing comments from the pope," Scavino wrote, "considering Vatican City is 100% surrounded by massive walls."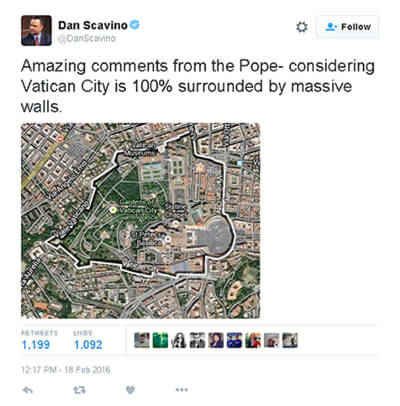 Follow us on Twitter @moneymorning, or like us on Facebook.
Coco Bonds Weren't Such a Good Idea… Back in 2010, regulators came up with a new type of bond just for banks – "contingent convertible bonds," or coco bonds. Under ordinary conditions, these bonds pay a higher-than-average return. But when a bank gets into hot water, it can convert the coco bond to capital – bad news for the bondholder. Here's why you've been hearing a lot about coco bonds and what all this means for the markets…
Related Articles: