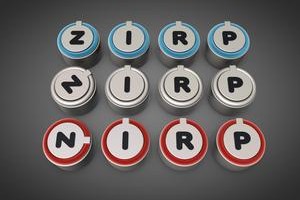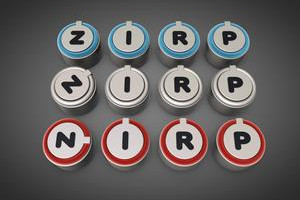 Negative interest rates used to be a thing of central banking fiction, but central banks across Europe have been experimenting with the risky monetary policy for over a year.
Now it looks like our Federal Reserve is considering negative interest rates, too.
At a testimony before Congress on Feb. 10, U.S. Federal Reserve Chairwoman Janet Yellen said there was nothing to prevent the United States from adopting negative-interest-rate policy (NIRP).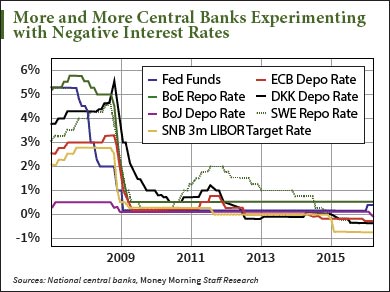 NIRP signals a lack of confidence in an economy to investors. When the Fed turns to negative interest rates, it will encourage investors to exit stocks and stockpile their cash.
That's why Money Morning Resource Investing Specialist Peter Krauth has found the one perfect investment to protect your money against this disastrous monetary policy.
But first, let's look at what negative interest rates are and how they're affecting certain countries...
Negative interest rates charge banks for hoarding cash at central banks. The goal is to force banks to withdraw that excess money and lend it to their customers. People would then use that money to spend and stimulate a country's economy. At least that's how it's supposed to be.
But when we look at three European countries that have been practicing NIRP, we see the monetary policy is having the opposite of its intended effect.
As bank interest rates in Sweden, Denmark, and Switzerland have approached zero (or below zero), people have actually increased their savings.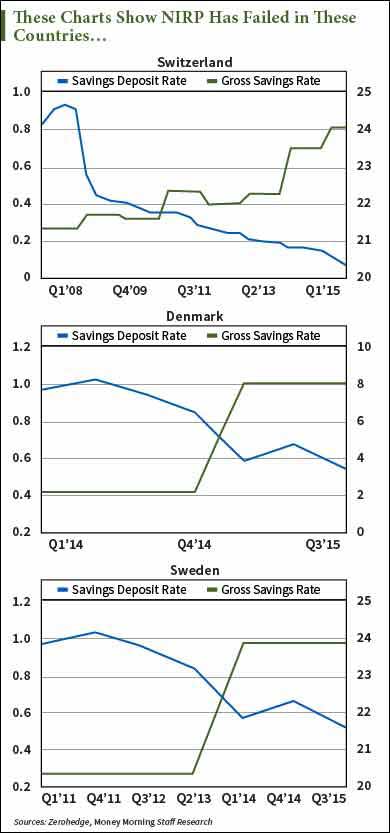 Given that the goal was to increase spending, it's clear these policies have failed.
But that won't stop the United States from replicating these countries' mistakes.
Fed Vice Chairman Stanley Fischer recently said in a Bloomberg interview that NIRP was working in Europe "more than I expected."
"I'm not sure just what indicator Fischer has used to reach his conclusion," Krauth said in response, "but then again the Fed's never let real data get in the way of a bad decision."
Now the Fed is planning to stress test banks in Q2 2016 by dropping the three-month treasury yield to -0.5%, leaving it there until early 2019.
NIRP is looking more like an inevitability for the United States. Such a move by the Fed would suggest the U.S. economy is frailer than officials previously thought. And that would cause mass capitulation – or panic selling – in the stock market.
Krauth has one investment that will protect your money against this disastrous scenario.
The One Investment to Protect Your Money from Negative Interest Rates
The best defense against negative interest rates is precious metals. Gold and silver are strong retainers of value when markets go awry. Both metals' prices have been climbing in 2016, despite the Dow Jones Industrial Average's nearly 6% drop year to date. Gold has gained 10% since January, and silver has gained 9% in the same time.
Exchange-traded funds (ETFs) are the easiest way to own gold and silver. One of Krauth's favorite gold ETFs is the Sprott Physical Gold Trust (NYSE Arca: PHYS). It stores gold bullion in a secure vault in Canada.
PHYS is already up 14% this year amidst the broader market sell-off.
This investment actually comes with a tax advantage, too. U.S. investors holding this ETF for 12 months benefit from an estimated 15% capital gains tax versus the normal 28% rate of most precious metal ETFs.
For silver, Krauth recommends the Sprott Physical Silver Trust ETF (NYSE Arca: PSLV). It holds silver bullion in a protected third-party location. The tax advantages for this ETF are similar to PHYS.
PSLV is up 14% this year.
"Just remember, if you wait to buy this form of insurance when everyone else realizes its true value," Krauth said, "odds are it's going to cost you a whole lot more."
Follow Money Morning on Facebook and Twitter.
Why These Shares Are the Best for Trading Today: Traders are wizards at turning volatility into profits, but conventional tactics don't always work in this whipsaw market. In fact, there's a way to bank big gains on shares most people won't even touch right now – and it all comes down to one number…