The Wal-Mart stock price is falling more than 5% today (Thursday) after Wal-Mart Stores Inc. (NYSE: WMT) reported disappointing Q4 earnings this morning.
While most investors are focusing on the dismal earnings and guidance figure, there's an even bigger factor that will impact the Wal-Mart stock price in 2016. And almost every investor is overlooking it…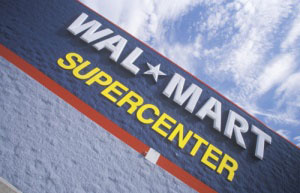 First, here's how earnings are impacting the Wal-Mart stock price today…
WMT stock dropped 5.2% in early trading today to $62.43 after stating that Q4 earnings fell 7.9%. The company blamed lower sales and higher operating costs.
Earnings per share (EPS) came in at $1.49. That was $0.05 better than consensus estimates. Yet it was sharply lower than EPS of $1.61 in the same quarter a year ago.
Total revenue slipped 1.4% to $129.7 billion. That was short of the $130.4 billion Wall Street was looking for. Net sales dipped 1.5% to $128.7 billion.
For the full fiscal year, profit was $4.57 a share, compared with $4.99 the year before. Revenue was $482.1 billion, compared with $485.7 billion in the year-ago period.
Wal-Mart also lowered its estimates for sales growth in fiscal year 2017, which began in February. The company said it expects "relatively flat" growth. Just a few months ago, Wal-Mart was projecting sales growth of 3% to 4%.
Company officials blamed the continued strength of the U.S. dollar and recently announced store closures for the lowered outlook.
Wal-Mart has been reducing its global presence. Last month, the company announced it would close 269 stores. U.S. locations account for 154 of the store closures.
One bright spot in the otherwise glum report was the 2% dividend hike. Wal-Mart's new annual dividend is $2.00 a share. It was $1.96 in 2015. That marks the 43rd consecutive dividend increase for Wal-Mart.
Still, the dividend news failed to boost the Wal-Mart stock price.
"It's the same old story," Edward Jones analyst Brian Yarbrough told Reuters. "They continue to struggle to drive traffic and sales."
But Wal-Mart also continues to struggle in one crucial space that many are overlooking. And it's an area that will have an enormous impact on the Wal-Mart stock price for years to come…
Why the Wal-Mart Stock Price Will Continue to Lag
The biggest issue for Wal-Mart is its slow entrance and dominance in the growing e-commerce space.
In attempts to play catch-up, Wal-Mart has begun spending heavily on improving customers' online shopping experience. It's also been developing ways to integrate online and in-store shopping. Its mobile app has been another area of focus.
In October, Wal-Mart announced it would invest $2 billion into e-commerce over the next two years to help it better compete.
However, the ambitious plans fell flat with investors. The Wal-Mart stock price dropped more than 12% on the news. The drop was the sharpest decline for WMT stock in 25 years, wiping out $21.5 billion of WMT's market cap in a single day.
Plus, Wal-Mart currently gets just 3% of sales from its website. In comparison, Macy's Inc. (NYSE: M) gets 8%, Nordstrom Inc. (NYSE: JWN) gets 19%, and Neiman Marcus get 26%.
Then there's e-commerce titan Amazon.com Inc. (Nasdaq:  AMZN). In 2014, Wal-Mart's online sales were $12.2 billion compared to Amazon's $89 billion.
Amazon officially became more valuable than Wal-Mart last summer. On Aug. 28, Amazon had a market cap of $246.54 billion compared to Wal-Mart's $230.53 billion cap. The divide has grown wider with Amazon's market cap now at $258 billion versus Wal-Mart's $201.24 billion.
The company's poor earnings and dismal outlook are reasons alone to avoid Wal-Mart stock in 2016. The e-commerce issues make the decision even easier for us.
Stay informed on what's going on in the markets by following us on Twitter @moneymorning or liking us on Facebook.
Related Articles: