Yes, the Facebook stock price is down 1.4% in intraday trading today (Thursday) and has fallen 0.75% in 2016.
Despite beating earnings and user growth expectations in Q4 2015, the Facebook stock price has mostly been flat this month. And since FB stock opened at an all-time high of $115.27 on Feb. 3, it has dropped over 8%.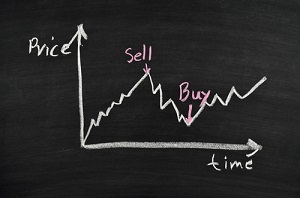 Right now, Facebook Inc. (Nasdaq: FB) is caught up in the global market sell-off. The Nasdaq is down 10.05% in 2016, and the Dow Jones Industrial Average is down 5.75%.
Although the market sell-off is weighing on Facebook stock, we're still bullish in the long term. In fact, today's price represents a great buying opportunity.
But before I discuss the specific reason why we like FB stock, I wanted to make sure that Money Morning readers understand why the market has had such a big impact on the Facebook stock price.
One of the biggest reasons for the market sell-off is crashing oil prices. Yes, Facebook has nothing to do with oil, but the fear of overproduction and issues with OPEC have made investors cautious. After all, oil prices have an impact on consumer spending habits.
The other major concern for investors right now is China. The devaluation of the yuan and slowing of the world's second-largest economy are contributors to the global sell-off. China's economy grew just 6.9% in 2015, which was its slowest pace in 25 years.
Finally, the U.S. Federal Reserve not ruling out negative interest rates and Janet Yellen's lack of confidence in the U.S. economy is causing investors to pull out of markets and not add new positions.
None of these three issues directly involve Facebook, but they have created panic in the markets. And that has caused many investors to sell their shares even of strong companies like Facebook.
Facebook stock is caught in the crosshairs of the volatile markets right now, but the discounted price is creating a great buying opportunity. And there is one major reason why we are so bullish on Facebook stock…
The Current Facebook Stock Price Is a Bargain for Long-Term Investors
We are very bullish about Facebook stock because of its pipeline of new services and products, including:
Facebook Messenger
Facebook at Work
WhatsApp
Oculus Rift
Most of these services haven't even been monetized yet. But we believe they are all tremendous sources for potential new revenue growth.
But the biggest reason we expect revenue to soar is Instagram…
Between company officials sharing Q4 2015 results and shareholders asking questions, Instagram was the most talked about service during Facebook's earnings call.
That's because Instagram is one of the fastest growing social media platforms right now.
In 2012, Piper Jaffray conducted a study to determine the most important social network among teenagers. In the study, 33% of teens stated Facebook was the most important, which was the highest response. It would appear that Facebook hit a snag in 2015, as just 14% of teens felt Facebook was the most important social network.
But 32% of teens in 2015 felt that Instagram was the most important network. That was the highest response rate for that year. Together, Facebook and Instagram were favored by teens 46% more than rivals like Twitter Inc. (NYSE: TWTR) and Snapchat.
And Instagram is still growing…
In September 2015, Instagram announced it had reached 400 million monthly active users (MAUs). That places the mobile picture app with 80 million more MAUs than Twitter, and 300 million more users than Snapchat CEO Evan Spiegel estimated his company had in developed countries in May 2015.
Facebook didn't provide total counts for Instagram in its Q4 earnings, but it did state Instagram now has more than 400 million MAUs.
Zuckerberg also didn't provide exact totals on how much money Instagram netted in 2015, but research firms believe it was hundreds of millions. Firm eMarketer projected Instagram earned $600 million in 2015, and Credit Suisse projected it brought in $730 million.
By 2017, eMarketer projects that Instagram could grow so much that it could account for more than 10% of Facebook's total ad revenue.
The Bottom Line: The markets are very volatile right now, which has caused the Facebook stock price to drop. But for long-term investors with patience, now is a great time to add FB stock to your portfolio. Instagram will bring in more and more revenue as the service continues to grow, and Facebook still has platforms it hasn't even monetized yet.
Jack Delaney is an associate editor for Money Morning. You can follow him on Twitter and follow Money Morning on Facebook.
Protect Your Money in This Bear Market: It's true that you would have to be a fortune teller to know exactly when a bear market would start and end. But fortune telling isn't Chief Investment Strategist Keith Fitz-Gerald's profession. His goal is to protect your wealth, maximize gains, and help you focus on what's really going on in the market. In his Money Map Report, this financial guru has used his years of experience as a trader in one of Wall Street's leading firms to help his readers find 86 double- and triple-digit winners. You can learn more about Keith's Money Map Report here…