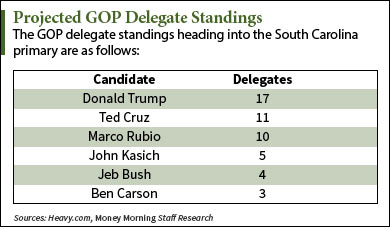 The 2016 presidential election will sweep through South Carolina this weekend. Republicans there will cast primary votes, with the Democrats to follow suit a week later.
What makes this South Carolina primary so crucial is the state's diversity.
You see, the Palmetto State is more representative of the country as a whole than the previous two primary states, Iowa and New Hampshire. The African American population is larger. So is the state's military presence, with its various bases and academies. South Carolina is home to a large evangelical community, as well as a sizable moderate retiree population along the coast.
So a win in South Carolina may prove the greatest indicator of a candidate's odds in winning the 2016 race.
But winning won't be easy.
There are 50 delegates up for grabs in South Carolina – nearly as many as Iowa (30 delegates) and New Hampshire (23) combined. And unlike Iowa and New Hampshire's systems, which award delegates proportionately based on vote totals, South Carolina does so via a hybrid "winner takes all" system: Winning the state-wide race gets a candidate at least 29 of the state's 50 delegates. The other 21 delegates are determined by the winner in each of the state's seven congressional districts.
"If a candidate wins the statewide vote, that candidate claims all 29 delegates," according to Frontloading HQ. "If a candidate receives a plurality in one of the seven congressional districts, that candidate is awarded all three delegates from that district."
Here's exactly what's at stake for each candidate in South Carolina's GOP primary this weekend…
Where the Chips Will Fall in the South Carolina Primary
GOP Frontrunner Donald Trump: The real estate mogul leads the South Carolina Republican primary by 5 points – down from his 16-point lead in the state a month ago, according to results from an NBC News/Wall Street Journal/Marist poll released yesterday.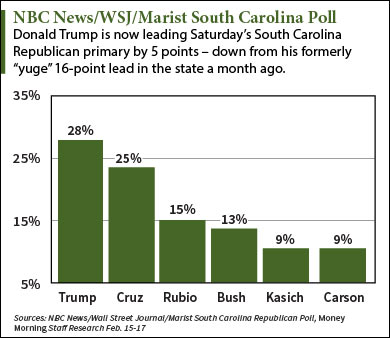 Florida Sen. Marco Rubio: Nikki Haley, South Carolina's Republican governor, officially backed Rubio on Wednesday. "I wanted somebody with fight. I wanted somebody with passion," Haley said in a statement made to the press, according to ABC News. "I wanted somebody that had conviction to do the right thing, but I wanted somebody humble enough that remembers that you work for all the people."
Texas Sen. Ted Cruz: While Cruz has taken a bite out of Trump's lead in the Palmetto State, he's also considered "the best organized among candidates in the race for South Carolina's evangelical vote," reported Politico earlier today. "He has been building out a conservative infrastructure here longer than anyone else, and continues to lead Rubio in most polls here."
Former Florida Gov. Jeb Bush: Jeb has launched a multifaceted attack plan in the Palmetto State. His brother, former President George W. Bush, joined his campaign on Monday. He's also taken direct aim at establishment rivals Ohio Gov. John Kasich and Rubio. An internal campaign memo circulated last week, and subsequently picked up by The Washington Post, highlighted Bush's lines of attack. The memo suggested that Kasich does not have a realistic path to winning the Republican nomination. Jeb also adopted an alter ego: "The Anti-Trump."
Dr. Ben Carson: Carson told reporters yesterday in South Carolina that he's been targeting African Americans through local radio, television, and newspaper interviews and ads, reported Politico. He's also hopeful that black Democrats – eligible to vote in either of South Carolina's party primaries – will turn to the GOP race to help boost his chances.
Ohio Gov. John Kasich: There's a lot of speculation regarding Kasich's run after his New Hampshire victory. Southern conservatives may oppose Kasich's stances on Medicaid (he wants to expand the program under Obamacare) and immigration (he's against mass deportation). But enough of the state's moderates – the aforementioned coastal retirees – may turn to him to at least knock off a key rival, Jeb Bush.
For more information on the 2016 presidential election, follow us on Twitter @moneymorning or like us on Facebook.
There's No "If" – Only a "When": According to Donald Trump, ISIS will attack the Vatican. The GOP front-runner's grim prediction came in response to a comment made by Pope Francis. Here's what the else fiery real estate magnate had to say the Pontificate…
Related Articles: